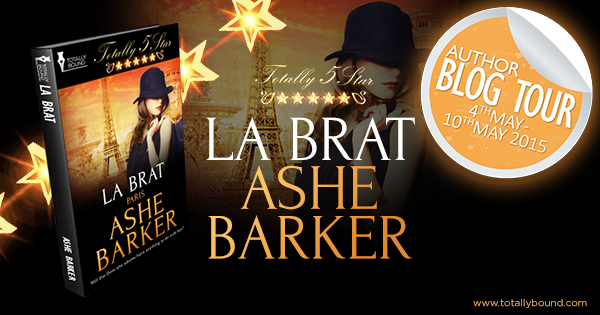 This post is part of a virtual book tour organized by
the publisher
. Enter
here
for a chance to win your own copy of
La Brat
, as well as three more fabulous titles from Ashe Barker's backlist!
Paris – City of Romance
When I was offered the opportunity to write the Paris story for the Totally Five Star series I didn't take a lot of persuading. Paris is without doubt one of my favourite places in the world, and I have fond memories of the city, reminiscences collected over more than thirty years.
My first visit to Paris was when I went there on honeymoon. We arrived at Gare de Nord station all fresh-faced and naïve and just dived in the first taxi we saw. We sat back to watch the frantic whirl all around us. Paris never stops, it seemed to me then. Always hustling, always busy. Our hotel was close to the Eiffel Tower, and we spent a glorious five days exploring the main tourist haunts, or just strolling along the Seine among the street artists and vendors.
I've re-visited the city several times since then, most recently for my thirtieth wedding anniversary. My husband arranged the trip in secret, aided and abetted by our daughter who was then aged eleven. It was a re-creation of that first visit, same hotel, same chic Left Bank artists, same atmospheric Parisien bistro at the end of the street. Of course, having an eleven year old in tow made a bit of a difference, but she felt she'd earned her ticket. I guess she had.
We'd changed a lot over the thirty years, but the city hadn't. Despite being an ultra-modern capital, a sophisticated European hub, Paris somehow manages to retain a timeless quality. There's an elegant permanence about the city and that's one of the things I love, and one of the reasons I'll never get tired of going back there. I really hope I did the place justice in La Brat.
The Totally Five Star hotel is situated right in the heart of the city, close to the Champs Elysées and within an easy walk of all the main tourist sights. I loved writing those scenes where Eugenie and Aaron go out playing at being tourists, strolling through the Tuileries gardens, visiting la Louvre to pay their respects to the Mona Lisa. I recall vividly my own joy as I did those things for the first time and tried to recapture it in the story. I hope it worked.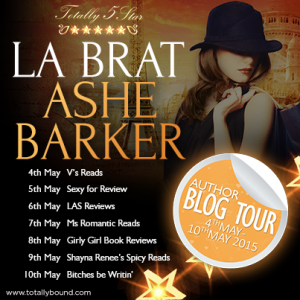 Blurb for La Brat:
This is the fourth novel in Totally Bound's Totally Five Star imprint, click here to see more.
Thou shalt not attack thy Dom—especially not with his own cane.
She's committed the cardinal sin, broken the eleventh commandment for submissives. No wonder the Dom she adores wants nothing more to do with her.
Eugenie believes her luck has turned when she lands an interview for her dream job—Events Organizer at Totally Five Star's flagship hotel in Paris. This is her chance to return to the city, which holds cherished memories for her, and pursue a career she loves. Most of all it's a golden opportunity to leave behind the bitter taste of her disastrous breakup with Aaron, the one Dom who can make her melt with a look, a word, a lift of his finger.
Her dream crumbles when she comes face to face with her nemesis, now Director of Security at Totally Five Star Paris, the one man who can wreck her dreams with just a few words.
Aaron has never forgotten the lovely little submissive who broke all the rules. He can do without the hassle of such a high-maintenance sub, but his sexy new colleague proves hard to resist. It's not long before he finds it hard to remember just what his objections were.
Determined not to dwell on the past, Eugenie throws herself into her wonderful new job. If she can only convince Aaron to give her another chance, her life will be perfect. A natural in her new role, against the glamorous backdrop of one of the world's finest hotel chains, Eugenie is in her element arranging a high-profile celebrity wedding. But when things start to go wrong, Eugenie finds herself at the heart of a series of inexplicable accidents.
Aaron doesn't believe in coincidences. Is someone else, apart from him, out to hurt his little Genie? And why? He is determined to protect Eugenie—and get to the bottom of who might want to harm her.
About Ashe Barker:
I've been writing seriously for about two years but I've been an avid reader for as long as I can remember, erotic and other genres.  I love reading historical and contemporary romances in all pairings – the hotter the better. But now I have a good excuse for my guilty pleasure – research.
In my own writing I draw on settings and anecdotes from my own experience to lend colour, detail and realism to my plots and characters. My stories are often set in the north of England where I live but I draw inspiration from all over. An incident here, a chance remark there, a bizarre event or quirky character, any of these can spark a story idea. But ultimately my tales of love, challenge, resilience and compassion are the conjurings of my own lurid and smutty imagination.
On the rare occasions I'm not writing my time is divided between my role as resident taxi driver for my teenage daughter, and caring for a menagerie of dogs, rabbits, tortoises.  And most recently a very grumpy cockatiel.
My other titles include the 'Black Combe' trilogies, The Dark Side, Sure Mastery, The Hardest Word and A Richness of Swallows, all set in the atmospheric moorland of West Yorkshire or Cumbria and with a strong BDSM theme. The Three Rs, part of Totally Bound's What's Her Secret? imprint is a stand-alone novel set in Berwick in the Scottish border. I've also written a couple of short stories, Re-Awakening, and a raunchy pirate tale, Right of Salvage, as well as a novella, Carrot and Coriander.
I have a pile of story ideas still to work through, and keep thinking of new ones at the most unlikely moments, so you can expect to see a lot more from me.
I love to hear from readers. You can find me on my blog, and I'm on Facebook, and twitter too. And more recently on Tsu
Buy Links
You can get a copy of La Brat from
Amazon.co.uk  Amazon.com  Totally Bound  Barnes and Noble  All Romance  Sony  Kobo 
Excerpt from La Brat:
An hour later, they were strolling along the Champs-Élysées, their fingers laced together. Although they were both familiar with this part of the city, the magic never seemed to fade. As the golden arches of McDonald's came into view, Aaron steered her inside.
"I promised you breakfast."
"Here, Sir?"
"Here. The full works—a breakfast wrap with coffee and a hash brown."
"Ah, you are so English, Sir."
"I am. McDonald's is American, though."
"True. Do they do croissants?"
"We'll ask."
They ate outside, watching the growing crowds scuttling past. Even on a Sunday morning, Paris absolutely buzzed with activity, the pavements of the city seeming to throb under their feet.
"You know, it is said that if you sit on the Champs-Élysées for long enough eventually everyone in the world will pass by." Eugenie mentioned this snippet as she contemplated the bustling crowds.
"Yeah?" Aaron was too engrossed watching her to contribute more to the conversation. She truly was exquisite. Her slim build hinted at fragility, but he knew better after yesterday. Now that he was coming to understand her emotional responses too, he really believed they could make a success of this. He could make a success of it.
"Sir? Am I boring?" She gazed at him, her expression quizzical as she licked crumbs from her fingers.
"No, you're being absolutely breathtaking." He couldn't take his eyes off her pretty little pink tongue as she captured a stray flake of her sausage and egg bagel from the corner of her lip. Christ, what plans he was making for that tongue.
"Sir?"
He leaned across the small metal table to brush his lips over hers. "I'm glad you're here, Genie. Here in Paris and here with me. Have you finished?"
"Yes. Thank you for the breakfast, Sir. It was delicious. I do not usually come here."
"You should. I like it. It helps to keep me grounded." He loved the luxury and perfection of the hotel, the Michelin-starred perfection of their haute cuisine. Perhaps this was why he enjoyed the contrast with the bright plastic glare offered by this star of the fast-food industry.
He stood and held out his hand again. Eugenie took it, and they resumed their stroll along the wide pavement. They gravitated toward the Arc de Triomphe, resplendent at the western end of the Champs-Élysées. They dodged the traffic to reach the island at the center of the Place Charles de Gaulle where the monument was situated, then stood to admire the architectural precision laid before them. The length of the Champs-Élysées stretched away as far as the Place de la Concorde at its eastern end. The Jardin des Tuileries continued the vista, the whole cutting a perfectly straight line through the heart of the city, testimony to the precise art of town planning. Beyond lay the palace of la Louvre, once home to the kings of France but now housing one of the finest art collections in the world.
"Should we go see the Mona Lisa?" Eugenie turned her face to Aaron, her smile eager and hopeful.
"If you like. I've never seen it."
"Me neither. Not the original anyway. Shall we walk there?"
"Of course. Ready?"
They took over two hours to reach la Louvre, stopping to window-shop under the ornate galleries of the Rue de Rivoli then lingering to enjoy the lawned perfection of the Tuileries. Eugenie declared this one of her favorite haunts and told him she often came here when she had a couple of hours off. Previously, she had always been alone, though.
Aaron squeezed her hand, reminding her that she was not alone anymore.