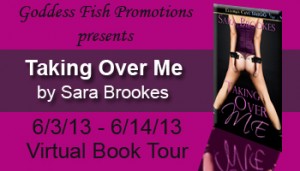 This post is part of a virtual book tour organized by Goddess Fish Promotions. Sara will be awarding a $50.00 gift card to Starbucks and a Perfect Shot (coffeehouse in Taking Over Me) coffee mug to a randomly drawn commenter during the tour. Click on the tour banner for the other stops on the tour.
******
For me, the idea of writing a series about a bunch of kinky geeks was a no-brainer. I mean, think about it. How sexy would it be for your computer-inclined lover to hack your electronic sex toy or even build custom vibrators from a radio controlled car? (I'm not making this up, really – there's a website out there dedicated to sharing information like this) Not that I want to necessarily have sex a la Demolition Man where Sylvester Stallone and Sandra Bullock don oddly shaped electronic devices so they can have "virtual" sex, but the idea could certainly be titillating to the right person.
A lot of geek culture is already saturated with kink. How about cosplay (dressing up as a favorite character)? Furries (dressing up as animals)? Look at all the corsets in steampunk, which popularity seems to be rising by the minute. It's all just role-play and it's a pretty safe bet there are many geeks who finds that sexy.
I'm not ashamed to admit I'm one of them.
I've also read my fair share of science fiction books (non-romance ones GASP), a genre which seems to naturally attract geeks, and boy, there are some really kinky stuff on those pages. Dealing with beings from other planets seems as if it's the perfect avenue for exploring the boundaries of lust and sex.
Sex, kink and geeks are just begging (pun intended) to go together.
About the Author: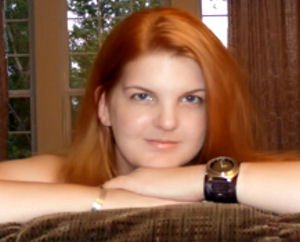 Sara Brookes is an award-winning author who has always been fascinated by the strange, the unusual, the twisted and the lost (tortured heroes are her personal favorite). She is an action movie junkie, addicted to coffee and has been known to stay up until the wee hours of the morning playing RPG video games. Despite all this, she is a romantic at heart and is always a sucker for an excellent love story. Born and bred in Virginia, Sara still lives there with her husband and daughter. The entire family is owned by two cats, Galahad and Loki, who graciously allow the family to cater to their every desire.
Website: www.sarabrookes.com
Twitter: http://twitter.com/Sara_Brookes
Facebook: http://www.facebook.com/brookesofbooks
Facebook Author Page: http://www.facebook.com/authorsarabrookes
Announcement List: http://eepurl.com/mbG3
He's everything she didn't know she needed…

Allison would rather fix computers than worry about sex. That is, until the newest barista in town changes everything. All it takes is one hot stare with his sinful baby blues to remind her she's not just one of the guys. She has lusty needs only he can fulfill.

Patrick's coffee shop is on the verge of an epic failure, until Allison takes charge of his computer system. He may not know anything about motherboards, but he does know how to take control both in and out of bed. Now Patrick is determined to get what he wants—Allison in his cuffs. His sensual mastery awakens an intense passion and under his command, he'll unlock the geek girl's darkest desires.

Warning: Collars. Cuffs. Clamps. Coffee. You may never look at your local barista the same way again.
Buy the book: