Long and Short Reviews welcomes Ariel Tachna whose newest book Unstable Stud releases today.
King of Hearts
It's not a coincidence that Luke shares the cover of
Unstable Stud
with a horse. Of all the secondary characters in the book—and I had fun writing them as I always do—the horse is the one that ties them all together until other bonds can keep them in place. King of Hearts, King for short, is a champion racer, now retired and living in luxury as a stud at Bywater Farm. He's a temperamental stallion who tolerates people who bring him treats but doesn't like anyone, to hear the farm's trainer tell it. He used to like a couple of people, but not anymore.
Because of that, he's suffering a kind of benign neglect. He gets food and water and he gets turned out in the pasture, but no one loves him. No one trains him because he's not racing anymore. No one rides him because no one dares. No one dares because everyone knows King doesn't trust anyone anymore, and the one person who might dare, the one person King might trust can't be there because being there hurts him as much as it hurts King.
Everyone except Luke. Luke doesn't see a damaged champion. He doesn't see a horse who "killed his rider." He doesn't see anything except a majestic animal in need of the same care and affection as every other horse in the barn.
Unstable Stud is a love story, the obvious one between Luke and Clay, but also the less obvious one between Luke and King, and the growth of that relationship and the trust between them is as much a part of the book as the trust between Clay and Luke. Arguably Clay and Luke would never have gotten to the point of trusting one another without King.
Several of my favorite scenes take place in King's stall with no one there but Luke and King, but one stands out in particular. As Luke cares for King and starts to work with him, exercising him and building a rapport with him, the idea comes up that maybe Luke will even be able to ride him, giving King a new lease on life in the process.
When Luke had King completely groomed, he peeked out the stall door to see if anyone was around. Seeing no one, he walked back up to King. "We're going to try a little experiment," he said softly. "Do you trust me?"

King looked at him placidly. Luke walked to King's left side and draped his arms across King's back. The thoroughbred was too tall for him to get any of his weight up there easily, but it was a start. King turned his head to see what Luke was doing, but when Luke didn't move, King grabbed another mouthful of hay and chewed on it in perfect contentment. "Don't freak out," Luke whispered repeatedly under his breath as he bounced on his toes and jumped, putting his chest across King's back for a few seconds before he slid off.

King turned to look at him again but gave no sign of protest. "Okay," he said, stroking King's mane. "You don't seem to mind me on your back at least that much, so I'm going to learn what Joe can teach me, and we're going to do this for Clay. All right, King? For Clay."

King whickered softly and bobbed his head.

For Clay.
Horses were his passion, until he laid eyes on his boss.

Eighteen months ago, tragedy struck Bywater Farm when a riding accident killed Clay Hunter's lover and traumatized his prize horse, King of Hearts. Clay and King lingered in limbo, surviving but not really living, until a breath of fresh air in the form of Luke Davis, a new groom in the stud barn, revives them both.

When a fall from King's back sends Luke to the emergency room, Clay watches the shaky foundation of their budding relationship tumble down. Can Clay really love a jockey again, or will his fear of losing another man he loves keep them apart for good?
About the Author: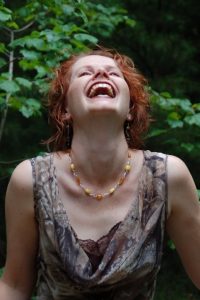 When Ariel Tachna was twelve years old, she discovered two things: the French language and romance novels. Those two loves have defined her ever since. By the time she finished high school, she'd written four novels, none of which anyone would want to read now, featuring a young woman who was—you guessed it—bilingual. That girl was everything Ariel wanted to be at age twelve and wasn't.
She now lives on the outskirts of Houston with her husband (who also speaks French), her kids (who understand French even when they're too lazy to speak it back), and their two dogs (who steadfastly refuse to answer any French commands).
Website | Facebook
Buy the book at
Dreamspinner Press
.