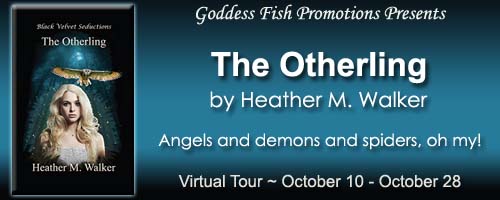 This post is part of a virtual book tour organized by
Goddess Fish Promotions
. Heather M. Walker will be awarding a hand painted set of two wine glasses, painted to resemble stained glass and a ten card tarot reading (US/Canada only) to a randomly drawn winner via rafflecopter during the tour. Click on the tour banner to see the other stops on the tour.
Just Write
It's hard to stare at a blank screen, even when your heart is burning and you have the desire to pour your soul out onto the page before you. What if what comes out sounds crazy, doesn't make sense, or is full or errors? Should you go over what you write as you write, reading it over for mistakes before you move on to the next portion of writing? What if what you write sounds good to you, but it gets rejected over and over, would it even be worth the time it takes to write it?
Here's my two cents. JUST WRITE. It doesn't have to be a masterpiece the first time around. It's called a rough draft for a reason. There's always time to go back, to edit and revise what you've written.
Here's the thing, if you are afraid to get it wrong, you can restrict the flow or your creativity, and it can make it hard for anything to come out at all. Stop doubting yourself, get a pen and paper, sit behind your computer screen, get out that old family typewriter….however you choose to get the words out, just do it! Write until the screen is full of words, until your hands are smeared with ink, or until your pencil has been sharpened into a nub. Not all of it will be good, heck, some of it might be terrible, but at least you've gotten the words down on a page. The most important thing is to write, because then you have something to work with. Stop doubting yourself, being a perfectionist is not going to help you here, at least not in this stage of writing.
Once you have written yourself out, put it away. Do your best not to think about it for a few days. Do something else. If you have a craft or a hobby, take your free time to do this. Take an extra shift at work. Take your kids to the park. Keep yourself busy so you can keep what you've written out of your mind. Then, after several days, go back to what you've written earlier and look at it with fresh eyes. Go through it and edit or revise it now, fix spelling errors, strike out things that don't work, change sentences into deeper, more free flowing ones. Develop the ideas that were raw into ones that have a stronger foundation, expand on your ideas, and tidy up what were rough ideas when you first wrote them.
The raw material you let flow freely from you earlier has given you material to work with, and that is the most important thing. Don't let it be censored due to fear, the more you write, the more you have to work with.
Also know it's ok to take a break from writing. Some people advise to be a writer you need to write every day. Maybe this is true for some writers, but for myself I don't find this to be true. While I love to write, it is also important for me to wind down, relax and recharge. It's important to find out what works for you, and to do that. Sometimes it takes a while to find out what works for you too, and that's okay. This is your journey, travel it as only you can.
As far as being afraid of your writing being rejected, just accept it as inevitability. Every writer gets rejected; it's going to happen. I saved all of my rejection slips in a folder. I use them to remind myself just how far I am willing to go to make my dreams of being a published author come true.
Each rejection should be treated as a badge of honor. It's a right of passage all writers have to endure. Yes, some rejections were nice and gave me exceptional advice on how to better my story, on what I was doing correctly and what I was doing wrong. Others were downright vicious, and one even made me cry. I've had one editor tell me there wasn't enough emotion from my characters to the point my story was dull and dry, and another tell me it was so over emotional to the point of being overly dramatic and unreadable. I've had responses all over the place in my journey to be an author, and the truth is, I almost gave up. After a year and a half of trying to find my novel a home, I was almost sure I had to at least stop for a while, let my manuscript cool off, and then try to revise it all over again one more time. Either that, or just let it go altogether.
I'm so glad I didn't give up! Being a writer means you must be full of determination and perseverance, even when you don't think there is a publisher left on the planet who would take your work. Don't. Give. Up.
Of course, make sure you're submitting your best work. Check and recheck your spelling and grammar. Edit, revise, and revise again. When you're certain your manuscript is at it's peak of perfection, then go for it, and don't look back.
I'll be looking for you on the best seller's list!
In the deep south of Doltree, Georgia, not everything is what is seems. Long accustomed to life as an outcast, the beautiful and demure Annaleah Grace has learned to stand apart from the crowd with dignity. Being the daughter of a white witch and a white witch herself, living in a town of devout Christians, has earned her more than a few raised eyebrows.

When she meets the handsome, yet snarky, Professor Bainbridge with whom she will be teaching at the local University, everything in her life abruptly changes. Something about him seems intimately familiar to her in a way she can't totally identify. Even though he's brusque and intimidating, Annaleah is drawn by his otherworldly eyes and foreign mannerisms.

With the help of angels, both Holy and fallen, she discovers just how unique she truly is. Dreams become a meeting place between this reality and the next, and Professor Sebastian Bainbridge's true identity is revealed.

When her dreams begin to be more than dreams and she wakes up with Georgia red clay she walked through during a nightmare still wet on her feet, Annaleah knows something intense and powerful is going on, and that somehow, Professor Bainbridge is part of it. She is determined to embrace the profound destiny that awaits her and the Professor, even if that means taking up a sword to fight the Devil himself.
Enjoy an Excerpt:
Deep in the infernal glow of Hell's belly, the Old Ones began to stir. Called forth out of a dreamless slumber by a growing sense of tension, where they had remained undisturbed for millennia, they awakened. Languidly they spread their scarred, battered wings and stretched their crooked limbs as their ancient eyes began to open. A growing sense of tension and unease began as a subtle stirring in the air and rose until it permeated Hell, down to the chambers in which they had slept undisturbed for millennia. Anger at being disturbed rose like bile in their throats. Ancient mouths filled with rows of hooked fangs yawned and snarled. Yet the Wise Ones knew, it had been no creature of Hell that had summoned them, no foolish mortal in the land of the Above that had recited age old incantations of beckoning. Things in the land of the Above were changing, shifting the balance of Good and Evil towards the powers of the Light. Narrowing newly opened eyes, the daemons concentrated and followed the signature of energy to its source in the world of mortals. The hideous ones smelled this change with flared nostrils, letting it fill their rotten lungs until it burst forth into their minds with a certain knowing.
About the Author: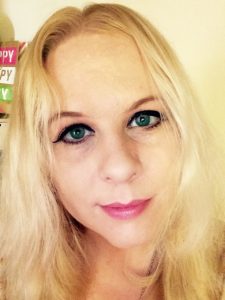 Heather was born into a military family, and has lived everywhere from Mountain Home, Idaho, to a small town in England called Bloxham. She eventually settled down In LaGrange, Georgia with her partner of 15 years, Billy, her 7 year old daughter Makaylah, and her 4 indoor cats. She considers herself first and foremost, a mother. She enjoys being a writer, a jeweler, a glass artist, a painter, and avid crafter. It has been her life long dream to publish a book, and she has lovingly worked on "The Otherling" in its various stages for almost 3 years. Heather loves to read, mostly horror, fantasy and occult books. She studies angelology, mysticism, Wicca, psychology and the human mind. Her writing goal is to create a book that comes to life in her reader's hands and minds, and places them there in the middle of the story. It is her deepest wish that "The Otherling", as well as her other written works, will accomplished this, and make a home in the hearts of all those who read her words.
Twitter | Facebook | Blog | Goodreads
Buy the book for only $0.99 at Amazon, Barnes and Noble, or Smashwords.