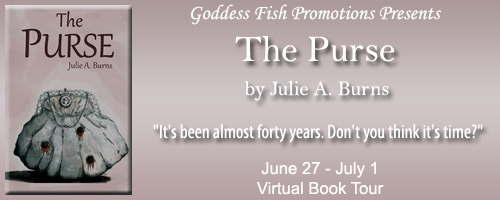 This post is part of a virtual book tour organized by
Goddess Fish Promotions
. Julie will be awarding 1 printed book of The Purse or 2 ebooks (The Purse and a second of their choice) from RRPI to a randomly drawn winner (international) via rafflecopter during the tour. Click on the tour banner to see the other stops on the tour.
The Quirks of Writing
To regular human beings, writers seem a bit odd. Why spend all that time coming up with a story and thinking, thinking, thinking? Doesn't it get old? My answer is no. Never.
There are writers who write every day, and no matter what they write, they absolutely, without a doubt, must write! There are times when I have written every day while in the thick of the story, but most often, I am thinking about writing and not actually doing it. Many writers would scold me for not writing and that's okay. Each writer is different. It doesn't mean my goal is any less valid or attainable.
For me, I have to have pen and paper and a computer to write. Much of my book The Purse was written on paper and then typed on the computer. In the process of typing it from paper form, I came up with new plots, new characters, and new resolutions. A writer, artist, or any creative person will tell you the end is unknown. I had other ideas as I wrote my book, and the finished product is nothing like I originally intended.
During the process of writing, one of the tools I discovered was helpful was a dry erase board. I used three of them in my upcoming second novel, Dreamers and Thieves (February 2017). This helped me keep track of characters and was basically a timeline of events and happenings. I also kept track of hair and eye color so I would not forget as I wrote. Those discrepancies are important and easily missed in editing, but often noted by readers.
To be a writer means thinking differently than most. I will take my quirkiness and run with it.
When Lydia Blackwell visits her dying father for the last time, he reveals the deeply hidden truth about her mother. After the funeral, the stranger Derek Meade gifts her with a gorgeous antique purse. But before she has the chance to connect with the man who knew her father intimately, Lydia finds Derek murdered in his home.

Lieutenant Sonja MacIntosh is assigned to investigate Mr. Meade's death, but her career on the force never prepared her for Lydia Blackwell. As Sonja works to solve the murder, Lydia takes the greatest risk of her life in leaving Chicago to search for clues to her mother's past. Their instant attraction surprises them both, but even through the chaos Lydia can't deny the intensity of her feelings for the strong willed Lieutenant.

Lydia's possession of the antique purse throws her already chaotic life into a whirlwind of kidnapping, blackmail, vengeful mob bosses, and mind-numbing revelations. Through it all, Lydia must find the strength to accept herself – and those closest to her – despite their darkest secrets.
Enjoy an excerpt:
As she walked into the bedroom, the smell of her father's cologne lingered even through all the sickness that had been in the air. Stepping over to the deep walk-in closet, Lydia opened the double doors to reveal her father's suits, ties, and shoes. She made a mental note to have Rosita donate her father's clothes so they didn't hang like a shrine. She stared at every inch of the closet until her eyes fell on a small shoebox buried on the top shelf. Lydia retrieved the step-ladder from within a hidden compartment in the closet's wall and stood on it to pull down the shoebox. Without thinking, she strolled over to her father's bed, sat down, and went through all the memories kept in the cardboard box.
Many were just baby pictures of Lydia, and then she discovered a picture of her mother when she was pregnant. How beautiful she was; she looked so happy and carefree. What in the world could have happened? More questions, no answers. Lydia decided to keep the picture with her. Digging deeper yet into the box, she also found pictures of her father and Derek together. They made a handsome couple, though it was still difficult to believe her father had been involved with a man. At least true love hadn't escaped him as she'd previously thought.
About the Author:
Julie A. Burns is a native Iowan born in Marshalltown, Iowa and raised in Davenport, Iowa. After her parent's divorce at age 7, she took to writing, whether it was her diary or poems about people she met or situations that bothered her. After graduating from high school in 1983, she spent time working as a Nurse's Aide in different nursing homes in Iowa. In 1989, she gave birth to a daughter, Brittany and raised her as a single parent. In the same year, she enrolled at Iowa State University in Ames, Iowa. She graduated with a Bachelor's Degree in Sociology in 1994. Since then, Julie has spent time working with developmentally disabled adults and the mentally ill throughout Iowa and also in Wyoming, where she lived for 6 years. Julie currently lives in Waterloo, Iowa with her spouse. When she's not writing, she enjoys being a grandmother to 3 year old Sophie.
Facebook ~ Twitter ~ RRPI Author Page ~ Smashwords Author Page
Buy the book at Amazon