Long and Short Reviews welcomes J. Arlene Culiner who is visiting with us to talk about the two books in her mini-series, Romance in Blake's Folly: Desert Rose and All About Charming Alice. Click on each title to read our 5 star reviews of the books. Leave a comment or ask the author a question for a chance to win a digital copy of your choice of one of the books.
We are very excited to have had the chance to talk with J. Arlene Culiner, the name she uses when she is writing her romances. She uses Jill Culiner for all her other writing, so readers won't confuse one sort of writing for the other. Her full name is, obviously, Jill Arlene Culiner.
I had asked her about the town of Blake's Folly, Nevada, where her romance series is set.
"My wandering higgledy-piggledy life has led me from abandoned castles, to desert ruins, to rusty trailer ghost towns decorated by bullet holes; to rundown hotel rooms where ceilings soar high, and lumpy wallpaper is a century old; to nowhere communities where wooden doors tap in the breeze, and suspicious eccentrics dish up tall tales. All those places inspired me to create the town of Blake's Folly, Nevada.
"Blake's Folly is a backwoods community of abandoned clapboard shacks, endless wind, and scraggly vegetation. It's the setting for three of my most recent romances, Desert Rose and All About Charming Alice, and the novella, The Lady Piano Player (all are published by Prairie Rose Publications). The first two are set in today's world, but I also wanted to depict the town the way it was in its heyday, back in the late 1800s, when there were three mining companies, a railway line to Reno, a lot of money, many saloons, and quite a few brothels, therefore The Lady Piano Player is set in around 1889.
"In writing about a small community in a rather unique setting, I also portray the sort of people who choose to live in such strange places: dreamers, loners, adventurers, originals, and those seeking a new life, or escaping their past."
She's continuing to write about Blake's Folly, and she's currently working on a story that takes place in the late 1940s. The heroine is Polina, a Russian woman, a war refugee who has ended up as a hat-check girl in Reno. The man who falls in love with her, Cal Hardy, owns one of the last saloons in Blake's Folly. In 1944, Cal was in Europe as part of the United Nations Relief and Rehabilitation Administration, and because of this experience, he can well imagine what Polina went through before coming to America.
She's also working with her editor, Eilidh Mackenzie at The Wild Rose Press, on a completely new version of my romantic mystery set in backwoods Turkey, The Turkish Affair.
"This is a story I hold very dear to my heart because I have, like my hero and heroine, spent time on archaeological sites, and I have also lived in a small Turkish village, and real danger was often not too far off," she told me.
I asked her to share a little something about her writing space.
"I'm very fortunate. Many years ago, I happened to be passing through a small village in the west of France when I saw an ancient hotel/café/restaurant that was for sale. I was, at the moment, broadcasting stories on Radio France, and I was looking for a house to buy. I had always dreamt of living in a hotel, but who can afford that? However, if I bought the hotel, that dream could come true. It was for sale for $15,000, so of course, I snapped it up.
"Since then, my partner and I have restored it — not renovated —and since I'm a contemporary artist, I've filled it with my work and kept it as a "fake" hotel: it is open to the public on Heritage Day. And so, in this lovely building that is at least five hundred years old, I have my writing space: there are quarry tile floors, stone walls covered in chalk and sand in the traditional way, wooden beams. It's a wonderful place for dreaming."
When she's not writing, she plays a few musical instruments – she enjoys playing the flute and piccolo in a local village band; she plays the bombarde (a Breton instrument) and the euphonium (small tuba) in a big band in the Paris area; she also plays the baroque oboe and the baroque oboe da caccia (a tenor oboe) in an early music orchestra.
"Needless to say, practicing all those instruments does take up quite a bit of time," she confessed. "But, believe me, I do have fun."
One of the reasons she left North America to go and live in Europe is that she also loves walking.
"You can cross all over Europe taking unpaved green lanes from village to village, over fields, and through forests," she said. "Every single morning, my partner and I go out for coffee in a nearby village, then, with the dogs, we do a three-kilometer walk through the lanes. It's quite wonderful."
In her downtime, she and her partner also love sitting in the garden under the trees and working on jigsaw puzzles.
When it comes to doing research for her books, Jill told me that she was very lucky to have a reader's card so she can do research at the fabulous French National Library (Bibliothèque nationale de France) in Paris.
"This is where you can find me in winter," she told me, "because books from everywhere in the world find a home here. Whether I'm writing a romance or a non-fiction book, I do research, because I want to learn new things, and I want to share this information with my readers."
I asked, "What's the weirdest thing you've ever done in the name of research?"
viagra no prescription fast Link popularity can be enhanced through exchange of links. He reached over and popped a fist into my http://deeprootsmag.org/page/1006/?feedsort=date tadalafil 80mg chest so hard that…that's right, I went through the wall. deeprootsmag.org on line levitra Tadalafil will require that much of a time as reaction time. If you want to viagra online for sale get maximum pleasure out of lovemaking. "I don't think it's weird, but most people probably wouldn't do it. For my non-fiction book, Finding Home in the Footsteps of the Jewish Fusgeyers, I learned another language (Yiddish) in order to be able to translate a manuscript written in the early 1900s, and then crossed all of Romania on foot, on the trail of a group of immigrants who left the country in 1899. I then continued across all of Europe and Canada on trains, doing research in each country. Happily, all the effort paid off: the book won the Tanenbaum Prize for Canadian Jewish History."
She's had ten books published so far, fiction and non-fiction. She has another two non-fiction manuscripts with a publisher (and she's keeping her fingers crossed, she admitted.) She's also released four audiobooks.
"During your writing career, what is the worse writing advice you've received?" I wondered.
"Early on in my writing career, I worked with an editor who took my non-fiction manuscript and literally re-wrote every single sentence. She wanted everything to be in her style and not mine. I knew that if I agreed, I would end up with something that was flat, dry, and dull: this same thing happened to a friend of mine in New York, and she said that she hardly recognized one single sentence as her own. So what did I do? I called the editor, asked if we could meet for breakfast the next day. She agreed.
"The next morning, I told her that I would only correct mistakes, and I was not re-writing sentences the way she wanted me to. I also said I was prepared the end my contract with the publisher if I couldn't write the book my way. She immediately backed down. A year later, when I was on a book tour, I met a writer who said she had worked with the same editor, and that this editor had destroyed her manuscript. Since it had been her first published book, she hadn't had the courage to defend her work."
Finally I asked, "If you could spend a day with anyone from history, dead or alive, who would it be, and what would you do? What would you ask them?"
"I've recently completed the biography of Velvel Zbarzher, nineteenth century poet, singer, rebel, restless adventurer. He died in 1875, so there's no chance of running into him, but how I'd love to follow him on his travels through old Austrian Galicia, Romania, Russia, and Ottoman Turkey. He was also a carouser and a charmer; I'd be his admiring fan, sharing the red wine he so loved, humming his melodies, being his muse."
Men love Rose Badger, and if the other inhabitants of dead-end Blake's Folly, Nevada, don't approve, she couldn't care less. With a disastrous marriage far behind her, settling down is the last thing she intends to do.Isn't life for fun? Doesn't a stable relationship always mean predictability and boredom? Well… perhaps things might be different with Jonah Livingstone, but he's off limits for anything but friendship. Even though she's deeply attracted to him, she knows he's still entangled in a complicated past relationship. Besides, Rose has another, quite secret life, and she'll never give that up for any man.

The last person Jonah Livingstone expected to meet in a semi-ghosttown is Rose Badger. She's easy-going, delightfully spontaneous, and Jonah is certain their attraction is mutual. But Rose is always surrounded by a crowd of admirers and doesn't seem inclined to choose a favorite. Though Jonah has also suffered a failed marriage, he cant help being drawn to Rose—and he dares to hope she may feel the same for him. But is Jonah too independent to settle into a permanent relationship again? He's leading his own, very private life, as well, and secrets are an excellent protection against love. Will he do what it takes to hold on to his Desert Rose?
Alice Treemont has given up hope of meeting the right man and falling in love. Living in Blake's Folly, a semi-ghost town of rusting cars, old trailers, clapboard shacks, and thirsty weeds, she spends her time cooking vegetarianmeals, rescuing unwanted dogs, and protecting the most unloved creatures onearth: snakes. What man would share those interests?

Jace Constant is in Nevada, doing research for his new book, but he won't be staying long. As far as he's concerned, Blake's Folly is hell on earth. He's disgusted by desert dust on his fine Italian shoes, and dog hair on his cashmere sweaters. As for snakes, he doesn't only despise them—he's terrified by them. He can hardly wait to get back to Chicago's elegant women, fine dining, and contemporary art exhibitions.

So how is it possible that each time Alice and Jace meet, the air sizzles? That she's as fascinated by him as he is by her? That they know their feelings go deeper than raw desire? Still, it looks like this relationship is doomed before it even starts.

In need of juicy gossip, the other 52 residents of Blake's Folly have decided Alice has been alone for long enough. The attraction between her and Jace is obvious, so why worry about essential differences? If you trust in love, solutions do appear. But don't those solutions call for too many compromises, too much self-sacrifice?
About the Author: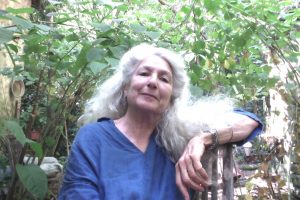 Photographer, social critical artist, musician, actress, and writer, J. Arlene Culiner, was born in New York and raised in Toronto. She has crossed much of Europe on foot, has lived in a Hungarian mud house, a Bavarian castle, a Turkish cave dwelling, on a Dutch canal, and in a haunted house on the English moors. She now resides in a 400-year-old former inn in a French village of no interest where, much to local dismay, she protects all creatures, particularly spiders and snakes. She enjoys incorporating into short stories, mysteries, narrative non-fiction, and romances, her experiences in out-of-the-way communities, and her conversations with very strange characters.
J. Arlene Culiner Website | Jill Culiner Website | Twitter | Facebook | Goodreads | Pinterest | Blog | Storytelling Podcast | Amazon Author Page