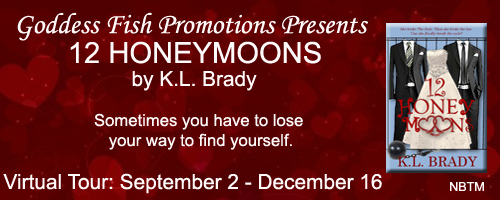 This post is part of a virtual book tour organized by Goddess Fish Promotions. The author will be awarding $25 Amazon or B/N GC to a randomly drawn winner, and a Kindle Fire HD (International Giveaway) to another randomly drawn winner, both via rafflecopter during the tour. Click on the tour banner to see the other stops on the tour.
Today's interview is with Miki Vincent, a wealthy D.C. socialite and Georgetown graduate who has accomplished…well, she's achieved…well, she comes from a good family of high performing attorneys. Miki joins Author K.L. Brady today to discuss 12 Honeymoons.
Brady: Great to see you again. It's been a few months. How's life?
Miki: Long time no see! Life's great. Although I do think you could've found a better way to introduce me. I've accomplished a lot since the beginning of 12 Honeymoons. I'm just saying.
Brady: Yes, yes. Perhaps that was a bit unfair. But more about the story and less about you. In the beginning of the book, you were in court fighting simple assault charges against the boyfriend formerly known as Mitch. How did that all….happen? I have to say, I never thought you'd represent yourself in court.
Miki: See…what had happened was… It's really a very simple explanation. But it's also complicated. Mitch was a lying sack of… well, he lied. And, through a series of purely accidental bumps with my car door…and fist, he suffered a few minor contusions. In other words, I kicked his butt. But he conned me out of thousands of dollars. What else is a girl supposed to do?
Brady: It was following this alleged incident that you devised the honeymoon plan.
Miki: Yes. One of my more brilliant plans, at least at the moment. I, like many women out there, am sick and tired of following rules for women that were created by men; they always fail miserably.
Brady: Can you give us a example?
Miki: Yes. Take the 90-day rule. It dictates that if you meet someone and you wait 90-days to sleep with them, you'll know what kind of man you're dealing with. Well, what they don't tell you is that the jerks know all about the 90-day rule, too. And jerks can wait 90 days for sex.
Brady: You look flustered. Could I offer you some tea? A valium, perhaps?
Miki: No, thank you. But some ice cream would be nice. Anyway, I devised the honeymoon plan to keep women from ever having to suffer broken hearts at the hands of jerks again. Men are always on their best behavior during the first 90-days and then suddenly things change. At first there's no arguments, lots of dinners, movies, flowers, dancing; they put on their best performances. Then they pull the old switcheroo and begin distancing themselves from you before they dump you. So, why not enjoy the heck out of the first 90 days and then dump the jerks before they get the chance to break your heart? All the fun. No broken hearts. That's the plan.
Brady: So, how do you get married or experience long-term relationships this way?
Miki: You don't. Who needs marriage when you can have a lifetime of honeymoons? *Cough* Anybody else thirsty? Could I get a cup of water?
Brady: Water! Okay, back to the interview. Now, tell me about your dog, Mack. He's adorable.
Miki: He's a Jackapoo, part Jack terrier and part poodle. I adopted him from a friend of mine who passed away. He doesn't roll over or play dead, but he types…and he's pretty handy with squeaky ball toys.
Brady: Tell us more about this friend who passed away. Mr. Abernathy, right? He left you an enormous inheritance.
Miki: He was the most generous and caring person I've known outside my family. Well, he was my family, like a grandfather to me. Anyway, I'd rather not discuss him anymore, if that's okay with you.
Brady: Still difficult, huh? I understand. Okay, if not Mr. Abernathy, how about Pam McGhee? She's your best friend, right?
Miki: Best. Friend. Ever! Beautiful, a talented artist, one of the smartest people I know but a little but paranoid these days. She thinks her husband is having an affair. Joe would never have an affair. I mean, if he's having an affair, I'm broke. I'm not broke. But I will concede he's not been himself for months. Something's going on with him. Is it another woman? I don't think so…but I'm also not willing to bet on it.
Brady: Speaking of affair, I've heard your greatest affair, the love of your life was Ricky. Care to tell us a little about him.
Miki: Ugh. No. I don't feel well. Did somebody turn up the heat in here? Give me a second, please. I need to check something on the WebDoctor. My symptoms are getting worse.
Brady: Er…um, okay. Perhaps, we should wrap this up. Thank you for being with us today, Miki. Best of luck on your future endeavors.
Miki: Is my neck swollen?
Miki Vincent's entire life stalled because she's addicted to the beginnings of things, especially relationships. She relishes in the emotional highs, first hugs, first kisses that new love brings. But sex always ruins it. That's why abstaining during the first three months of a relationship—following the 90-day rule—was supposed to help land her down the aisle with Mr. Right. Miki finds out the hard way, Mr. Wrong can wait that long, especially if his ultimate prize is her inheritance.

One assault charge and depression later, Miki devises the Honeymoon Plan, guaranteeing her a lifetime of firsts and zero heartaches. But following her own rule sends her life into an out of control spiral in which she's sentenced to more than perpetual break-ups. A new pursuit and a string of sexy suitors offer her the opportunity to jumpstart her life and test her new strategy. The only problem? It just might work.

Miki's best friend Pam, a repressed artist, struggles to keep her honeymoon alive but she can no longer ignore the blatant evidence staring her in the face: Her husband is having an affair. A different kind of "honeymoon plan" designed to free her from her troubles, and a chance meeting with a handsome artistic stranger, help reignite her passions. But will they destroy her marriage in the process?
Enjoy an excerpt:
I spent my time trolling Facebook and shopping Tiffany & Co. for engagement rings, looking back on those dizzying, emotional highs between day 1 and day 89 after you meet someone new, wondering why I couldn't put them on Groundhog Day repeat. I wanted to relive each first touch, first hug, first kiss, and first roll in the proverbial hay during The Honeymoon Phase—those heavenly moments at the beginning of a relationship during which sublime happiness could not be contained, when you agreed to everything and fought about nothing. And the butterflies. Oh, the butterflies. How they flapped around in your stomach as you lie giddy with anticipation waiting for the phone or the doorbell to ring. The mere thought of you compelled him to acknowledge your presence on earth and in his life. And don't even start on the lovemaking. It was so delicious and frequent you could produce enough serotonin and dopamine between the two of you to fuel a medium-sized Chinese village in the Shanghai Province. I convinced myself that this vision of perfection, excitement and passion was how we all should experience love, not just in the first ninety days, but always.
About the Author: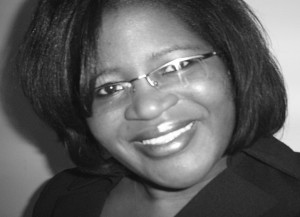 K. L. Brady is a D.C. native but spent a number of her formative years in the Ohio Valley. Her writing career started in the pages of diaries when she was 7 or 8 years old. But it wasn't until her 40th birthday and an Oprah "Live Your Best Life" moment that she finally answered her calling and wrote her first novel–The Bum Magnet. The originally self-published novel was picked up by Simon & Schuster in a two-book deal, and K.L. hasn't looked back since, penning the follow-up, Got a Right to Be Wrong and self-publishing the first books in two young adult series and a spy thriller series based on her 20+-year career in the U.S. Intelligence Community.
She has a B.A. in Economics, an MBA, and is a member of the Maryland Writer's Association, Romance Writers of America, Sisters In Crime, and International Thriller Writers. She's addicted to writing and chocolate—not necessarily in that order—and currently lives in the Washington D.C. area with her son. She is hard at work on several projects, including the next installment of the series.
Website | Facebook | Twitter
Buy the book for only $0.99 at Amazon.