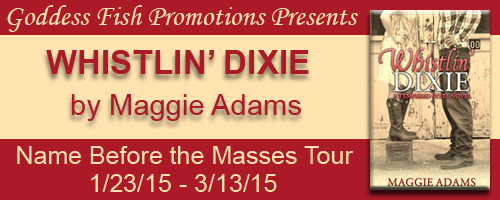 This post is part of a virtual book tour organized by
Goddess Fish Promotions
. Maggie will award a $20 GC to Amazon or Barnes and Noble to one randomly drawn winner via Rafflecopter. Click on the tour banner to see the other stops on the tour.
Hello, this is Cecelia Hope with Channel 2 news. I'm with Mac Coalson, eldest son of Hank and Ginny Coalson, and owner of Coalson Construction Company: Give us a little background on your company
Coalson Construction Company is a family-owned business. My six brothers and I all have shares in the company. We actually started the company when the flood of 1993 happened. The Army Corp of Engineers camped out at our farm. We helped with the clean up, of course, and we decided to take it a step further. I had just graduated college with degree in construction management. Chance was right behind me with a business degree. The others worked through college here.
How long have you lived in the Grafton area?
One of my ancestors came with the Fr. Marquette expedition to bring Christianity to the area, fell in love with a Native American and settled here. Coalsons have been here ever since. That's one of the reasons we are so determined to save our town.
Any ideas on who is vandalizing the homes your company has built? Why just your company?
My company? I have no idea, but I will find out. As for the actual vandalism, we are cooperating with the police and setting up our own security to facilitate a rapid conclusion to the problem.
Rumor has it, you picked up some teen vandals. One of them, the new schoolteacher's brother?
Some teens were brought in for questioning, but were later released.
Makes it a bit awkward to date the new schoolteacher if you arrested her brother, doesn't it? She was the one who accused you of the vandalism in order to collect the insurance money, right?
No comment.
C'mon, Mac, is it true you fired a man for grabbing her hand? Did she or did she not accuse you of being a fornicating, Mississippi river rat?
The interview is over.
But Mac…what do you think about the bets going on around town about you and Dixie Harris? Who's going to surrender first in your silent war? Well, this is Cecelia Hope, Channel 2 News with a now absent Mac Coalson.
Enjoy the book video:
A man on a mission….

Mackenzie Coalson was determined to rebuild his hometown after a devastating flood left it in ruins. He has no time for a relationship and all the romantic junk that goes with it. He has a vandal to catch and no sweet smelling bundle of femininity is going to sway him.

A woman protecting her family…..

Dixie Harris charged into the county sheriff's office with a sassy sway and a smart mouth, eager to give the sheriff, and anyone else, a piece of her mind. When she locks horns with the devil himself, in the form of Mac Coalson, she quickly learns he has a temper to rival hers, even if he's the living epitome of her sexual fantasies.

When the two unite to catch a potential murderer, it's in everyone's best interest to keep it, "business only". But that's hard to do when their combined attraction is volatile enough to burn down the town.
Enjoy an excerpt:
Knocking again a little more forcefully, he pleaded. "Dixie baby, please open up. You didn't see what you thought you saw. Please. Just let me explain."
"I may be young, but I'm not stupid. And I am most certainly not blind," she snapped at him from the other side of the door. The man was unbelievable.
"You are the most infuriating bit of baggage I have ever encountered. If I didn't care for you so much, I'd leave right now and never look back."
"You call that caring?! I call it a line of crap! The only thing you cared about begins with an "F" and ends with me losing my virginity!" Oh, God! Had she really just shouted that?
Pounding on the door with his fist, he shouted, "Dixie Harris, you open the door this minute, or I'll break it down!"
"Then I'll just have you arrested for breaking and entering. Sort of ironic, don't you think?" she countered sweetly. She felt like crying the Mississippi River because he broke her heart, but she was not going to let that arrogant pain-in-the-ass know just how much she was hurting. She had her pride!
"Fine. Just fine. I should've known better than to get involved with a little girl, anyhow. Maybe, in a few years, when you grow up and if you have apologized nicely, I might just take you back! And bring a damn soapbox to stand on. My neck's getting sore from looking down at you!" he snarled. After giving the closed-door another good pounding, he stomped out of the house, slamming the front door.
"Oooooh!" Dixie's eyes narrowed to mere slits and her hands balled into fists as Mac's last remark registered with the banging of the screen door. It was like pouring gasoline on a bonfire. She was out of her bedroom and on the front porch in seconds. Heedless of the people walking down the street, she advanced like a mad woman across the yard, screaming. "Apologize to you? When pigs fly, you Mississippi River rat.
About the Author:Hi! I'm Maggie Adams. I live near St. Louis, MO, with my high school sweetheart, Ned, and my wonderful kids, Katie (Kyle) and Ross (Valerie). My life is like a walking, talking sitcom from I Love Lucy, but I love it, although people do tend to keep their distance from me!
Writing has always been my dream, with reading my favorite hobby. When I'm not writing, I can be found singing, dancing, and cooking, often all at the same time. I try to include a little bit of my life in everything I write, so when you read my books, keep your eyes wide open – I'm in there somewhere! Happy reading!
I love to hear from readers and I can be contacted at maggieadamsbooks@gmail.com.
Website | Facebook | Amazon Author Page
Buy the book at Amazon.