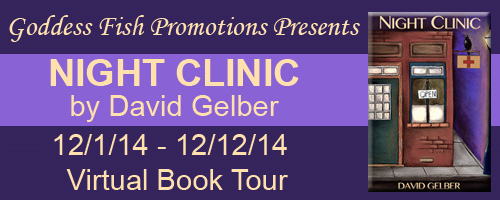 This post is part of a virtual book tour organized by
Goddess Fish Promotions
. David will be awarding a $50 Amazon/B&N GC to a randomly drawn winner via rafflecopter during the tour. Click on the tour banner to see the other stops on the tour.
Dr. Barnes is an Internist who stared moonlighting at the Night Clinic during his residency in Internal Medicine. He encounters a steady stream of unusual patients, yet cares for each with unique insight and compassion. I sat down and chatted with him recently.
Interview with Dr. Barnes
How did you first come to work at the Night Clinic?
I had some free time and I'm always in need of some extra cash. A hundred bucks an hour is pretty good when you're living on a medical resident's salary. Although, in retrospect it wasn't enough.
Why is that?
Caring for international spies, mythological beasts, criminals, patients in the process of zombification and other bizarre folks is just not what one usually does as part of medical practice. I mean, whatever happened to the mundane diabetics or people with high blood pressure?
Surely you get your share of those patients.
I suppose I do. But, I see far more than my fair share of wierdos.
Are the patients you cared for as part of your residency different from the population you encounter at the clinic?
As different as night and day. Most of my residency was at University Hospital, filled with rich widows complaining of swollen legs or businessmen with high blood pressure, usually caused by worry over having only a hundred million in the bank instead of two hundred. Night clinic is for the people at the other end of the economic spectrum. We see alcoholics who are slowly drinking themselves to death and want us to slow down the inevitable, gang members after there's been a rumble, addicts, hookers and the bizarre individual who only dares go out at night, shunning "normal" society. One of my favorites is Caleb, the street artist. I'm sure you've seen his work around town. He has some sort of ESP, his drawings and paintings have an intuition that could only come from some sort of mystical inspiration. I've never seen anyone like him at the University hospital.
Now that you're finished with residency you work at the clinic full time?
Yes. I still work nights, often with Nurse James, usually five nights a week. The other docs at the clinic hate night work, most only work one night a month. There's a big difference between days and nights at the clinic. Daytime is like any other doctor's office, diabetics, hypertensives and such coming in for routine check ups. At night we're more of an urgent care clinic, catering to creatures of the night, but seeing a wide range of urgent and emergent conditions.
Who is your most memorable patient?
I hope I don't violate any HIPAA regulations, but I'd have to say it's Medusa.
You mean Medusa, the ugly mythological monster who turned anyone who gazed upon her ugliness to stone?
Yes and no. She is the Medusa of mythology, but she is definitely not ugly. Alluring, sexy, beautiful, enchanting those are the words I would use to describe her. Her beauty is timeless and one winter day she strolls into my clinic announcing she's cold. I felt sorry for her, dressed in a thin shirt and dress, so I gave her a cup of tea and a warm place to sit and she was content. Later she became the clinic's savior. Now, if you want an interview, just track her down. She can tell you stories about famous people you just would not believe. King David, Pontius Pilate, King Arthur, Marie Antoinette, Cleopatra and so many more were part of her life, or, rather, she was part of their life. She's married to a rich businessman at the moment. All I can say about her is that every man who gets a glimpse of her wants to get to "know" her better, if you get my drift. If you want to interview a truly interesting person, give her a call.
Does working at the clinic tax your medical skills in any way?
No more than working any other place. Sick people are sick people. It's an unfortunate fact that rich, poor, fat or thin, man or woman, monster or god, everybody gets sick or hurt. Sometimes I need to search the innermost recesses of my brain to make a correct diagnosis or find the proper treatment. Luckily, I've had a very thorough medical education and, knock on wood, I've managed quite well so far.
Why do you think so many unusual patients show up at your clinic?
I think we provide excellent care and we don't ask too many questions.
That could be said of most medical clinics, but they don't treat spies or get mysterious packages delivered or give birth to dragons.
I see you've done your homework. I guess you are correct that we get more than our share of unusual patients. I think it's because of Nurse James. She just attracts very bizarre types.
She did marry you.
Touche.
"Night Clinic" is a collection of short stories which tell the unusual events which occur at the free clinic attended by Dr. Barnes and Nurse James. Monsters, magical beasts, villains along with ordinary folks come to the clinic looking for health and hope.

"Night Clinic" is a unique melding of medicine and magic.
Enjoy an excerpt:
I glanced at Mr. V. M. Pire's chart before going into the room. The space for age was left blank, his vitals were: BP 60/30, heart rate 40, respiratory rate 12, temperature 92.
"Miss James, are these vitals correct," I asked, not believing the numbers.
"Took them three times, Dr. Barnes, but there's no need for alarm. You'll see what I mean when you see Mr. Pire," She answered in her most professional tone.
This night gets more bizarre every minute. I took a deep breath and let it out slowly, knocked on the door, and went in to see Mr. V. M. Pire. I saw a pale young man sitting on the chair in the corner, dressed in black pants, black shirt and wrapped in a black coat. Even with his coat he looked cold, shivering, his arms held tightly across his chest.
"Good evening, Mr. Pire. I'm Dr. Barnes. What brings you in here today?" I asked in my usual doctor's bedside tone.
"What's that supposed to mean? Do you think that I changed myself into a bat and flew in. Or maybe I just danced along the full moonbeam. I know what you're thinking: Another deluded, crazy who can't cope with reality," he spouted with venom in his voice.
"Actually, the way this night has been going, I was truly expecting a vampire. Who else could have vital signs like yours and not be in a coma? So tell me, what's the problem? If you don't want to say, you are free to leave. I have plenty of other sick people to attend to."
He calmed down, stood up, and started to pace around the room.
"I'm… I'm not sure where to start. You see, I… I've been having these fantasies and, well, with the full moon and everything, I just couldn't stand it. I even went to their meeting, thought about joining in their activities."
He paused for a moment. I could see he was upset and I tried to calm him down. I put my arm around him and lead him to the chair. He almost had tears in his eyes. "Go on," I said in a soft voice. "What are these fantasies?"
He looked at me with his dark, deep set eyes. "To be a wewuff," he whispered in a muffled voice.
"I'm sorry, I didn't understand what you said," I replied with true concern in my voice.
"To be a WEREWOLF," he answered loudly. "It's driving me crazy. I know it's ridiculous. I mean, I'm a vampire, the best of the best. Last month I downed six units of AB neg in under thirty seconds, all from the same vic… same donor."
"Sit down and tell me about it," I suggested, doing my best to imitate a Psychiatrist.
"I guess it started last full moon. I was out at night, like usual, and as I was flying around the neighborhood, thinking about dinner, I saw a whole pack of them, werewolves. They were circling around some helpless wino and then they attacked. After their kill they all howled at the moon, gave each other high fives, and then there were the girls. Dozens of them, all gathered around these vicious beasts, oohing and awing. Meanwhile, every night I'm out, shivering, looking for blood. Alone, hated by everyone, even other vampires who would just as soon cut your head off as share a drop of their precious stash."
"It must be a tough life," I observed.
"You don't know the half of it, Dr. Barnes. So, a couple of weeks ago, I'm laying in my coffin, trying to sleep. It must have been noon, and I start to thinking, Wouldn't it be great to be a werewolf? Get to wear a fur coat, not be cold all the time, only worry about being a vicious monster once a month. Then I say to myself, 'Get over it, you're a vampire, you're better than them.' But, I can't get over it; I can't get the thoughts out of my head. I tried to talk to one of the Elders. Well, you would have thought I was wanting to become a priest, the way he reacted. After that I got scared, I guess, and then I went to see them tonight. All the werewolves were gathered together, I even went inside, tried to meet them. As soon as they saw me they surrounded me. 'Look at sissy boy,' they taunted. 'Afraid of the big bad wolf?' I tried to talk to them, but they just laughed. I left, feeling more and more depressed. I just wanted to end it all. I even broke into the hospital and stole this."
He held up a case of thrombin.
"A couple of swigs of this, then all my blood congeals and it's the end. Well, I got scared and I wasn't sure what to do. I saw the Clinic sign and decided to stop in. So, here I am."
I stared at him for few moments, not sure what to say or do.
About the Author:
David Gelber, a New York native, is the seventh of nine sons and one of three to pursue medicine. He graduated from Johns Hopkins University in 1980 and went on to graduate medical school in 1984 from the University of Rochester.
He completed a residency in General Surgery at Baylor University Medical Center in Dallas, Texas, and Nassau County Medical Center on Long Island, NY, in 1989. Dr. Gelber now is in private practice in Houston, TX.
Gelber has been performing surgery for more than 25 years, but over the last few years he began to pursue his passion for writing, initially with his debut novel, "Future Hope", followed by its sequel "Joshua and Aaron."
These were followed by two books about surgery "Behind the Mask" and "Under the Drapes." The apocalyptic "Last Light" and historical fantasy "Minotaur Revisited" round out his published works, while numerous articles have appeared on his blog "Heard in the OR."
Now he presents "Little Bit's Story" and his collection of magical medical short stories, "Night Clinic."
He has been married to Laura for 28 years and has three college aged children. He and Laura share their home with five dogs and numerous birds.
Heard in the OR | Website | Goodreads
Buy the book at Amazon and Barnes and Noble.