Long and Short Reviews welcomes J. Frank James, author of the Lou Malloy Crime Series. Enter the Rafflecopter at the end of the post to win a Kindle copy of the book.
J. Frank James is a pen name, and I asked him how he came up with it.
"My father was killed in WWII a month and a half before I was born. He liked to be called Frank. J. Frank James is a reversal of his name. I figured that was the least I could do. It also allows me to think about him always. My heart goes out to those kids who have to face life without a parent regardless as to how it happened."
We asked Jim what inspired him to start writing.
"I suppose I could say hunger, but that would not be right. As having had some experience in the field of being a journalist as well as a photographer having worked for a major newspaper group known as the Gannett Group with one of their newspapers while attending the University of Florida where I obtained a degree in Journalism and one in Advertising, the ability to communicate ones thoughts was a challenge and as law student as a member of the law review where I was published as well. Later on as a lawyer, it was a great help in writing appellate briefs. So writing always was of interest.
"About ten years ago I started to outline some fictional pieces and eventually I wrote some short stories in support of my thoughts. Actually publishing the work never entered my mind. Then one day I was sitting in an art gallery on the coast of Georgia and a man walked in and asked me if I could help him. He was looking for a picture of logs floating down the Altamaha River. It seemed he was a publisher who was looking to publish a historical piece on life in central Georgia and he needed something to put on the cover in the way of a picture that would be germane to the book. In the course of our discussion he asked me what I did and I told him, for lack of a better answer, that I was a writer and so it began. Two weeks later I started writing my first book, Lou Malloy: The Run Begins and I followed that up with Dead Money Run. To date I have written ten books of which six are available on Amazon and four soon to be."
He admitted that between attending the College of Journalism and Advertising at the University of Florida, then working for the Florida Alligator (a college paper) and the Gainesville Sun, it seems like he has been writing forever. And, once he finished college and law school, the need to write never ceased.
"I once thought about the number of words I have written since entering college and the number is staggering, at best," he told me. "Therefore, having started college in 1962 until present is a significant amount of time, fifty-two years to be exact. The phrase 'Time Flies When You Are Having Fun' comes to mind."
Jim's first book was a novella, Lou Malloy: The Run Begins. He started the book in June, 2013, and finished it in a month. He began Dead Money Runs in August, 2013. Since then he has published six books with four more in the wings.
When it comes to good writing, he thinks the most important thing is to entertain the reader–to bring the reader into the story.
"There are a lot of very good writers today. I think that is because of the diversity of our society and the growth of the electronic age," he said. "I think in due time there will not be books in written form unless they are text books or research texts. The growth of Kindle and I-pads will eventually eliminate written books. In fact the need for brick and mortar public libraries will be a thing of the past. Everyone will have some form of electronic reading device. Companies like Amazon will be giving them away."
He has a new book soon to be released called Finders, Keepers, which is about a missing ship that was supposed to be transporting $400 million in diamonds to the United States for payment of oil sold to South Africa. The ship has gone missing and has not been seen for years. Lou Malloy has been requested to find the ship and obtain the diamonds. However, the real need here is to secure the whereabouts of a weapon of mass destruction known as an Electro Magnetic Pulse device or EMP. The weapon is being sought by an Islamic group to be used in their effort to wage war against the western powers that oppose their agenda. If they should obtain the device then most countries in the northern hemisphere will be at risk to be annulated. Malloy and his team must stop them at all costs and still keep the return of the missing diamonds on his radar screen. The twist at the end of the book is that Malloy suspects the diamonds never were missing because they never made it to the ship and never left South Africa, but were taken by a Russian operative who was supposed to be helping the US recover the gems.
Currently, he's working on a new character- Indigo Marsh. Indigo is more of a detective series and less of a crime action-adventure series. Like Lou Malloy, Indigo has his own rules he lives by. His word is his bond, but he's not beyond breaking a few heads to get his point across.
Jim does all his writing on his laptop and, when he's writing, he is able to shut out the world, so he's able to write anywhere. He does, however, have an office in his home in Atlanta and another at his home south of Savannah on the coast. He has another profession as a consultant in the fields of mergers and acquisitions, which allows him the luxury of writing without the concern on selling books.
He would like to write a western series, as well as one about a Franciscan who travels through time solving religion-related mysteries.
"Both are works in progress and the first books will probably be out next year. Right now I have four books to complete in the Indigo Marsh series and four in the Lou Malloy series," he said.
"What is your most embarrassing moment?" I wondered.
"When I first started writing I felt fairly sure that I had a good handle on the use of firearms. Being the owner of several weapons, one of which is a Glock 17, I felt confident in using them in a book. In one of my books I make use of a Glock and I wrote that Lou clicked off the safety. A Glock does not have a safety. I should have known better since I owned the weapon. It was a silly mistake."
Finally, I asked, "What advice would you give a new writer just starting out?"
"I probably am not the best person to give someone advice in this area. The reason being my entry into the field was anything but planned. When I started writing I didn't plan on being a writer. I had some ideas and I wanted to develop them. As time passed, I began to develop a protagonist and built a book around him. That protagonist was Low Malloy. So how do you build a story around a character? A book will either be plot driven or character driven. Plot driven books are generally written in the third person with the writer being an omnipotent participant as the book develops. I like a story built around a character because it gives me more control and quite often I find my characters talking over the book. However that said, I would advise a person to be sure they have a passion for the game. This not a profession for the weak of heart. There is a lot of disappointment in being an author. When you get a no, you have to pick yourself up and go to the next page.
"Remember one thing. Do not surrender control if you can help it. There are a lot of publishing houses that are only interested in helping themselves. After all, they are interested in making money first and you second. One other thing, we as authors, are blessed with Amazon and as a self-publisher with Amazon, you have nothing to lose and everything to gain. Last but not least, get a good proofreader and a person to edit your book. Sometimes you can find a person who can do both. That is the best of both worlds. Then, if you can afford it, get a publicist. They will earn their money. Again, be careful to find the right one."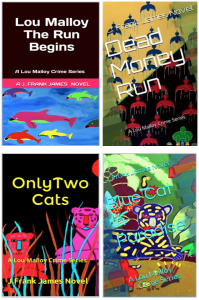 Lou Malloy has just maxed out on a fifteen year prison sentence for the theft of $15 million and just before leaving prison he learns that his sister is brutally killed. As he is leaving prison, he's told to keep his nose clean or he would soon be back. As far as Malloy is concerned all bets were off until he finds his sister's killer. In the meantime, he has to fight off predators trying to get their hands on the money he stole and keep from being sent back to prison trying to protect those dear to him. He catches a break when he meets up with Hilary Kelly, a private investigator with an agenda of her own, She has been hired by the insurance company that paid on the theft claim of the money stolen from the casino by Malloy. In the course of events, Malloy and Kelly become more than just friends and Kelly decides to throw in with Malloy. Together they work to uncover exactly what happened to Malloy's sister and why. Their search involves a vicious gang led by a vengeful old man and his crazy son who has his own problems keeping his hands off other women. To make matters worse, Malloy and Kelly's search is complicated by the fact that Malloy's sister was really a special agent with the Department of Homeland Security and she was working undercover when she was killed trying to locate the whereabouts of special plates to produce counterfeit currency that if the plates end up in the wrong hands, whole banking systems of major foreign countries could collapse overnight.

As Malloy and Kelly race to find the killer of Malloy's sister, they enlist the help of Crusher, a pro wrestler who served in the cell next to Malloy at the Atlanta Penitentiary. The decision is made for Malloy and company to hit the same casino again that Malloy robbed fifteen years ago by a special ops unit of the Department of Homeland Security. The plan is complicated by the fact that the ops unit is a phony setup led by a former agent turned rouge who is backed by another vicious gang with international contacts intent on getting their hands on the missing money plates. Malloy decides to go through with the heist of the casino a second time, but on a different schedule than planned. If they don't make it they have no way to return to the real world. They are in a make or break it race. Read as they race to the finish line and learn if this where the run ends or the run begins….

Dead Money Run is a fast paced, action packed, crime thriller. This is the first book in the Lou Malloy Crime Series.
About the Author: J. Frank James is the author of crime thriller novels. His crime fiction books are gripping and suspenseful with readers being unable to put them down once they get into them. Jim has a passion for writing, and he certainly has the knowledge and experience to write realistic crime thriller novels, thanks to his extensive background in law. Jim attended law school, where he was a member of the law review. He even went on to pass the state bar and started his own law practice that specialized in complex litigation.
Jim's experience in law helps lend credibility to his crime fiction books. Not only that, Jim has traveled extensively and gains inspiration for his crime thriller novels from his travels. Some of the countries that Jim has visited include Peru, Brazil, Italy, Greece and countless others. From observing other cultures and gaining new experiences, Jim is able to infuse new life into his books and develop believable characters that readers can identify with.
At present, Jim has published four crime thriller novels in the Lou Malloy Crime Series: The Run Begins, Dead Money Run, Only Two Cats, and Blue Cat In Paradise. They offer the readers just enough information to keep them guessing and trying to solve the crimes until the end of the books when they are actually revealed. Jim's books are also fresh and unique takes on crime as well, though. They are not the same whodunit type books that have been done over and over again. By infusing his personal travels into his books, Jim creates characters and atmospheres based on just enough truth to be relatable.
Jim's books have everything in them from robbery to prison to family. They have hard and soft elements simultaneously to really capture the life of a hardened criminal who is still very human and struggles with the same emotions as the rest of society. At the same time, Jim gives the reader perspectives from private investigators to balance out the story.
Jim's books even have a hit of romance when his characters come to care for each other as more than just friends. Then, crime and love mixes to create a dynamic atmosphere that is even more complicated than ever before since characters care not only for each other but for their other family members as well. Jim has an amazing way of incorporating various elements into his latest crime novels to create thrillers that readers cannot get enough of, which is perhaps why all four of his books so far carry on one from the other to continue the same story concerning the hardened criminal who did 15 years in prison, Lou Malloy and who comes to be his partner, private investigator, Hilary Kelly. The two of them go it together to create gripping stories that keep readers coming back for more.