Long and Short Reviews welcomes E.E. Bertram, whose latest book November Fox, #1. Following Joy – A Metaphysical Visionary Fable was released on November 1. Leave a comment for a chance to win a digital copy of the book.
E.E. Bertram has been writing songs since she was a child.
"My main inspiration has always been the fascinating array of emotions I have felt in response to the world around me," she told me. "Yet writing my first novel was driven by a deeper yearning. I felt a strong desire to do my part in inspiring the next generation of readers to find their purpose in life and ask deeper questions. Because we are living in a time of overwhelming media saturation, some people seem to be losing touch with themselves and nature. I wrote November Fox to inspire people to listen to their inner voices and follow their calling, amidst the cacophony of the digital age. Yet I housed these ideas and ideals in a scifi/fantasy. My travels as a touring and recording singer/songwriter around the world have also influenced the writing, as have my extensive lucid dream experiences. These have also been fundamental in what inspired me to write in the first place. Within the lucid realm, where you can actively manifest desired realities, I learnt the art of intention and conscious creation, so a lot of the book is based upon my insights and direct experience with thought power, and the ability to harness it."
E.E. first starts out with the overview and the framework skeleton of her story. She then marks in when and where she would like key points to happen.
"To me it is similar to song writing as far as the overall form of the story goes," she explained. "It needs to have an arc with tension and resolve. Most of my characters are initially inspired by people I know in reality, as I find it easier to transport their idiosyncratic styles and behaviour, although a few characters almost seem to write themselves and I have no idea where they originate from? It was a peculiar unfolding."
This book has a special feature: augmented reality layers. These are layers in the book you can access by scanning the 39 images in the book with your phone or tablet with the Layer app.
"You will find interactive 3D elements linking you to videos and music," she told me. "Through one of the secret links through the 3D message in a bottle, you will find your own downloadable, "Cube of Intention," a tool to help you manifest your desired reality."
I asked her, "What is the most surprising thing you discovered while writing your book?"
"Years seemed to pass by in a blink of an eye. Time morphed and I popped out of the other end of my hermit like existence, like 5 years ago was yesterday. It would seem the universe kept me within a cocoon of sorts to complete the work, and I experienced time in a very different way than I had ever before."
E.E.'s favorite character from the book is The Architect – the otherworldly narrator of the story.
"I wasn't even sure he was male until quite far along the path, yet at one point of the writing, the story required him to take a form," she said. "I like him the most as I felt his energy almost as if I were just facilitating his voice, to be spoken through me. I felt a presence around me when I was writing his parts. It may have been me tapping into a deeper wise aspect of myself, or some kind of external force? It is hard to tell. It was quite a peculiar experience. Similar to when I write songs, yet his voice was very distinct and had a calming effect on me every time he spoke and I wrote his words. I like
him as he questions things, he is very philosophical and also a little rebellious."
When E.E. needs to concentrate, she listens to binaural beats, in particular Study Aid 12, instead of music.
"I find it really helps me focus and concentrate. The way it works is two different frequencies are simultaneously playing yet your brain finds it hard to distinguish the two sounds and apparently it helps alter your state of consciousness with different effects depending on which frequency is used. I have found study aid 12 to be extremely helpful in my process of retaining focus for extended periods."
When E.E. was in high school, she was quite a tomboy and played sports with the boys (particularly soccer). In addition, she would go to the library with the older nerdy boys to play Dungeons and Dragons.
"I also set up an orphan club for all new kids and outcast children, the ones no-one wanted to be friends with, as I didn't want them to feel alone. I'd sit with them for a little while before I went off to play sports. I also had my regular girl friends and non-sporty guy friends. I flittered between them all. I loved every one for different reasons. I ended up becoming president of my high school, I think because of the fact I had an open heart for everyone."
Think you've read it all? This revelatory chronicle will have you thinking otherwise. Into the swirling vortex, you will be drawn – whether you think this is your sort of book or not. You just might find yourself questioning your own perceptions of reality and be left craving more. + 39 Augmented Reality Illustrations.

November Fox has never even heard of other dimensions when a teleporting magical cube appears on her doorstep. With a hole in
her heart and a cosmic identity yet to be discovered, the orphan rock star accepts an invitation to find the key within herself that will unlock the mysteries of form.

Little does she know, The Architect, from the race of philosophical beings who create our world of form, has been watching over her all her life.

Grieving Erica, a teacher and writer from London, finds The Architect's fascinating letter in a glass bottle washed ashore on
Brighton Beach. Pages continue to magically appear as she, too, is compelled to follow November's quest.

Realities eclipse as we embark on a metaphysical adventure through time and space. November learns that harnessing the power of her mind and heart is fundamental, if she wishes to unlock the cube and escape the sometimes sinister, sometimes wonderful dimensions into which she is propelled.

Combining elements inspired by the new thought movement, the law of attraction, magic, mysticism, wisdom and wonder, November learns that she can use the power of dreaming, imagination and positive thinking to remake herself and her world. November Fox will be enjoyed by readers who liked wisdomfilled, visionary fiction fables like "The Alchemist," the escapism of "Alice in Wonderland" or the Mind-bending nature of the movie "The Matrix."

As an idiosyncratic fantasy/science fiction crossover, it is suitable for teens and adults alike. It comes with 39 llustrations with an Augmented Reality technology feature, enabling readers to further expand their experience. "Things aren't always as they seem, do we wake or do we dream?"
About the Author: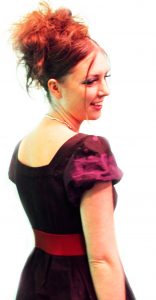 E.E. Bertram (Esther Bertram) is an Author, Musician & Media Artist. Her dedication, creative mind, and technical skill set enable her to create innovative and original expressions, combining wisdom and fantasy, to assist her life's mission – "To inspire wonder and growth." After more than a decade of touring Europe and recording as a professional singer/songwriter and producer of electronic music, Esther has spent 5 years creating the mediafusion, metaphysical, fantasy, science fiction novel "November Fox." The book incorporates Augmented Reality with a connected music project. This pioneering way of story telling is on the
leading edge of what is possible when you combine technology with art.
Website (Free November Fox Music when you sign
up) | Goodreads | Twitter | Instagram | Book Website
Buy the book at Amazon.