Long and Short Reviews welcomes Voss Porter. Her debut novel, The Right Kind of Woman, is the first book in her Southern Lesbians series. Leave a comment or ask the author a question for the chance to win a copy of the book as well as a signed photo.
Voss sees her characters first, or even parts of characters, and then the plot seems to come about very organically.
"My debut novel was inspired by my own hair, after a particularly stressful encounter with a hairbrush (can I get an AMEN, naturally curlies?). I looked in the mirror and wondered, 'What would my hair by like if my hair were a person?' Out came Cara Spencer Holloway, who is the human embodiment of waves that will not listen, will not bend to society, and do not give a damn what you have to say about it. Naturally, she would need to be paired with more sedate hair. That would be Dre Martin. My follow-up novel is more of a testament to the troubled youths I worked with in an alternative placement high school. I was sitting at a stoplight, in five o'clock traffic, and realized that what I had been telling the kids, that one bad decision doesn't own the right to dictate the rest of your life, probably deserved its own story line, too."
Voss said she would have to blame her writing on Reading Rainbow. She was fascinated by the reading of the individual books and knew she wanted to be a writer each time Levar Burton would say "written by…"
"I sat in my tiny kid desk in first grade and wondered if everyone else in the room felt that way. Were they as hypnotized by the idea that you could create whole worlds for your characters?" she said. "Thankfully, my mother really fostered that drive. She would sit with me for hours while I made short books about fairies and butterflies and mermaids, and she would always buy the three prong folders for me to slide the pages into."
She put her own dogs in The Right Kind of Woman. Her Australian cattle dog, Willie Bert, masquerades as "a much better swimmer" named Grey Baby, and Wanda Sparkle, her Great Pyrenees mix, is a giant, white lump named Greg Allman.
"I also included my cousin's dog, Buddy, whose named just stayed the same because no other name would fit. Now, every night, when we all pile up on the bed together, I make sure I let Bertie and Wanda know how much they owe me for making them 'famous.' When I see Buddy again, I'll tell him, too," she assured me.
She is currently working on the follow-up book to The Right Kind of Woman.
"My follow-up to The Right Kind of Woman will be The Wrong Kind of Woman (see what I did there?) which is a juicy story about overcoming personal tragedy to find love in unlikely places. My heroines are Bri Gunner, who works as muscle in a biker bar, and Dana Anderson, who teaches second grade and certainly never saw herself falling head over heels for a woman with a longer rap sheet than grocery list."
Voss has written two complete manuscripts and two half manuscripts so far.
"One is about an elderly woman's ghost running about town and solving petty crime, so I am certain it will never see the light of day. It was patterned after my relationship with my dead grandmother, but I'm not sure that's a solid concept," she admitted. "Selfishly, my third book, the one only partially completed as of yet, is my favorite, because it features the rugged part-time custom tile-installer that I put a ring on in July of 2014 in Southwick, Massachusetts."
"When did you first consider yourself a writer?" I wondered.
"I don't think I do now. I mean, as an English teacher nerd, 'writers' are the Shakespeares, the Emersons, and the Fitzgeralds. Writers are prolific and moving and inspirational. Garcia Marquez is a writer, Allende is a writer. Voss Porter is someone who really hopes other people read and enjoy the novel she has created – the same novel whose cover she routinely looks at and then bursts into tears and giggles because she doesn't believe it. I mean, really. That's how I spend my days. I pull it up, I giggle cry, I call my wife in to look at it, and she says 'I know, I know. You wrote a book.'"
Gabriel Garcia Marquez is, actually, Voss' favorite author.
"I have read every book and every short story at least a hundred times. My favorite of his works is 'A Very Old Man with Enormous Wings,' which is a seamless amalgam of realistic magic. Ironically, it was a story my mother told me, as a child (my mother spent quite a bit of time in and around Guadalajara during college and went on to become a high school Spanish teacher) and the first time I read it, I was really blown away. I also love 'Chronicle of a Death Foretold' which I still have on my desk."
Her desk is in her writing space, which I asked her to tell us about.
"I'm lucky enough to have a wife who puts up with the fact that I need an office, even though I'm certainly not 'office' material. I've pseudo-turned our spare room into that space, minus the treadmill and random crap-filled closet that I ignore in the background. I have my own small desk, which my old roommate used as a surface upon which to hand paint acrylic fingernails, so it's streaked with a rainbow of shades. I have a Mac, which I could not ever live without. I also have a side desk, which I'm relatively certain was never meant to be permanent but somehow is. It's collapsible and we trekked it to Disney World and used it to cook on in the Fort Wilderness Campground, but now it just holds my printer and a collage print of our summer 2014 photos and a binder that's progressively housing the printed copy of my second novel, as I peruse the manuscript for changes that my wife has graciously suggested. There's also a couch – booger green and covered in pillows – that we bartered for on Facebook after Wille Bert ate the last two. It's in what we call 'reserve,' just in case her chewing days aren't over. It will transition into the real living room once we are certain she won't ingest the contents. Oh! And I have a painting we bought on the beach in Punta Cana. It's grey and red and black and reminds me of Edgar Allen Poe."
I asked her about her family.
"I am married to the most amazing, most interesting woman in the whole world. She is a writer, a tile-installer, a teacher, a guitar player and a knower of all things. She also loves craft beer an taking me places that have craft beer. We have two children, both fiery, feisty girls with differing opinions and wild fashion sense. We also have four dogs – the aforementioned Willie Bert and Wanda Sparkle, and a Rottweiler/Doberman mix named Colonel Mustard, who sports an Australian Shepherd sidekick named LuluBell Mermaid Peach. These are all of the reasons you should never let your children name your animals.
"I have a mom that I adore and call daily (at 3:30pm precisely) and an egregiously inappropriate father who accompanies me to movies every month in a 'Movie of the Month' club."
Speaking of her mom, I asked her, "What is the most embarrassing thing your mother ever did to you?"
"My mother was a teacher in the high school I attended, so there are LITERALLY a thousand things she has done. It's so hard to pick just one! My mother told all of her classes, EVEN THE CLASSES I WAS SITTING IN, that my nickname was 'Tootie.' Try getting a date when everyone is calling you 'Tootie.' It was already hard enough, given that my mother was a teacher. She also told horribly embarrassing stories about me to everyone – like, my friends. She told MY FRIENDS things your mother should never tell your friends. She would also lurk around the canteen, where all of the cool people had lunch, and make sure I didn't hold hands with anyone without her express permission. Oh, and she had Christmas sweaters! Jingling, glitter, appliquéd CHRISTMAS SWEATERS! And she thought they were attractive! And she wore them to the school that I went to! Also, she took my dad to prom and made him dance with me and take pictures. I feel I win at mom embarrassment."
I asked her, "What would you say is your most interesting writing quirk?"
"I absolutely cannot write without a bra on. It's the strangest thing. If I get carried away during breakfast, something in my brain stops and I think 'Well, no. My day hasn't started, the girls are still swinging free.' I have to go upstairs and at least strap them down into a sports bra before I can approach the computer. I feel a little like I besmirch the Mac if I don't have a bra on."
Just for fun, I asked Voss what her favorite and least favorite foods are.
"My favorite food is cheese. Cheese is my lover. I will eat anything, so long as it has cheese on it. Literally, every time Beverly Goldberg mentions 'Shrimp Parm' on The Goldbergs, I think, I'd eat that. My least favorite food would be anything that doesn't have cheese. I don't trust a lack of cheddar. I just can't wrap my head around why you would forgo the cheddar."
Finally, I asked if she heard from her readers much.
"I so look forward to the day that I hear from my readers! I can't wait to hear what people say about my book! So far, the only people who have read it are people who either have a vested financial interest in the novel, or a vested romantic interest in me!"
Just when free-spirited farm girl, Cara Spencer Holloway, feels the regulatory world of her closeted, Southern enclave will swallow her whole, her three miscreant brothers team up to carelessly through her together with regimented, Northern software designer, Dre Martin, on a misguided stop en route to Florida. One steamy stop leads to another and soon the two women will learn more about what the right kind of partner can bring to life than they had ever suspected, but can Cara Spencer move forward and out of the pain of her past, or will she succumb to the doubts that have plagued her romantic life from its very inception?
About the Author: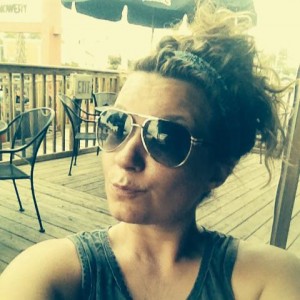 Voss Porter is an author recently signed by Dark Hollows Press, specializing in romantic lesbian fiction with an emphasis on heat. She is a native Southerner, born and bred in South Carolina, a Francis Marion University Patriot, a teacher, a mother, and a proud wife. In addition to two daughters, she and her partner share four dogs, and a love of classic literature. A fervent writer from the age of six, her debut novel, The Right Kind of Woman will be available for purchase beginning December 10. The heroines she creates are smart, down-to-earth, self-reliant and wickedly witty with a distinctly Southern flare. Above all things, Voss believes in crafting stories that feature independent women with hopes, dreams and desires that reflect those of women in all stages of life, everywhere.
Passionate about politics, education reform, and sustainable living, when she is not writing, Voss can be found grading essays or training for an upcoming hike along the rugged and picturesque Appalachian Trail.
Website | Facebook | Twitter