Long and Short Reviews welcomes Tessa McFionn. The first book of her Guardians series, Spirit Fall, was released the end of last year. Leave a comment for a chance to win one copy of the ebook, plus promos (collectible cards, bookmark and a Spirit Fall bracelet).
The second book of the series is with Tessa's editor and she's well on her way writing the third book. She also has a sci-fi trilogy she's been working on as well as a fantasy/shifter tale.
"I need to find a way to write in my sleep since my days are just too crazy!" she told me. "I'm actually excited about the sci-fi story. It jumped into my brain and demanded to be written."
Tessa McFionn is a pseudonym, but in a very real way it still represents who she is. "Tessa" comes from her actual middle name, Teresa, and McFionn is the ancient version of her husband's last name.
"I wanted to keep my writing separate from my teaching career for right now," she explained.
I asked Tessa if she ever suffered from writer's block.
"Ugh. I would be lying if I said my muse talked to me all the time. To be honest, the jerk picks the most inopportune times to take a break, like when I have a solid week off from my dayjob. Then, he decides to make an appearance at three o'clock in the morning on a random Tuesday. But I find that if I put on my headphones and reread the last scene that really flowed, that helps to get me back into the grove. Sprints also help be get refoucsed. Somehow seeing those numbers counting down kicks my muse back into gear. And yes, my muse is male. Why else would his timing be so bad?," she said with a laugh.
Reading has been a huge part of Tessa's life. Her mother would read to her and her brother when they were kids, and that sparked her love for reading. The author, though, that influenced her own writing was Sherrilyn Kenyon.
"I feel fortunate to call her friend and her stories helped to spark the voices in my head," Tessa said. "In fact, after reading one of her League books, I found the hero of my sci-fi saga tapping me on the shoulder, ready for his big debut."
She was told that the most important part of any good writing is to tell a good story.
"I have to be able to see the words," she told me, explaining, "I consider myself to be a very visual reader. If I can't fall into the entire world, then it's missing something. So, I try to make sure I include all those little visceral details to help make the reader feel as if they are standing in the middle of the action. I believe we read to escape the everyday world, so we, as writers, have to ensure that the worlds we create between the pages is real enough to keep the daily grind at bay for a few hours."
The hardest part about writing for Tessa is actually finding the time.
"As a teacher, I don't have a huge amount of available time from September until June," she told me. "So I squeeze in this necessary therapy whenever I can. I cherish the moments when my muse strikes, even if the jerk decides to tap on the inside of my skull at 2am on a random Tuesday."
"How do you do research for your books?" I asked.
"Google and I are very good friends. Laughs I enjoy making sure the little details are as accurate as they can be, so I do spend a bit of time looking up things like engine specs, ancient battles and weaponry. You know, the usual things a girl would want to know. All of my heroes drive cars that I've only dreamt of, those great muscle cars of the late 60's and early 70's. The only trouble is I tend to have 'magpie disease' as my hubby calls it. I am easily distracted by shiny objects, so if I'm doing research, I have to limit my time ogling the cars and weapons. Also, since I want to have some level of realism in my settings, I find myself with city maps at my virtual fingertips so I make sure not to completely screw things up."
Music is in every part of her life- she's been a dancer most of her life, then shifted to teaching and choreographing. Dance is still a huge part of her life, and she surrounds herself with music all the time. One of her current projects has a character who's a torch singer, so she has a playlist of Julie London, Frank Sinatra, and Rosemary Clooney. During fight scenes, she blares Disturbed and Five Fingered.
"I'm so bad, I even have an "I'm editing" playlist," she admitted.
I asked her to describe her writing space.
"I wish I could say it's a lovely little office with no distractions, but sadly, I would be lying. Until we get the house reorganized, my writing space is the corner of the couch in the living room. Out in the public eye with my five-year-old MacBook on one of those padded mats on my lap. Within arms reach are my Emotional Thesaurus and my very well-loved Flip Dictionary. Aah, such a life of luxury," she said laughing. "But I'm hoping that we can get things situated soon."
She shared with me that she's very much a pantser, even though she wishes she was a plotter.
"For a couple of my stories, I've had a general idea of where I wanted the story to end up, so I tried to guide my characters to meet that end," she told me. "But sometimes, they decide that they would rather take the long way there and get into lots of trouble on the way to the finish. Even in my day job, I tend to be more of an on-the-spot thinker."
Finally, I asked, "What is something you'd like to accomplish in your writing career next year?"
"I am looking forward to getting my second and even third books in my current series out into the world. I just did my very first signing (of virtual books, but you have to start somewhere, right?) so I would love to have a real book signing. I am just enjoying finding out the ins and outs of this new world, so my accomplishments might seem tame. I just want to keep writing stories that people enjoy reading."
After a year-long depression following the murder of her fiancé, Siobhan Whelan stands on a bridge, tormented by unending nightmares, one step away from jumping. Only the kindness of a seductive stranger brings her back down to earth. But the handsome stranger is more than meets the eye, and soon Voni finds herself thrust into a strange new world.

For seven hundred years, Malakai Vadim has shouldered the mantle of Guardian Warrior. But a chance encounter with the tormented beauty brings him face to face with his destiny. His nemesis, Dmitrius Konstantin, has been feeding Voni's grief through nightmares, wanting her and her untapped powers for his own. As Kai learns of his foe's deadly interest, he must solve the riddle of Voni's tortured dreams while holding his growing desire for her at bay.

Too bad the enemy Rogue Warriors have other plans. Now, along with fellow Guardian Eamon McClearon, Kai must venture into the In-Between, the enemy's powerbase, to save her soul as well as his own. But can his love be strong enough to save them both?
About the Author: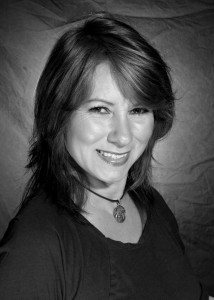 Tessa McFionn started writing at a young age, writing for her school newspaper and inventing worlds of make believe and has called Southern California home for most of her life, growing up in San Diego and attending college in Orange County, only to return to San Diego to work as a teacher.
When not writing, she can be found at the movies or at Disneyland with her husband, as well as family, friends or anyone who wants to play at the Happiest Place on Earth.
A proud parent of far too many high school seniors and two still living house plants, she also enjoys hockey, reading and playing Words With Friends to keep her vocabulary sharp.
Facebook Profile | Facebook Page | Twitter