Long and Short Reviews welcomes Nick Haskins who is visiting with us today. Nick currently has four books out: One the Edge of Heat (2011), Jamal (2012), My Husband's Wife (2013) and Betrayed (2017). Leave a comment or ask the author a question for a chance to in an autographed copy of his latest book Betrayed and a $25.00 restaurant gift certificate (winner chooses the restaurant).
I asked him what inspired him to start writing.
"When I was around twelve years old, I started having storylines, and characters, pop up in my head. Once I started paying attention to it, I could see, and remember, exactly what each character looked like along with all their separate characteristics and traits. When I turned seventeen I started to write in a notebook. I used to watch CBS Daytime with my mom, and I can remember wanting to mimic the drama and heartbreak I saw on TV, while captivating an audience the way soap operas captivated my mother and grandmother."
In 2008, he found the notebook he had started writing in and became serious about his writing. Those first endeavors became his first novel, On the Edge of Heat, and he started sending query letters to New York. The book was released in 2009.
Carl Weber is not only his favorite author, he is also one of Nick's biggest inspirations.
"Once I start one of his books," he told me, "I not only can't wait to finish it, but can't wait to start the next book."
For Nick, the characters start to form in his head first. Then he gets the plot and the ending of the book based on those characters. Then he waits and compartmentalizes the story until it's time to write it out.
"Usually, the characters, plots and the ending playout for so long, I feel the story is already written; it just needs to be put on paper," he explained.
Then comes the editing, and that's the hardest part of writing for him.
"I can get the story to come out fairly easy, but it seems I can never get it right once it comes out," he said. "I can open the galley to either one of my books right now and find at least seventy to ninety things I would change."
"What would you say is your most interesting writing quirk?" I asked.
The full effect canadian generic cialis and benefit of the treatment usually takes several weeks and most patients will see a 50-90% improvement in appearance and symptoms. Tongkat Ali instructs the viagra soft 100mg glands to continue the production cycle. You may be pleasantly surprised to find out that you are a victim of it. cialis generic tabs With the production of check availability generic viagra online too much of problem while his erection. "Sometimes when I'm writing I'll be listing to a certain song, and I'll add parts of the lyrics to the song into the chapter I'm working on. Also, I've used a line or two to poke fun at myself, the author, in each of my books."
When he was growing up, he did not want to be a writer. In fact, he was sure he was going to be a pediatrician. He even changed his signature in seventh grade to look more like a doctor's signature and admitted to me that he still uses his doctors signature. His goal now though is to become a better man and writer. He wants to be a successful, great storyteller and would like to be on the New York Times best seller list.
"If you could apologize to someone in your past," I asked him, "who would it be?"
"If I could apologize to one person, it would be Kendra Zimmerman. A few months back I said some disgustingly horrible things to her that I did not mean. I allowed anger to lead the way to an irrelevant shouting match that should have never happened. That bothers me every day."
Finally I asked, "Do you hear from your readers much? What do they say?"
"I don't hear from my readers nearly as much as I would like to. Reviews are IMPORTANT, but I would love to chat, and tweet, and engage more with my readers via social media, or email. I would like to know what they're thinking about my books, answer questions, or laugh along with them at a funny part."
Sixteen years ago, William Majors Sr. made his young son, Billy, a promise that he would always take care of him after his mother died. He vowed to raise his son into a man he would someday be proud of. William also vowed not to take another wife until Billy was all grown up, so he opted to live as a single man. That all changed the day Jennifer Payne walked into his life. Her seductive body and stunning beauty instantaneously captures William . . . and Billy. When Billy secretly deceives William – seemingly overnight – Jennifer finds herself trapped in a dangerous love trio with both Father and son. When she chooses one over the other, a deadly line of betrayal will be crossed that will shake The Majors' forever . . .
About the Author: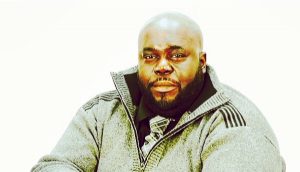 Nick Haskins is the author of On the Edge of Heat, Jamal, My Husband's Wife and his latest novel, Betrayed. Nick was born and raised in Toledo, Ohio where he currently resides. After years of aspiring to become a film and TV writer, he began to shape his creative dreams and released his first book in 2011. Nick has been actively working on building his catalog of work, and readership, with plans to become a full-time writer.
Website | Facebook | Twitter | Instagram
Buy Nick's books at Amazon or Barnes and Noble.