Long and Short Reviews welcomes back Mingmei Yip, whose newest book Secret of a Thousand Beauties has recently been released. Leave a comment or ask the author a question for a chance to win a copy of the book — please make sure you leave your email address.
Mingmei's maternal grandmother was the owner of the Pepsi Cola factory in Vietnam before the liberation. She was barely able to read, but took over the business after her husband died suddenly of a stroke in his early 40s.
"My mother always boasted about Grandma's success and showed me pictures, now lost, of Grandma beside Joan Crawford, then at the peak of her Hollywood stardom, and Wu Tingyan, the Vietnamese president," she said. "My grandmother came to visit from time to time, but like so many old generation Chinese woman, she lavished attention on my brother but ignored me because I was a girl – 'money-losing merchandise.' She never spoke a word to me, nor even looked in my direction. I reciprocated, sitting wordlessly in my high chair and staring out the window, absorbed in my daydreams. This 'cold war' culminated when one day Grandma suddenly asked my mother, 'Is your daughter retarded?'
"Whatever my mother thought about this, she always had faith in my future. Once when on our way to a Chinese opera performance, I saw the crescent moon and blurted out: 'Ma, look, the moon is like my clipped fingernail!' Amazed, Mother shot back: 'Wah! Mingmei, you'll be a writer someday!'
"And that planted a seed in my young mind that I'd be a writer someday."
Mingmei had her first essay published in an art magazine when she was 15 and she's been writing ever since. She currently has fourteen books published, including two children's books in English, which she also illustrated, and five books in Chinese. Her children's books are Chinese Children's Favorite Stories and Grandma Panda's China Storybook – Legends, Traditions, and Fun, both published by Tuttle Publishing. Her Chinese books include three on music, one on Zen Buddhism with her painting and calligraphy, and a collection of her essays.
After writing seven mainstream novels, she is thinking about branching out to write a thriller or mystery. Currently, she's mostly reading ghost stories because her next novel will be about witches, shamans, a ghost-haunted lake, and many things metaphysical.
"Do you ever suffer from writer's block?" I asked. "If so, what do you do about it?"
"A while ago I was in a writers' networking party and someone asked me what does writer's block really mean. I think it means different things to different writers.
"To begin a new novel what I need is a new idea. Once I have that, I'll think of the 'what if.' I'll also start to read all the materials on the subject I'm going to write about, be it a spy or gangster in my Skeleton Women and The Nine Fold Heaven, a prostitute in my Peach Blossom Pavilion, or an adventurer in my Song of the Silk Road. The first few chapters are always easy to write, for it's the beginning and I have enough ideas in my mind. However, after the six or seven chapters, the question 'What's next?' will pop up to my great alarm. If I can't figure out what to write for the eight chapter, then I can't write the following nineth, tenth, eleventh…and that's very scary.
"Whenever I encounter this, I'll always read a book, a magazine, or watch a movie. Somehow a scene, a conversation, a gesture will trigger ideas and inspirations.
"As I said to my writer friend, 'One time I read in the newspaper that a baby girl fell into a well and survived, that gave me the idea to write in my second novel Petals from the Sky about a young woman being accidentally pushed down a well and got enlightened in the dark.'
"If I've read a lot, sometimes my writer's block would even be solved in dreams. I believe it's because the information I received have re-arranged itself in my subconscious.
"Reading or watching a movie to get ideas always work for me. This even makes me wonder that there's some writing angel around to help – as long as we persevere. Like the phrase 'Knock, and the door will open.' So when you have writer's block 'Read, you'll always find ideas.'"
Mingmei doesn't outline her stories, but she lets her characters lead her along.
"Outlining won't work for me because once I start to write, my story grows its own feet and walks off in a completely different direction," she explained.
The first thing she needs is an engaging situation. For her debut novel Peach Blossom Pavilion, she decided to write about the last Chinese high class prostitute. For her second novel Petals from the Sky, she had an idea about a would-be nun who falls in love. Her third novel, Song of the Silk Road, is the journey to self-discovery of a young woman who travels the ancient Silk Road in search of adventure – and a three million dollar reward.
She writes full-time, but in her spare time she practices the guqin – the most ancient Chinese silk-stringed instrument, which she performs frequently. She also does storytelling and teaches calligraphy and painting workshops, most recently at the Metropolitan Museum of Art.
The protagonists of Mingmei's books are brave, strong women who are relentless in overcoming hardship and tragedy to live life on their own terms and achieve happiness.
"It is hard now even to try to imagine the hardships women had to endure in traditional China – marrying to a dead fiancé, making them the slaves of the dead man's parents, or forced into prostitution, yet not even allowed to keep their babies," she told me. "Some of my characters are inspired by the lives of actual women, including Camilla the singer-spy in my novels Skeleton Women and The Nine Fold Heaven, and the teenage prostitute Xiang Xiang in my debut novel Peach Blossom Pavilion (now in its 5th printing!) I feel honored to be able to give these silenced women their voice. Also, in writing about them, they have become my teachers of curage, determination, and compassion."
Finally I asked, "What advice would you give a new writer just starting out?"
"It's never easy to be a writer, especially when you start out. I think to be a writer, it is still essential to master the basics. Not only voice, characterization, dialogue, plot, but also sentence structure, its rhythm and music. I always try to vary the length of my sentences and start each one with a different subject. It's essential to spent whatever time it takes to find the right word. Sometimes, it is a single word that brightens a whole paragraph.
"There is a Chinese saying 'Slap on the thigh and exclaim!' That's how the readers will react to a good choice of word. Readers may not be aware of the meticulous hard work behind a smooth sentence, but if you don't pay attention, they will soon become bored.
"I also think it's good for authors to attend other cultural activities such as movies, concerts, art exhibitions. Have as diverse a background as you can cultivate, that really helps."
Enjoy the book video:
About the Author: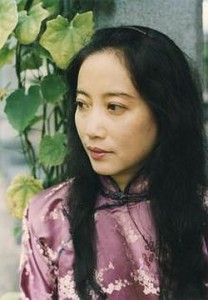 Mingmei Yip believes that one should, besides being entertained, also get something out of reading a novel. Her new novel is Secret of a Thousand Beauties, coming out December, 2014 by Kensington Books. Her other novels include: Skeleton Women Femmes Fatales); The Nine Fold Heaven, story of an ex spy and night-club singer undertaking a dangerous journey to look for her long lost lover and son; Peach Blossom Pavilion, story of the last Chinese Geisha; Petals from the Sky — a poignant Buddhist love story about wisdom, compassion, when to persist and when to let go; Song of the Silk Road , an adventure, love story between an older woman and a younger man with a three million award on China's famous, dangerous route.
Besides writing, Mingmei is accomplished in many other fields. A professional player of the Guqin, Chinese zither, she was recently invited by Carnegie Hall to perform in "A Festival celebrating Chinese Culture" program. She had her solo Goddess exhibition at the New York Open Center Gallery to great acclaim and held calligraphy workshops at the City University of New York and the Metropolitan Museum of Art. She has lectured extensively on Chinese art and culture at Oxford University, Columbia University, Beijing University, University of Paris, Vassar College, Williams College.
Mingmei is also a children's book writer and illustrator. Her two children's books are Chinese Children's Favorite Stories and Grandma Panda's China Storybook, both by Tuttle Publishing.
Website ~ Facebook ~ Twitter ~ Amazon Author Page ~ Goodreads
Spring Swallow was promised in marriage while still in her mother's belly. When the groom dies before a wedding can take place, seventeen-year-old Spring Swallow is ordered to become a ghost bride to appease his spirit. Under her in-laws' she will be little more than a servant, unable to know real love or bear children. Refusing to accept her fate as a "bad-luck woman," Spring Swallow flees on her wedding day.

In the city of Soochow, Spring Swallow joins a community of renowned embroiderers. The women work for Aunty Peony, whose exquisite stitching once earned her the Emperor's love. But when Aunty Peony agrees to replicate a famous painting–a lucrative assignment that will take a year to complete–betrayal and jealousy emerges within the group. Spring Swallow becomes entangled in each woman's story of heartbreak, even while she embarks on a dangerous affair with a young revolutionary. On a journey that leads from the remote hillsides around Soochow to cosmopolitan Peking, Spring Swallow draws on the secret techniques learned from Aunty Peony and her own indomitable strength, determined to forge a life that is truly her own.