Long and Short Reviews welcomes Mia Hopkins, who has stopped by to celebrate the recent release of Deep Down. Leave a comment or ask the author a question for a chance to win a digital download of the book.
-How long have you been writing?
I've been writing since grade school. Publishing—that's different story. I sold my first short stories to Clean Sheets in 2006. Then I took a long break and didn't sell my next piece until 2013. I've been writing and publishing steadily since then.
-What are the best and worst pieces of writing advice you ever received?
I recently read a book called Invisible Ink by Brian McDonald. He has an entire chapter called "Tell the Truth." Here's the part that stuck with me: "The worst of us has good in him and the best of us has some bad. That is a truth that many of us want to deny, but as storytellers it is the truth we must illuminate. The truth will always be sadder, happier, funnier, scarier, and more profound than the best lie."
That is the best piece of writing advice I've ever received. Whenever I find myself unsure of how to proceed in a story, I think, "Tell the truth." How would this character truly react in this situation? Is this resolution truly a product of the previous conflict? No more tricks or convenient outs—telling the truth is key.
As for worst piece of writing advice? I guess I'm not too fond of the saying "write what you know." It inhibits beginning writers from taking risks.
-If you had to do your journey to getting published all over again, what would you do differently?
Deep Down is my first novel. My novella Cowboy Valentine was published earlier this year. I like to think I'm at the beginning of my journey, so the only advice I'd give younger me in this process is not to take rejection so personally. Finding a publisher is like finding a significant other—when you meet the right one, you'll know. It'll feel right. Until then, rejection protects you from spending time with people who just aren't the right fit for you.
-Who is your favorite author and why?
Oh, man. So many. Christina Lauren and Lorelei James are auto-buys. I like high-heat romance told from multiple points of view. I like characters who start off as tropes but who turn out to be much more.
I have a lifelong love for poetry, which is something I don't readily admit in public for fear of violent reprisals. I like Gerald Manley Hopkins, Charles Simic, and James Tate, who I was very sad to hear passed away earlier this year.
My favorite author of all time is John Steinbeck. I'm a native Californian, so The Grapes of Wrath and East of Eden are canon to me. And I adore Travels with Charley.
-What, in your opinion, are the most important elements of good writing?
The most frustrating thing is that every element is important—if anything is underdeveloped, the reader can sense it. That said, two elements that are extremely important for me as a reader are dialogue and beautiful language. I like authors who have a good ear for dialogue. This is a signal that I can trust them as storytellers. And I like beautiful language because I adore words—simple words, archaic words, ten-dollar words, made-up words. I like them all, particularly in the hands of an author who can string them together beautifully.
-Are you a plotter or a pantser?
I'm a plotter, but my plot outlines are nice and stretchy. Like yoga pants. I'm a yoga pantser!
-What would you say is your most interesting writing quirk?
I have to come up with a title before I start the book. I feel shiftless when my story doesn't have a good-sounding title to aspire to.
-Do you listen to music while writing? If so what?
I listen to instrumental music while I write. My favorite writing music is the jazz pianist Bill Evans. The Booker T and the MGs station on Pandora is so groovy. When I edit, I listen to country. Like banging, party-anthem bro-country. Cowboy stripper music, basically. It keeps my enthusiasm up.
-Tell us something about your newest release that is NOT in the blurb.
Physically, my hero Sam Lamont is based on the actor Henry Cavill. Cavill's eyes are slightly different colors. I decided to emphasize this by making Sam's eyes totally different colors. One is brown and the other is blue. The condition is called heterochromia. There's a pitcher for the Washington Nationals named Max Scherzer who has this exact eye condition. It's really striking.
-What are the biggest public misconceptions about erotic romance?
That all fans of erotic romance have these sad, unfulfilling sex lives. There may be some readers for whom this is true, but how can it be true for all of us? The readers and writers within the genre whom I've met have a healthy, happy interest in sex and enjoy reading books on the topic—that's it.
The misconception really annoys me. For example, the general public doesn't assume that just because someone enjoys James Bond movies, he or she has a really pathetic everyday life. No, we assume that this person enjoys movies about outrageous villains, explosions and boobies simply because they're fun. Full stop. Same with erotic romance.
-How do you personally distinguish between pornography, erotica, and erotic romance?
By no means are these technical definitions, but in my head, both erotica and erotic romance are forms of fiction that include descriptions of explicit sex. Erotica does not require a love story or happily-ever-after, but erotic romance does. For me, pornography is visual—film, photography.
-What authors do you think write excellent erotic fiction?
I just started reading Tiffany Reisz's Original Sinner series and it is so good. Jaw-plus-floor good. I adore Lorelei James' cowboys. I've discovered a lot of excellent writers through Rachel Kramer Bussell's and Delilah Devlin's anthologies. And the books coming out of Go Deeper Press are amazing—intelligent, transgressive, insanely hot.
-What is the most surprising thing you discovered while writing DEEP DOWN?
I really geeked out while researching Deep Down. I learned a lot about the commercial fishing industry in California. For example, sea urchin must be hand-harvested by a diver; it is one of the last wild foods. Sea urchin roe, or uni, goes from the bottom of the ocean off the coast of Santa Barbara to Tsukiji Fish Market in Toyko in less than 24 hours. That just blows my mind.
-What is one thing your readers would be most surprised to learn about you?
I play the accordion! Actually, I don't know if my readers would be surprised to learn that. I do give off a strong Weird Al vibe.
-Are you working on anything at the present you would like to tell us about?
Right now I'm working on book two in the Kings of California series. It's called Hollywood Honkytonk, and it stars Jack Lamont, Sam's little brother. His story takes place ten years after Deep Down. Jack is a Hollywood actor and Riley is his childhood crush, all grown up and new in town. Hollywood Honkytonk will be released by The Wild Rose Press.
-Say your publisher has offered to fly you anywhere in the world to do research on an upcoming book, where would you most likely want to go?
Scotland! The first romance novels I read were Scottish historicals. It's pretty hard to resist a story about a big sexy Scot in a kilt. I wouldn't mind writing a contemporary romance set in Scotland. Maybe a nice steamy one set in a Scotch distillery? Perhaps I should tour a couple distilleries to get a feel for the place. For research, of course.
-What are you reading now?
I adore food writing. I'm currently reading Tsukiji by Theodore C. Bester. It's about the giant fish market in Tokyo, Japan, and I find it fascinating. I'm also reading How to Cook a Wolf by MFK Fisher, who is brilliant and funny. I recently finished a book called Mastering the Art of French Eating by Ann Mah. It made me so hungry.
I read a lot during the holidays. Right on the tip-top of my contemporary romance TBR pile are Samanthe Beck's Compromising Her Position and Jill Sorenson's Dirty Eleven books. They write high-heat romance. My favorite.
-What do you like to do when you are not writing?
My husband and I take tons of road trips. The last big one we took was through the Pacific Northwest. Also, we are both pretty good home cooks. I cook and bake almost every day. Now that the weather's colder, I've been making tons of pies from scratch and giving them away to friends and co-workers. Production goes up when I am having trouble on a writing project. Procrasti-baking, I call it. The more ornate the dessert, the more anguish I'm feeling about my work!
-What are your favorite TV shows?
I'm always excited about the new season of Downton Abbey. I also watch Gotham. The Great British Baking Show on Netflix was a lot of fun. I watch more movies than T.V., though. Lately I've been hitting up my library for Hayao Miyazaki movies like Howl's Moving Castle and Spirited Away. I just watched The Wind Rises for the first time and bawled inconsolably on the sofa. My dogs were concerned.
-Do you have a favorite quote or saying?
You can find one of my favorite sayings on the inside cover of Deep Down. It's by G.K. Chesterton: "The only way to love anything is to realize it may be lost."
-If you could spend a day with anyone from history, dead or alive, who would it be, and what would you do? What would you ask them?
Julia Child! I would want to cook and eat with her. I would ask her to tell me endless stories about her life and I would get drunk on every word she said.
-Tell us about your family.
My husband and I have been together for thirteen years. We live with a grumpy miniature schnauzer and an intelligent but needy terrier mutt. I have a large extended Filipino-American family. My husband has three cousins; I have three dozen. Probably more.
-What makes you happy?
Spending time with good storytellers, on paper or in person.
Sex, drugs, and spicy tuna rolls? Resilient and disciplined, tsunami survivor Eve Ono moves to California from Japan looking for a position as a sushi chef. When she's suddenly fired from her restaurant job, desperation drives her to find work on a fishing boat despite her fears of the ocean. To make matters worse, she's stuck in close quarters with her new captain—a man whose raw physicality drives her out of her mind with lust. Free-spirited and roguish, Sam Lamont is a commercial fisherman aboard his own dive boat, the Bravado. When he makes a bad deal with a deadly loan shark who threatens to take his boat, Sam is in danger of losing both his business and his way of life. On top of that, he's got to train his new deckhand—a beautiful hard-ass who just so happens to be sexy as hell. A female sushi chef with mad knife skills. A deep-sea diver who's pissed off a Mexican drug cartel. Together, they're in trouble, and the only way out is down.
About the Author: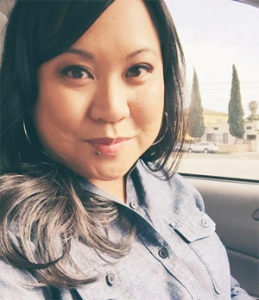 Mia Hopkins writes lush romances starring fun, sexy characters who love to get down and dirty. She's a sucker for working class heroes, brainy heroines and wisecracking best friends. When she's not lost in a story, Mia spends her time cooking, gardening, traveling, volunteering and looking for her keys. In a past life, she was a classroom teacher and still has a pretty good "teacher voice" and "teacher stare." She lives in the heart of Los Angeles with her roguish husband and two waggish dogs. For more books, freebies and fun stuff, please visit her website.
Website | Twitter | Facebook
Buy the book at Amazon, iBooks, or Barnes and Noble.