Long and Short Reviews welcomes Kristy McCaffrey who is visiting with us today. Leave a comment or ask the author a question for a chance to win a digital copy of her latest book Deep Blue, the first book in a sexy and suspenseful new series.
What, in your opinion, are the most important elements of good writing?
I love it when everything comes together—plot, characterization, pacing. It's difficult to juggle all of this and blending it together is a heck of a lot of work, but that's the job of a fiction writer.
What is the hardest part about writing for you?
Often it's figuring out what comes next, and when I can't my writing comes to a screeching halt. There's always so many potential avenues for a story to go, and sometimes I become so overwhelmed by them that I freeze. I guess this is writer's block. What usually helps is to read other books, both fiction and non-fiction, and watch movies and television. Immersing myself in ideas other than my own usually helps me break through this.
Tell us something about your newest release that is NOT in the blurb.
I spent a great deal of time studying accounts by researchers of their interactions with sharks, especially great whites. I learned that white sharks are cautious, inquisitive, and intelligent, and I tried to convey those qualities in my story. While they're predators and deserve our respect, they aren't the monsters we believe them to be.
What books or authors have most influenced your own writing?
I grew up reading a lot of science fiction and fantasy because that was on my mom's nightstand, so I devoured Marion Zimmer Bradley and her epic Darkover books, as well as Anne McCaffrey's (no relation) Dragonriders of Pern series. I was also obsessed with all things King Arthur. But when I was in high school, I read PRIDE AND PREJUDICE and that book really showed me the dynamic that can occur in a great romance. So, while I certainly love to write love stories, I also need a big story behind it, and by that I mean a highly thematic element. I'm also fond of including a bit of the 'other'—a blend of paranormal and mysticism—so that often slips into my books.
What did you want to be when you grew up?
I was always writing, but it never occurred to me to be a writer until after I was married with young children. Instead, I dreamed of being a meteorologist, then a marine biologist, then a theoretical physicist. I also had a brief longing to be a Dallas Cowboy Cheerleader. In college, however, I studied engineering. And now, finally, I'm doing what I love, which is to write.
How do you do research for your books?
I read a lot, and I've found memoirs to be gems. They offer personal insights and generally touch on everything going on in a time period, such as fashion, politics, and the like.
How do you keep your writing different from all the others that write in this particular genre?
I follow what I'm interested in. Some of my stuff has pushed the boundaries of the genres I write in and that has sometimes left readers unhappy (my paranormal western romance THE SPARROW has readers who either love it or hate it). So sometimes, I suppose I go too far outside the genre. But I was following my curiosity on the subject matter.
What are the best and worst pieces of writing advice you ever received?
The best piece of advice has been to write for myself. And it's also the worst. It's important to work on projects of which you're passionate because it will be reflected in the work, but if you want to be published you must pay attention to the market as well as the genre you write in if you hope to sell that work. I especially found this to be true with my paranormal western romance THE SPARROW. Readers either embrace the out-of-the-box storyline of a woman undergoing a shamanic journey through the Grand Canyon in 1877, or else they dislike it immensely. It doesn't quite fit the genre, so I respect the divided response.
Do you listen to music while writing? If so what?
I have a very old iPod on which I make playlists for each book. The music is anchored predominately in the 70s era, with Fleetwood Mac, Chicago, Boston, Styx, Billy Joel, and Elton John some of my favorites. I just made a new list which includes The Carpenters and John Denver. But when I need music without words, I listen to movie soundtracks such as 'Pirates of the Caribbean'.
What are your favorite TV shows?
My husband and I watch a lot of sitcoms: The Goldbergs, Modern Family, and The Good Place. We also love any Star Trek series and have been hooked on the newest one, Discovery. I'm also a fan of Game of Thrones, Silicon Valley, The 100, and Dancing With The Stars.
Favorite place to read?
I do most of my fun reading at night in bed. I love that I can read on my Kindle and not disturb my husband while he sleeps. I know the prevailing theory is that all that bright light keeps you awake, but it usually puts me right to sleep after about 45 minutes.
What inspired you to start writing?
I started writing when I was seven years old. It has always been the way I express myself. I wrote stories throughout grade school and high school, but it wasn't until I was a young mother that I decided to tackle a novel. It was so much harder than I thought it would be, but I really loved it.
Do you ever suffer from writer's block? If so, what do you do about it?
When I get stuck it's because my brain has hit a roadblock in the plot. I usually step away from the story and try to tackle it from a different angle. Sometimes I brainstorm with my husband and he usually offers all sorts of interesting ideas to choose from.
How do you develop your plot and characters?
I do it at the same time. It's a back and forth process. I also usually am actively researching too (whether it be the old west for my westerns or, as in the case of my new contemporary novel, great white sharks). Often something I read will then trigger a plot idea, and frequently I'll need to tweak the characters to get the most out of the scene.
What are you reading now?
I just finished an epic adventure novel called THE EIGHT by Katherine Neville. It was published in the 1970s but is still worth reading today. It's about an ancient chess set imbued with properties that may or may not prove to be magical. I especially liked all the science that was included since I studied engineering in college.
How do you come up with the titles to your books?
I do like to keep titles short and sweet, which most of mine are. My Wings of the West series uses a bird theme, so it was just a matter of deciding which bird I wanted to use for each book. For my new contemporary series, I tried to pick short, punchy titles that conveyed the tone and setting of the story: DEEP BLUE (about great white sharks), COLD HORIZON (mountain climbing), and ANCIENT WINDS (archaeology).
How many books have you written? Which is your favorite?
I've published 8 books and 6 short novellas. My first book, THE WREN, is a favorite because Molly Hart is a character that's very dear to me. And that book is what started my writing career.
When writing descriptions of your hero/ine, what feature do you start with? Eyes, hair
Sometimes I start with eyes and hair, but usually I begin with mannerisms. Those will often change as the story progresses, but it usually gives me a way into the character. The other part that really solidifies it for me is to write some of his/her childhood. It's usually then that I discover the most important parts of them and what drives them. Some of this won't end up in the book, but it's part of my getting-acquainted process.
Tell us about your family.
My husband and I both work from home. We still have one child in residence, although she'll be heading off to college soon. Our three older kids are all in college already. We dote on our dogs—Lily, a chocolate lab, and Marley, an older English lab we rescued earlier this year—almost hourly. Our days are quite mundane, which is exactly how we like it.
In the deep blue ocean lives an ancient predator…

When a photo of Dr. Grace Mann freediving with a great white shark goes viral, the institute where she works seeks to capitalize on her new-found fame by producing a documentary about her work. Underwater filmmaker Alec Galloway admires Dr. Mann and jumps at the opportunity to create a film showcasing the pretty biologist. But can he keep her safe when her passionate focus on the sharks repeatedly leads her into danger?
About the Author: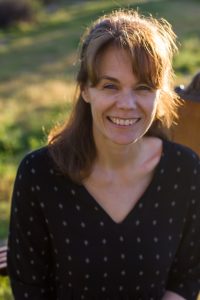 Kristy McCaffrey has been writing since she was very young, but it wasn't until she was a stay-at-home mom that she considered becoming published. A fascination with science led her to earn two mechanical engineering degrees—she did her undergraduate work at Arizona State University and her graduate studies at the University of Pittsburgh—but storytelling has always been her passion. She writes both contemporary tales and award-winning historical western romances.
An Arizona native, Kristy and her husband reside in the desert where they frequently remove (rescue) rattlesnakes from their property, go for runs among the cactus, and plan trips to far-off places like the Orkney Islands or Machu Picchu. But mostly, she works 12-hour days and enjoys at-home date nights with her sweetheart, which usually include Will Ferrell movies and sci-fi flicks. Her four children have nearly all flown the nest, and the family recently lost their cherished chocolate Labrador, Ranger, so these days a great deal of attention is lavished on Ranger's sister, Lily, and the newest addition to the household—Marley, an older yellow Labrador they rescued in early 2018. Both dogs are frequently featured on Kristy's Instagram account, so pop over to meet her canine family.
Website | Newsletter | Facebook | Twitter | Instagram