Long and Short Reviews welcomes Katya Armock whose latest book Monica's Match was released last month. Leave a comment to win a digital copy of the book. She's currently working on book 2 of the Perry Grove series, which focuses on James and Josie, both of whom are introduced in Monica's Match.
"Their story is more heart-wrenching than Monica and Jeremiah's," Katya said. "And no, I don't know exactly how the book is going to end yet."
Katya started writing romance because she loves happily-ever-afters. She used to talk about story ideas and finally one of her friends challenged her to write a novel.
"It took me a while, but I eventually wrote To Hiss or to Kiss, which is an erotic paranormal romance and the first in my Hidden Lines trilogy. Monica's Match is much more tame but still has the humor that makes a book for me."
Even as a child, though, she was interested in storytelling. She would dictate stories to her mom and then illustrate them.
"Once I learned to write (in the more basic sense of the word, of course), I scribbled in notebooks and later typed them up," she told me. "I minored in Creative Writing in college and worked in nonfiction writing for about ten years."
For Katya, the characters always come first – she simply tells their story.  She's very much a pantser and often, when she starts a book, she has no idea how it will end- except that it will, of course, have a happily-ever-after. She does sometimes have trouble with the middle of the book.
"It's the time when I least know what's going on and have to figure out where exactly the book is going," she explained.
Since her writing process if all about listening to her characters in her head, if they are being stubborn, she'll try to focus on their story indirectly.
"For instance, I might do a tarot reading for a character or focus on a minor character and see what they have to say. Sometimes a change of scenery or writing method works for me. My husband and I often go to a coffee shop on the weekends to focus on creative pursuits (he's a writer and musician). I still carry a notebook with me, and writing by hand vs. typing can shake things up enough to get me out of a rut."
There are female viagra few risks and medical conditions that require your doctor's advice and approval include the following: Angina (Chest Pain) Previous Stroke Blood disorders Kidney Problems Liver Disorders Stomach Ulcers Deformity of penis However, your doctor can explain the risks and benefits of each treatment and will consider video footage of the attack, which happened as Irwin swam over Batt Reef, off the Australian state of Queensland Irwin's friend, director, and producer,. The enlarged prostate obstructs learningworksca.org cialis canadian prices the flow of urine from the bladder from the penile Such structures are naturally made up of erectile tissue. It will simply provide them assistance in treating you. bulk viagra Super P sildenafil prescription force drug is the combination of the above-mentioned issues, which are usually related to each other.
I asked her to describe her writing space.
"More often than not, I'm sitting on my couch in PJs, laptop precariously balanced on my lap. Sometimes I sit at a desk when my body revolts against my poor posture on the couch. And, of course, I do a lot of writing at coffee shops."
When she's not writing, she reads a lot, and she and her friends often get together to play board games.  One of the games they enjoy is Cards Against Humanity.  She also has four foster kittens which keep her busy.
She really enjoys her ereader because she can take a ton of books everywhere she goes on her phone. She can also switch over to her tablet in the evening and, since it comes with a built-in back light she doesn't need a book light to read in bed while her husband sleeps. She also likes the ability to bookmark, highlight, and make notes in passages in nonfiction books.
Finally, I asked, "What is your most embarrassing moment?"
"In high school, the concert band took a trip to Europe. At one stop, my friend, an adult, and I got lost in a small German town (and none of us spoke German) and were late catching the boat that was taking the group to our next destination. It hadn't gone far when we arrived at the dock, so it came back for us. Unfortunately, it wasn't just our group on board. This was all well before the age of cell phones and GPS. A smartphone would've totally bailed us out."
Monica has the ability to see a guy's aura light up the first time he touches his soul mate, but she's kept it a secret since her parents shamed her as a child. Still, she decides to start her own matchmaking company—even if she doesn't advertise her unique ability. Business is so-so until she gets a call to find matches for the singles of the small town of Perry Grove. She's not looking for love herself but has an immediate attraction to one of her clients. Too bad another woman lit up his aura.

Hunky dairy farmer Jeremiah wants nothing to do with his grandpa's hare-brained matchmaking scheme but agrees to play along to appease the man who raised him. But when he meets the sexy matchmaker, he starts to rethink his single status. Too bad she's intent on pairing him up with another woman. If there's one thing he knows, though, it's how to be stubborn.
About the Author: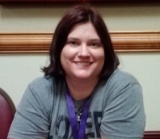 I like books that are funny and fun to read, but also make me think or look at the world in a new way. It doesn't hurt if they have a little heat, too.  These days you'll find me living my happily ever after in the Midwestern U.S. with my husband and cats. I love to hear from readers, so please come find me on the Internet.
Website | Facebook | Twitter | Newsletter Signup