Long and Short Reviews welcomes Jo Richardson, whose latest book Cookie Cutter was recently released. Leave a comment for a chance to win a $5 Amazon gift card plus a digital copy of Cookie Cutter.
Cookie Cutter is about a single mom who struggles to deal with her new status, a new job, an ex-husband who still wants to control her, a teenaged daughter her own issues, all while supporting the community she's come to know and care about. She thinks she's got it all together, but really, one slight pull of the thread, and it could all crumble around her. She's come to grips with the fact that this is her life until Carter Blackwood moves in across the street. That's when the fun starts. That's when Iris's fun starts.
Jo actually wanted to be an artist when she grew up, originally taking art as her major in college, with English as a minor. Life took her in a different direction (and major) but she never stopped be creative.
"I'm glad I finally took the plunge in getting something published," she admitted. "It's pretty awesome to see a story you've written in book form."
Jo found her favorite author by accident one day while browsing in an aisle at Barnes and Noble – Jim Butcher.
"I was looking (desperately) for something new to read, and this woman noticed that I was there a while. She came right up to me and handed me one of his books. She said, just do it. So I did. And I've been hooked ever since," Jo told me. "I love him because he writes about a wizard (but not the Harry Potter kind) who is forever having one bad day after another. He's snarky, sarcastic, a hard ass, and he gets up every time he's knocked down. He makes some bad decisions but he is always trying to rectify those mistakes. He taught me that when writing a story, you don't always have to have perfect grammar, perfect characters, or perfect endings, you simply have to have a great story to tell."
For Jo, in her writing, her characters come first. She will usually have an idea on the type of person she wants to write about. She starts to see and understand who they are, what makes them tick, what's happened to them in the past? Then she starts working on the story she want to surround them with.
When it comes to titles, she likes to do play on words and wants the title to mean multiple things with regards to the story. For example Cookie Cutter doesn't just reflect the type of neighborhood Iris lives in, it refers to her love of baking, and it also, in some ways, resembles how her day to day life has become. Or at least how she perceives it.
I asked Jo to describe her writing space.
"It's pretty neat and organized. I've got a desk set up in the front room of my house, a laptop, windows so I can remind myself there's life going on outside, and a notebook to jot ideas down into. There's usually a black lab hanging out at my feet and two kitties who pop in and out of the area throughout the day, reminding me to feed and love them."
It's hard for her to find time to write, though, since she works full time, has a husband, and two daughters with school and sports going on.
"Sometimes it's difficult to write when I'm hit with some inspiration for a scene or need to finish up my edits," she admitted. "I make the time though, because I love what I do, and even though it might take me a year to finish a story, I'm going to finish the story."
She writes early morning, before work, during lunch, and late afternoons when everyone is home from school, but still working on homework.
"Aside from that, we have a lot things going on at any given moment. Sometimes, if my husband happens to take the girls somewhere and I'm left alone (gasp) I take full advantage of the time I'm given."
She was surprised to discover how much additional work is involved in getting books published, and then how much work is involved in marketing after publication.
"It's a never ending circle of making time to write, while pimping yourself (something I am personally horrible at) and making sure you search for the write audience to pimp yourself to," she said.
"Ebook or print?" I asked, "And why?"
"This is an interesting question. I'm not sure if it's referenced to my own books or any books I've read. For my stuff, if I had to choose? Print. Because I love holding something in my hands that I've written, and putting it up on my shelf and remembering I DID THAT. For most books that I read, I like eBooks because it's so easy, and convenient, but there are books that I buy in print that I've read in eBook. Because when the story is that special to me, I want it on my shelf."
Finally, I asked, "If you could spend a day with anyone from history, dead or alive, who would it be, and what would you do? What would you ask them?"
"This might have been a different answer a year ago, but today, I would pick Robin Williams. And I would ask him to please reconsider his decision to end his life. I would make him see how much he impacted so many people by leaving us too soon. I still get choked up when I think about it. He has been a role model for me since the very first time I saw him on Happy Days. He's made me laugh through good times and bad, and I just wish he understood how important he was. It breaks my heart that he felt so alone in the end."
Iris Alden and Carter Blackwood couldn't be more different. Change-averse Iris likes her life neat and organized, while Carter's itchy feet mean he doesn't plan to stay in the same place for long.

When Carter moves into the house across the street from Iris, to renovate it, she fights the disruption it causes in her life. Before long, though, it's not simply the house Carter's rebuilding, but Iris's heart, too.
About the Author: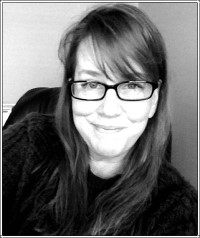 A movie fanatic, a writer of stories, a lover of life.
Jo grew up in Maryland with four siblings, three parents and an endless number of cousins within the vicinity – but it was too cold up North for this thin blooded girl. So today, she lives in Florida with her two girls and a husband that shares her same sense of humor and basic take on life as we know it.
Life is too short to put dreams on the back burner.
Jo tells contemporary stories with romance, humor, the supernatural, the paranormal, suspense, mystery, action and anything else she can think up.
In 2012, she wrote Cursed be the Wicked, a character driven, paranormal mystery romance that was picked up by Soul Mate Publishing and released in March of 2014. Jo has also written a couple of short stories as well, and her most recent full length novel, Cookie Cutter, released through Little Bird Publishing in March of 2015, broke into the top 100 contemporary romantic fiction category on Amazon during its first week of publication.
Website | Facebook | Twitter | Google+ | Pinterest
Buy the book at Amazon, Barnes and Noble, Kobo, or iBooks.