Long and Short Reviews welcomes Jacquie Biggar who is awarding one randomly drawn commenter an e-copy edition of The Rebel's Redemption, the second book in her Wounded Hearts series, and a $10 gift card for Amazon.
Jacquie knew  she wanted to be a writer since she was twelve years old. That year she wrote a short story called Count Daffodil after spending many hours in a desperate search for ideas. She receive an A for the story and it was read aloud over the school's loudspeaker system, and she was hooked.
"I grew up, got married, raised a family and left my writing urges to simmer in the background unattended," she said. "I owned and operated a successful diner in my hometown for a number of wonderful years before deciding to live my dream of becoming an author. My first book, Tidal Falls, a romantic suspense novel about second chances, released September of 2014."
She joined RWA in 2013 and the first thing she did after signing up was to sign up for as many writing related classes she could.
"RWA is a haven for romance authors. They have a terrific support network and many forums to guide an author along the path, whether traditional or self-publishing," she told me.
She's currently working on book three of her Wounded Hearts series, tentatively titled Twilight Theatre. It's the story of a pair of star-crossed lovers, Ty Garrett and Katie Fowler. She is also going to be a part of two multi-author boxed sets this year, one releasing in June, and the other December.
"Who is your favorite author and why?" I wondered.
"That's a tough question. I have a couple automatic buys and they're on opposite ends of the romance genres. Number one would have to go to <a href="http://www.suzannebrockmann.com/">Suzanne Brockmann</a>. I have every book she's ever written and re-read them every couple of years, yes, they're that good," she answered with a smile. "Almost from the first words on the page you're drawn into the world of her characters. She's so good at portraying realism into her heroes and heroines that the reader gets caught up in the life and death struggle of survival, as well as the hopes and dreams of a happy ever after. More than once I've lifted my head from one of her books and had to readjust to my surroundings. Now that's good writing."
Jacquie sees characterization as one of the most important elements of good writing.
"If you can't hook your readers into having empathy for your hero/heroine, or even for your antagonist, you have a problem," she explained. "I think a writer needs to get into the head of their characters and show the reader their inner most fears and desires. Make us root for them. Secondly, I think setting is crucial. The reader needs to be able to picture the scene in their head for believability. As a writer it's our job to point out different elements of a setting seen from the eyes of our characters. A man wouldn't notice a crocheted doily on a table for instance, but the heroine might cherish it as an heirloom from her grandmother."
Titles, for Jacquie, don't usually happen until she's about two thirds of the way through the story.  Then something just clicks for her and she has her title.
"Titles are so important. You need something halfway original, yet eye-catching, and it has to give a feel for the type of book the reader is opening. That's a tall order," she admitted.
"What is the hardest part about writing for you?"
She confessed, "Staying vigilant and focused. I'm a horrible procrastinator. I start the morning with e-mails, which carries over into social media. Then I look at my advertising for the day. Then my blog, maybe some sales stats…yeah I can waste time like nobody's business!"
When she's not writing, her favorite thing to do is go to the beach with her husband. They live in Northern Alberta for most of their lives–picture long, cold, and dreary winters.  A couple of years ago they moved to coastal British Columbia to help take care of their grandson while their daughter is in university for Marine Biology.
"Best decision ever!" Jacquie told me. "Now my DH and I go out on dates to the beach. We stop by the coffee shop for a French Vanilla, and then away we go, it's heaven on earth, truly. Food for the soul."
Finally, I asked, "What advice would you give a new writer just starting out?"
"Don't be afraid to ask advice. But, and here's the caveat, stand up for what you believe in. No one can know your story like you do, so if they're calling for a major overhaul I'd seek more opinions before doing anything else. Also, save, save, save. There's nothing worse than working for hours on your project only to lose it all with some computer glitch. I recommend Dropbox, it's free and so far, trustworthy.  I usually save to my computer, my laptop which is a Mac, and Dropbox, so I have 3 copies at least of my work. Join some critique groups, the more eyes on your work the better. Most of all, do it because you love to write. If you're getting into this for the money, there are easier ways."
About the Author: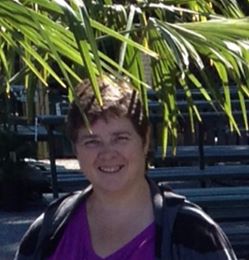 Jacquie lives in paradise along the west coast of Canada with her husband, daughter, & grandson. Loves reading, writing, and flower gardening. Spoils her German Shepherd, Annie, and Calico cat, Harley. And can't function without coffee.
Subscribe to her mailing list to find out first about upcoming releases, contests, recipes, and more.
Website | Facebook | Twitter
Annie Campbell has a good life for her and her young son in the mountain town of Tidal Falls. She's dating the sheriff, owns a successful business, and has the support of the community.

So why isn't it quite enough?

Jared Martin left Tidal Falls a hotheaded youth, and now, after eight years in the military, he returns a bitter, disillusioned man.

Then he finds out he's a father.

When an old enemy follows and causes mayhem in the small town, can Jared overcome the odds to protect the woman he's always loved and the child he never knew, or will it be too late?