A special welcome to J.D. Brown who is visiting with us today as part of her virtual book tour celebrating the release of Dark Becoming, the latest book in her Ema Marx. For more prizes and ways to win, join the DARK BECOMING RELEASE PARTY on Facebook! On her virtual book tour, one lucky winner will receive a free thumb drive with over 100 free ebooks from over 100 different author downloaded inside. Enter via the Rafflecopter at the end of the post.
The books in the Ema Marx series are Athena's Oracle (the prequel to the series), Dark Heirloom, Dark Liaison, and Dark Becoming. I asked her which was her favorite.
"That's a tough choice. Probably, as of right now, Athena's Oracle, just because it's different from the rest of the series. Don't get me wrong, though. I love Ema and the gang!"
The author read a lot growing up–everything from Homer's Odyssey to the back of the shampoo bottle in the shower. She didn't get the courage to try to write fiction until a few years after she graduated from college.
"There was a story I wanted to read; what the heck happened to all these heroines in paranormal books after they got bitten and married the vampire? But no one had written that story yet, so I took the challenge upon myself and created Ema Marx, the heroine of my entirely paranormal no-humans-allowed series," she said with a wink."
She feels that the fantasy genre is at an all-time high right now, thanks to Hollywood, and she doesn't think that it will slow down any time soon.
"Whether we're talking about High Fantasy like Game of Thrones, Historical Fantasy like Outlander, or Contemporary Paranormal Fantasy like Supernatural and The Vampire Diaries – people love magic, epic quests, and larger than life characters, especially during an economic low," she said. "Fantasy provides everyone with a temporary safe escape from the stress and droll of real life. It has since the dawn of time. Different sub-genres will rise and fall, but Fantasy will always remain a fixed part of human culture."
She did a lot of research for the Ema Marx series, starting out with the cast of characters and their back stories. Once she had the characters' personalities and history worked out, she was able to build the world around them by placing the setting in cities that made sense with their history.
"In my mind, my vampires live on modern-day Earth, but they are thousands of years old. I had to dig deep into our real-life history, their fictional history, and connect the dots so that both sides of the coin fit together," she explained. "Where my vampires live, how their territories are drawn, areas they avoid, etc. Sure, my vampires avoid tropical beaches and sunshine, but I wanted it to be more than that. When you're working with ancient characters, you have to think in terms of wars fought, alliances drawn, nations defeated… and see how all of it might have shaped where they are now, in the present. I keep a binder with detailed notes that is equal parts fact and fiction, because the best fiction is rooted in fact."
I asked her to describe her writing space.
"Right now it's cramped. I had a nice home office, but some relatives came to stay for the holidays, so we moved my desk and computer into the bedroom and turned my office into a guest room. Afterword, I was too lazy to switch everything back again, so here I sit, in my bedroom," she said with a laugh.
"What is the hardest part about writing for you?" I wondered.
"I bet most writers don't say this, but I feel like being honest today; it's all the decision making. Everyone dreams of being their own boss, but the downside is not having anyone to lean on for those difficult career decisions that could make or break you. Sure, I have a wonderful support group that I talk to daily about the harder parts of the publishing biz, but in the end, I'm the one who has to make the final choice. It can be very stressful."
Finally, I asked, "What advice would you give a new writer just starting out?"
"Just get it done. New writers (myself included, once upon a time) tend to think that the first draft should be perfect. They waste months, even years, constantly going back to correct old chapters instead pressing forth and finishing the manuscript. Trust me, that is a recipe for disaster. Professional authors write on average ten or more drafts before selecting the best version to send to their editor. And they write those ten drafts in six months or less, because they have deadlines to keep. You can always edit a finished draft. You can't edit a partial. And on that note – don't ask for feedback for a partial draft either. Unless you enjoy having your ego stomped on."
About the Author: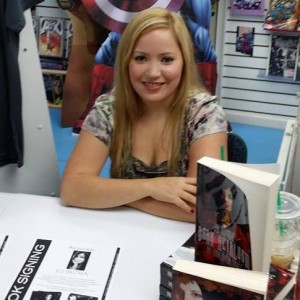 J.D. Brown knows that vampires exist because she's dating one and no, he doesn't sparkle. Unfortunately, he's not immortal either (or maybe her standards are too low). A magnet for subcultures and weirdness, J.D. was that socially awkward girl with more fictional friends than real ones. As a child battling a hearing loss and Muckle-Wells Syndrome, J.D. found comfort in books where strong women always saved the day and got the guy. An obsession with Charmed, Sabrina the Teenage Witch and Buffy the Vampire Slayer led J.D. to believe that her mutated chromosome made her something more, not something less. Thus her stubborn flare to persevere was born. A lover of fine cuisine, coffee, and shoes, J.D. never understood why shoe stores don't serve Starbucks and soufflé. She resides in Wisconsin were she writes urban fantasy—aka vampires for adults—and has political debates with her dogs. She loves to hear from fans and is active on Facebook.
Website | Facebook
Buy the book at Amazon.
Ema Marx is in a race against time. Or rather, a race against Apollyon. A powerful weapon—the legendary philosopher's stone—could tip the scale in favor of whoever gets their fangs on it first. For Ema, obtaining the stone is an uphill battle through love, alliance, heartbreak, and loyalty. Winning should mean the beginning of beautiful things, but the closer Ema gets to her destiny, the more uncertain her future becomes. Could it be this war was never meant for her? And why the heck doesn't morning sickness adhere to rules of its own name? Dark Becoming is the third book the award-winning Ema Marx Series by J.D. Brown