Long and Short Reviews welcomes Eden Baylee who is giving away two Amazon gift certificates for her book, Stranger at Sunset. Read our review here. Leave a comment or ask the author a question to be entered in the drawing.
Stranger at Sunset wasn't the first title for the story. Eden had several others including Strangers in Paradise, Strange Encounters, and so on.
"I settled on Stranger at Sunset because there are several meanings the title can take," she explained. 'Stranger' can be both a noun and an adjective, and it alludes to how we view others as well as ourselves. 'Sunset' refers to the time when a pivotal scene takes place in the book as well as the name of the resort."
Eden currently has thirteen titles available, because she sells her novellas both separately and in anthology format. Even though it's hard to choose a favorite, she is a bit partial to Stranger at Sunset, partly because it's her latest and she believes she has improved as she continues to write, but also because Kate Hampton is a character that she can see a future with. In fact, she's working on the next book in the series now and admitted she's excited to see where Kate goes next.
"How do you do research for your books?" I asked.
"When researching a location, the best thing is to go there. My current book, Stranger at Sunset, takes place in Jamaica, and getting a feel for the setting was a big part of the book. I've stayed at Sunset Villa, where the novel takes place, though the name has been changed for the book. As in the story, the real resort is located next to where Ian Fleming lived and wrote his James Bond novels. Given this, it was an inspiring place to draw upon for a mystery/suspense novel.
"I feel there is little else that can infuse as much realism into a novel as actually visiting a location where the story takes place. In doing so, you have the advantage of experiencing an environment with all five senses. If it's not possible to be there in person, YouTube videos of a location are probably the next best thing.
"Research for other aspects of the book involved reading and surfing the Internet for information. My protagonist is a psychiatrist, and my lifelong interest in psychology made this part fun. I still read texts from the field just because I'm interested in the mind. One of my go-to books is the seminal work of Dr. Hervey M. Cleckley called The Mask of Sanity.
"The book describes his interviews with patients in a locked institution. His detailed clinical description of psychopathy is still relevant today even though the book was written back in the forties.
"I was also a student of Freud's writings, but many of his observations are no longer studied. It still makes for good fiction though."
Finally, I asked, "What advice would you give a new writer just starting out?"
My main tip is to keep writing. It's amazing how much I've learned by writing continuously. The fact that I cringe a little by reading some of my earlier works is a good thing. It means I've moved on from there. I feel the mark of any writer should be to improve with each book they write.
I'd also advise to hit a word count or daily goal you set for yourself. As a writer of fiction, I'm fully aware that my imagination is a function of my brain; the brain is a muscle. And like any muscle, it needs exercise daily or it will atrophy.
About the Author: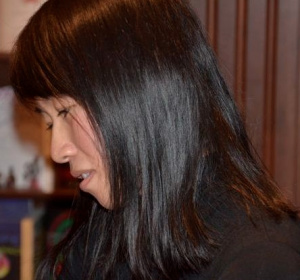 Eden Baylee left a twenty-year banking career to become a full-time writer. She incorporates many of her favorite things into her writing such as: travel; humor; music; poetry; art; and much more.
Stranger at Sunset is her first mystery novel, on the heels of several books of erotic anthologies and short stories. She writes in multiple genres.
An introvert by nature and an extrovert by design, Eden is most comfortable at home with her laptop surrounded by books. She is an online Scrabble junkie and a social media enthusiast, but she really needs to get out more often!
To stay apprised of Eden's book-related news, please add your name to her mailing list.
Author Links
Website | Blog | Amazon Author page US | Amazon Author page UK
Twitter @edenbaylee | Facebook | Goodreads | Youtube | Pinterest | LinkedIn
Vacation can be a killer. 

Dr. Kate Hampton, a respected psychiatrist, gathers with a group of strangers at her favorite travel spot, Sunset Villa in Jamaica. Included in the mix are friends of the owners, a businessman with dubious credentials, and a couple who won the trip from a TV game show.

It is January 2013, following the aftermath of Hurricane Sandy. The luxury resort is struggling, not from the storm, but due to a scathing review from caustic travel writer, Matthew Kane. The owners have invited him back with hopes he will pen a more favorable review to restore their reputation.

Even though she is haunted by her own demons, Kate feels compelled to help. She sets out to discover the motivation behind Kane's vitriol. Used to getting what he wants, has the reviewer met his match in Kate? Or has she met hers?

Stranger at Sunset is a slow-burning mystery/thriller as seen through the eyes of different narrators, each with their own murky sense of justice. As Kate's own psychological past begins to unravel, a mysterious stranger at Sunset may be the only one who can save her.
Available in e-book and print
Amazon US | Amazon UK | Amazon worldwide http://authl.it/B00L7BVDFM
Apple | B&N | Smashwords | Kobo
Also available in Print | iTunes Soundtrack