Long and Short Reviews welcomes Ashley M. Burner, whose newest book Twisted Candy was recently released. Leave a comment or ask a question in reference to the interview for a chance to win one of two copies of Twisted Candy.
For several years, Ashley had wanted to write a story showing the dark side of migraines, particularly Cluster Migraines (nicknamed the Suicide Headache). She was sick with them herself from 2005 – 2010/11.
"The hard part was figuring out how to tell the story without it being so dark and sad because I learned a lot about my own strength and the power of love," she explained. "I wanted my heroine to have a silver lining like I had in the end. Then one day, when driving past a country cemetery I've been by a thousand times, I discovered Candy Richman. The first glimpse I had of her was pulling into the driveway past the white picket fence separating the cemetery from the road. She surprised me when she ran up the hill to a gravestone and had a young man following her. Candy was desperate to escape from something and willing to put herself in a dangerous situation to succeed. It took me several weeks, maybe even months to discover Candy drove that day to the cemetery to escape the torture of migraine demons."
She's currently working on the second book of the Sweet Candy Saga called Hard Candy.
"I had an outline written when I wrote Twisted Candy," she told me. "But as I finished book one, I knew with the lives the characters had taken, that my outline was no longer accurate. It truly amazes me the characters grow and evolve so much. I'm pleased to say Max's storyline will grow and tension really ramps up when his ex-girlfriend pays him a visit and Candy discovers how small the country town in which Max lives really is. Not to mention Candy's stalker."
"What would you say is your most interesting writing quirk?" I asked.
"My most interesting quirk. My husband would say I have many of them – most of which I would tell you I developed while battling Cluster Migraines. My doctor said because I couldn't control my migraines I turned to things I could control. So all like things must be together. For instance, plastic coat hangers, we have white, blue and black one and they are ALWAYS sorted by color in the laundry room. Same with plastic cups, they are sorted by size and colors. And then you have my bathroom closet. It's filled with the labeled, plastic shoe boxes. Trust me, if you can't find the Tylenol in my house, it isn't my fault."
However, she discovered to her surprise that she is not in control of her stories.
"I have the plot and an outline written down. I might even get through the first draft before the characters are strong enough to take over, but it never fails, characters will just insert themselves in a scene because they have something to say," she explained. "I actually love those parts of the book the most. They figure out and say things I hadn't even thought of consciously and I have no idea how it happens."
Besides her battle with Cluster Migraines, Ashley had a very scary moment in her life when she was away from home in school. She knows there's a story there she needs to write, but she's not quite ready to write it.
"A young man used to always walk me to my car and stuff when he would see me out alone, he didn't want anyone to hurt me," she explained. "Then after a few months, he became the predator. How I survived not being raped and murdered I still don't know. I guess it just wasn't my time. I guess God or my relatives who have gone before me just wouldn't let it happen. The incident affected me for a very long time."
Ashley had been writing YA for many years and was not getting anywhere publication wise. Then a scene came to her and took her from YA to erotic romance.
"I am very happy with the outcome. I hope I can take what I learned from this journey and someday do right by my YA stories," she said.
"What is the hardest part about writing for you?" I wondered.
"Definitely finding the time to write is the most difficult part of writing for me. I have two teenage children who keep me busy non-stop. Even now with my eldest graduated and in Army Boot Camp, he keeps me busy. He asked me for one favor before he left, 'Mom, can you please write and send me short stories?' Of course I couldn't and wouldn't say no. So between a fulltime job, writing him letters, writing him a short story every week, plus spending time with my daughter and husband, I pretty much buried."
She has written two YA's, one erotic romance, and now -thanks to her son – three short stories.
"All my stories mean something to me, have a special hidden secret, or portray an aspect of someone's life I hold near and dear to my heart. But, I'd have to say my favorite story is the first one I wrote for my son, Brown and Green Soldiers. It's about my children when they were young playing with Army men and how they both always wanted the green soldiers. It's cute. It fits their personalities."
Finally, I asked, "What is a talent you wish you had, but don't?"
"I wish I was musically talented. I just think it is absolutely amazing how someone can take a slice out of our life and fit the whole thing into a song. And then, the words they choose! Oh my! My unpublished YA is 326 pages long. My Erotica is 91. Now if I could only figure out how to write a whole story in the length of a song. Simple lines like: A yellow two piece, black Ray Bans; She put him out like the burnin' end of a midnight cigarette; Old Skoal can, and cowboy boots and a Go Army Shirt folded in the back; When she's yours she brings the sunshine, when she's gone the world goes dark; Now she's got me twisted like an old beach roller coaster. In each one of those lines you can picture exactly what is happening. In my eyes, there is nothing more powerful than a song."
Sex that melts in your mouth…

Twenty-eight year old Candy Richman is tortured by migraines. Nothing works, nothing that makes life livable, anyway. Until an internet search reveals a surprising theory—the pain can be relieved by sex. Excited to test the theory for herself, Candy decides she needs a test subject—someone she can have totally hot sex with, but no emotional ties. Sex with a perfect stranger could be risky—but it's a risk she's willing to take. So when she pulls up beside the gorgeous country boy in his red pick-up, she blows him a kiss…and his reaction blows her away.

Twenty-two year old Max Hart is tortured by grief. While trying to lure women to his bed and win a friendly on-going wager with his friends, Max sidles up to a hot, yellow Camaro with an even hotter blonde behind the wheel. When she declines his invitation to coffee, he thinks he's struck out…until she suckles her finger and gives him a look that would make him follow her anywhere.

But Candy's no-strings-attached approach isn't working. For some reason, Max wants more of his sweet Candy, even after he learns how bitter her life can be. And when Candy's actions garner the attention of a serial killer, things only go from bad to worse…
About the Author: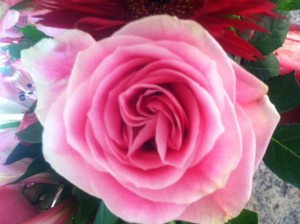 I've been married to the same wonderful man for twenty years. We've been through many ups and downs including seeing our eldest graduate from high school and leave for a career in the Army. Our youngest keeps us busy with learning to drive and softball tournaments. I began seriously writing in 2005 and I can honestly say being able to tell a story is an amazing form of art that takes years to develop.
Website | Facebook | Twitter