Long and Short Reviews welcomes A.J. Locke, whose second book in her Reanimation Files, Requiem for the Living, was recently released. She's currently working on the third book in the series. Enter the Rafflecopter for a chance to win digital copies of both books in the series.
She was born in Trinidad and loved living on an island where winter did not exist.
"I hate the cold weather and I miss year round warmth," she explained. "Plus the beach was always close by. I also love my country's culture, music, and of course, food!"
A.J. has been writing since she was a child–writing stories for one of her school classes before the age of ten, followed by writing poetry. She wrote her first book when she was fourteen and hasn't stopped yet.
It's sometimes hard for her to find time to write, because she has a one year old. She does most of writing at night. She's always liked writing at that time the best, but admitted to me that, with the baby, sleep is so precious.
"But if I didn't sacrifice some sleep I'd have no time to write at all so it's worth it," she admitted.
I asked her how she developed her plot and characters.
"It may sound strange, but my characters develop themselves," she told me. "Sometimes I have in mind what I want a character to be like but when I start writing, a completely different voice comes through and I just have to go with it because that's who the character for that particular story needs to be. I can just feel when I have the character's voice right. With the plots, sometimes it takes a lot of outlining and planning, and sometimes it just flows and I don't even need to make a lot of notes. It just comes together as I write."
She's written seventeen books, though not all are published. I asked her if she had a favorite.
"I don't know if I could choose a favorite! I will say that my first few have a special place in my heart because it's where my journey with being an author began. I even hand wrote them in notebooks. I like to go back to my old manuscripts and re-read the things I penned when I was in my teen years. I still love those stories and I love seeing where my early creativity took me."
Selene is slowly dying…too bad that's the least of her problems.

You could say that Selene Vanream has a lot of problems. First there's the Rot that's slowly killing her, despite everything Ilyse and Micah are doing to find a way to save her.

Then there's Andrew, the ghost of her boss who is anchored to the living world. Selene would like to ignore him, but anchored ghosts with unsettled business turn into anchored beasties, so she can't write him off. The government has sent a team to post up at Affairs of the Dead and keep an eye on her, which includes making sure she plays up to Andrew to keep him from turning.

On top of that, someone is using Selene's new power to create anchored ghosts for their loved ones to keep around. Not good since the culprit doesn't have a clue about that whole anchored beastie angle. Now Selene has a criminal to catch while trying to stay out of the hands of government goons who have stripping her reanimation power on their agenda.

When Micah and Ilyse finally find a way to save her, Selene thinks she can cross one bad thing off her list–until she learns the terrible price that must be paid to keep her alive. Full plate doesn't cover it. Overflowing plate doesn't cover it. Selene's plate has damn near exploded.
About the Author: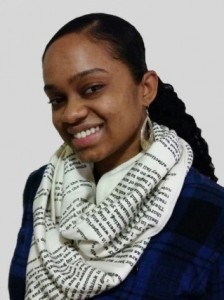 A.J. Locke is originally from Trinidad and Tobago but has resided in New York City for over ten years. She knew early on that she wanted to be a writer, penned her first novel at fourteen, and hasn't stopped since. Creating is her passion, and other than writing she enjoys drawing, painting, graphic design, and any other creative whim that may take her.