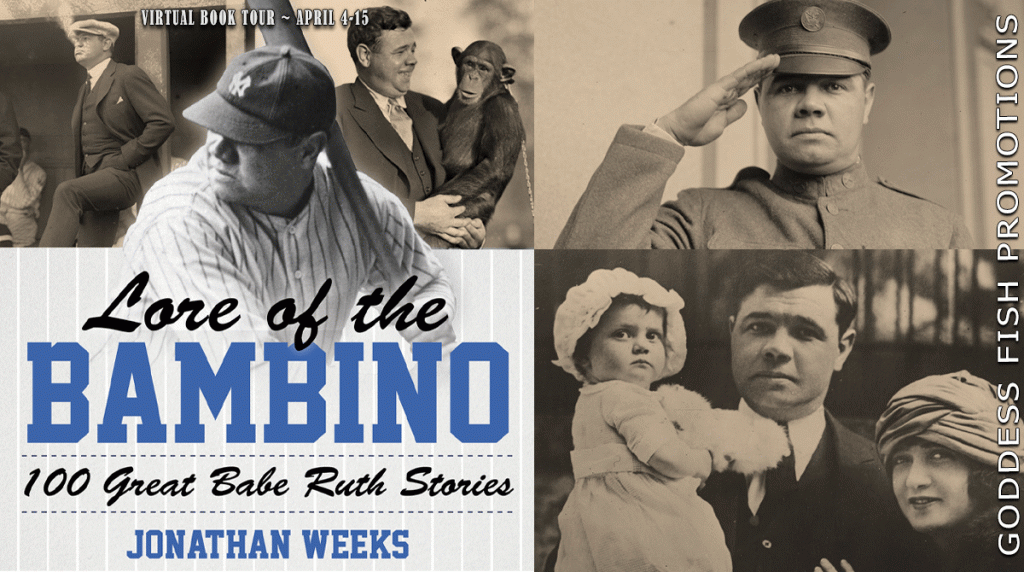 This post is part of a virtual book tour organized by Goddess Fish Promotions. Jonathan Weeks will be awarding a $25 Amazon or Barnes and Noble GC to a randomly drawn winner via rafflecopter during the tour. Click on the tour banner to see the other stops on the tour.
INTERESTING FACTS ABOUT BABE RUTH
–Ruth's father was accidentally killed by a family member. George Ruth Sr. owned a number of taverns in Baltimore. While tending bar one day, a fight between two of his brother-in-laws erupted on the street outside. Ruth Sr. attempted to separate the two men, but ended up slamming his head on a curb and sustaining a fatal skull fracture.
–Ruth's first wife, Helen, was killed in a house fire. The two were separated but still legally wed at the time. Since the fire took place under somewhat suspicious circumstances, Ruth was implicated as a suspect along with Helen's boyfriend—a Boston dentist named Edward Kinder. In the wake of a formal investigation, both men were absolved of any guilt.
–Ruth worked tirelessly over the course of his career to interact with fans. In October of 1933, he actually visited a leper colony during a barnstorming tour of Hawaii. He did so against the wishes of his handlers.
–Ruth purchased a number of fancy sports cars during his playing days. He had little regard for the rules of the road, parking his vehicles wherever he pleased, driving them too fast, and smashing into things repeatedly. In 1917, he collided with a trolley car in Boston, derailing it. In July of 1920, he drove his expensive Packard off the road with his wife and several teammates in it. The vehicle flipped over, but no one was seriously hurt. In June of 1921, Ruth was stopped for speeding and arrested. Police officials released him from jail in time to appear in an evening game.
–Though Ruth was generally good-natured, he demonstrated his hot temper a number of times on the field. In 1922, he was thrown out of a game for tossing dirt at umpire George Hildebrand. After getting booed by fans, he climbed into the stands to confront two men who were heckling him. Unable to reach them, he jumped onto the roof of the Yankee dugout and challenged anyone in the crowd to a fight. There were no takers.
–Much has been made of Ruth's alleged "called shot" off Cubs pitcher Charlie Root in the 1932 World Series. Few people are aware that he called one of his October shots four years earlier. Facing pitcher Bill Sherdel of the Cardinals in Game 4 of the 1928 World Series, the Babe engaged in some semi-friendly banter at the plate, bragging that he was going to deposit the next hittable pitch into the outfield seats. He made good on the boast, laughing all the way around the bases and waving mockingly to the St. Louis crowd.
–The use of performance enhancing drugs in baseball has generated a lot of controversy over the past several decades. But it is not a new problem. In the 1920s, team trainers began injecting players with a substance made from sheep's testicles, which was said to increase stamina. Ruth agreed to give it a try, but he became severely ill after a single injection and abruptly ended the experiment.
More than seventy years after his death, Babe Ruth continues to fascinate generations of fans. His exciting adventures on and off the field have become essential reading for students of baseball and pop culture. While most Ruth biographies are filled with mundane facts, Lore of the Bambino is the equivalent of a greatest hits compilation. Ruth's extraordinary (and at times incredulous) tales carry readers on an enthralling journey through the life of the most celebrated sports figure of the twentieth century. All of the most popular anecdotes (such as the Babe's alleged "called shot" in the 1932 World Series) are thoroughly covered along with many lesser known narratives.
Enjoy an Excerpt
In the annals of baseball history, there has never been anyone quite like Babe Ruth. He transformed the game from a slow-moving battle of wits to an explosive exhibition of raw power. He could alter the final score with a single swing. When he retired in 1935, he owned dozens of statistical records. And his 714 homers were more than double the output of the next closest competitor.
Beyond the ballfield, Ruth was approachable, engaging, and jovial. He mingled with fans, autographed a myriad of baseballs, and befriended sportswriters. In an era when heroes were desperately needed, he fit the bill. He understood what he meant to people (especially children) and went out of his way to bring them joy.
As a role model, he was imperfect. He broke rules, got suspended, and struck out more than any other player of the era. But when the game was on the line, he almost always rose to the occasion, doing it in dramatic fashion. Over time, he became part god and part mortal—a mythical man-child who called his own shots and propelled baseballs farther than any player before or after him. He got more attention than U.S. Presidents and was just as newsworthy as a world war or economic depression. Everyone wanted a small piece of him. And everyone who met him had an interesting story to tell.
About the Author: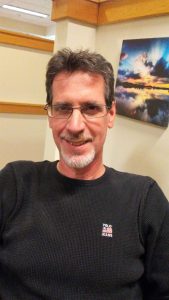 A lifelong sports fan, Weeks has published several non-fiction books on the topic of baseball. Additionally, he has two novels to his credit–one of them a posthumous collaboration with his father. His latest project: Best of the Bruins: Boston's All Time Great Players and Coaches, is due out in 2021.
Goodreads
Buy the book at Amazon.