Long and Short Reviews welcomes Patricia Yager Delagrange who is visiting with us today to celebrate yesterday's release of Maddy's Phoenix. Leave a comment or ask the author a question by Friday, August 11, to be one of two readers to win a free print or eBook of Maddy's Phoenix (winner's choice). Patricia will announce the winner in comments on Saturday, August 12.
Inspiration—It Comes on Four Legs
by Patricia Yager Delagrange
I have two chocolate Labradors: Annabella and her son, Jack. Jack and I have a special bond; he's my baby. He was born with a long-undiagnosed condition with a name my young daughter loved to tell anyone who would listen to her say it, over and over: cranial mandibular osteopathy. Jack's head was literally expanding and contracting, making one eye close shut. Hence the nickname, One-Eyed Jack.
Jack was in a lot of pain, and before the vets arrived at their "ah-ha" moment, my husband suggested we put him to sleep. I said no—not until I had a diagnosis and if there was no cure. Long story short, we learned it's a self-limiting condition, which stopped after two months, leaving Jack with a golf ball-size lump of bone under his chin. A totally cosmetic problem he can live with.
So Jack became a happy little Labrador, and we developed a very special bond during his struggles. I have difficulty writing without him plastered to the left side of my leg while I sit on the couch, working on my books. Knowing he wants to be that close makes me happy. It lifts my spirits that he's alive, snoring comfortably cuddled next to me. I reach over, stroke his silky smooth ears, and it relaxes me. I hold his paw, which is like grasping that of a small lion's since he weighs 105 pounds.
I need peace and quiet while writing. No music. No television. No beeping cars. And with Jack by my side, I get that. I feel the quiet. I can write.
Jack inspires me to figure out the problems my characters face and how they struggle to overcome them and find romance. Similar to the outcome of Jack's health crisis, my characters must have their happy endings, too.
Another big boy helps me with my writing—my Friesian horse, Maximus. This 1,425-pound guy lives in a huge stall with a million dollar view of the tall trees and thick, green foliage in the rolling Oakland hills a short drive from my home on Alameda Island. Our routine is almost sacred. I groom him, brush his jet-black forelock that hangs past his dark chocolate eyes, swing the small English saddle over his back, tighten the girth around his extra-large tummy, and jump on his back.
On our favorite trail, dense, overhanging trees form a magnificent tunnel along a meandering path. My peaceful place, the perfect venue for working on my plot and characters. No interruptions. I don't even take my cell phone when I ride him. Just the chirping of hidden birds, the tramping of the occasional hiker with an unleashed dog. And always the greeting, "Is that a Clydesdale?" To which I answer, "No, sir. Maximus is about a thousand pounds shy of being a Clydesdale." Too, his long, regal neck and Spock-like ears distinguish him from the Budweiser commercial stars.
When I ride Maximus, I drift into my writing zone. No need for a computer. My state of mind in the woods on his regal back is perfect for figuring out how I'm going to solve my characters' problems. How I'll help them find their happy ending.
I recall a time when I was in the early stages of writing my August 8 release, MADDY'S PHOENIX. I'd been pondering a plot problem in the beginning of the story, so off I went to ride Maximus. On the trail, he pulled one of his shenanigans and coaxed out of me the direction the plot should take. He loves to raise his hoof and splash water, so I let him walk through a huge puddle. On his back, I'm usually safe from the muddy spray he creates, but this time he decided to lie down and roll in the puddle. All horses roll. It's their comfort thing. But this is a dangerous situation for the rider, so I quickly pulled him up, and we continued on our merry way.
But that little scenario triggered a thought in my mind. How was I going to pull Maddy out of her dilemma, out of her mud puddle? The struggling waitress has just discovered a baby in a dumpster behind the café where she works. A few days ago she miscarried a second time, and she desperately wants to keep this precious, discarded infant, whom she names Judith. But how can she keep little Judith without going to jail?
Amazingly, the solution popped right into my mind. Maddy had to leave the little town of Monte Rio in northern California on the Russian River and go to a place where no one knows her. Where she—and Judith—can begin a new life without fear of discovery. I thought, Oakland. That's where she would go. Problem solved. Thanks, Maximus!
So my beautiful fur-legged family members are not only loving companions, they inspire me and even help me with plot problems. Do these beautiful creatures sense I need a nudge, a little help here and there? Who knows?
Tell me about the four-legged members of your family and how their unconditional love helps you. Two Long and Short Reviews readers who comment below by Friday, August 11, 2017 will win a print or digital copy of MADDY'S PHOENIX—their choice!
Maddy McCray lives a hard scrabble life, working as a waitress at the Monte Rio Café in a little town on California's Russian River. Abandoned by her mother when she was a teenager, then by her two worthless boyfriends, she is nonetheless grateful for the rustic cabin where she lives—and for Cheryl, the older and wiser waitress who watches over her while Maddy anticipates the birth of her baby.

Then one night Maddy goes into labor prematurely and loses her precious baby. The loss is almost more than the distraught 22-year-old can bear. A few days later she discovers a tiny infant in a dumpster behind the café. An abandoned baby, a baby no one wants, a baby who will wind up in a string of foster homes. But Maddy wants the baby. She names her Judith.

Maddy resolves to take the money in her tip jar and move to the Bay Area, where she can get a better-paying job and study to become a nurse, to be better than the things her momma said about her. But how can Maddy take care of little Judith, work and go to school? Help comes from Cheryl, who helps Maddy move to the Oakland area, where the young mother goes to school—and meets a man on the college campus, who sees something special in her. But can she trust her heart again?
About the Author: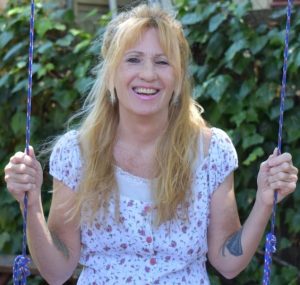 Fascinated by broken-hearted couples and atypical families, Patricia Yager Delagange weaves engaging tales of men and women who create cohesive families where love reigns supreme. She sprinkles her books with intriguing characters who struggle to find balance in life after tragedy. Whether an unwed teenager, desperate widow, abandoned father, or a couple who stray from their marital vows, her characters form relationships impacted by their desire to create a family.
Born and raised in the San Francisco Bay area, Patricia attended St. Mary's College in Moraga, California, where she studied Psychology and Spanish. She spent her junior year abroad at the University of Madrid studying Spanish, then transferred to UC Santa Barbara, where she received her B.A. in Spanish. She went on to get a Master's degree in Education at Oregon State University.
Patricia lives with her husband and two children in Alameda, across the bay from San Francisco, along with two very large chocolate and a rescue terrier mix. When she's not writing or spending time with her family, Patricia enjoys riding her Friesian horse Maximus, who lives in the Oakland hills with a million dollar view.
Website | Facebook
Buy the book at
Amazon
.