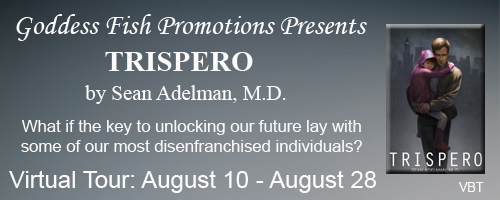 This post is part of a virtual book tour organized by
Goddess Fish Promotions
. Sean Adelman will be awarding a paperback copy of Trispero to a randomly drawn winner via rafflecopter during the tour. Click on the tour banner to see the other stops on the tour.
Inspiration
Inspiration is the "nudge" that most people need to write a story. After inspiration comes the work, but you need that "nudge" to get started. If the inspiration is great enough it will carry you through all of the work. If you can imagine, an idea for a story may come to you and will let you get a few pages down, but a great idea will let you flow through your story like sailing down wind.
How does an orthopedic surgeon who's never writing a word of fiction in his life, decided to write a novel? The process of writing scientific articles is very mechanical, problem solving and organizational. As a scientist I always viewed fictional writing as using that creative part of my brain that I never really learned to access. What changed in my life to push me into action? You have kids and everything changes.
There is nothing in this world that can inspire you like looking at the form of your sleeping child. There is nothing in this world that can move you to make our planet a better place than the tear on your daughter's cheek.
I am the father of three beautiful children, my middle daughter is lucky enough to have Down's syndrome. My wife, three children and I traveled through life knowing that we were no different than every other family. Not everyone thought we were "normal" occasionally someone would look at my daughter, then catch my eye and mouth to me, "I'm sorry".
Inspiration for me isn't a person or a thing, but an idea. Writing is a platform for a message delivered through a story that is meant to make you think, feel and cry. Through story, mankind has passed the knowledge of who we are and where we came from. As a scientist I saw "story" as a vehicle to deliver my thoughts and feelings to a bigger audience.
A great story can move people to action, make people look at the world in ways they may not have before. I have found it easier to pour your soul into what you are writing when inspirations comes from your heart and knowing the impact a great story can have on the people reading it is what fuels the whole process.
Our intellect directs us. Our humanity defines us.

What if the key to unlocking our genetic code and our future lay within some of our most disenfranchised individuals? Would we still shun them?

Seattle in the year 2330: centuries of conflict have led to this precipice. If the world is to move forward, Olivay has the difficult task of teaching Alucia her history. Olivay knows that without understanding where she came from Alucia will never be able to help humanity explore the universe.

In present day Seattle, Jason Roy is a scientist whose life revolves around his daughter, Lily. Within her genome lies a secret that Jason has dedicated himself to uncovering. The mundane life of a scientist and his family takes a turn when a multinational corporation decides Jason Roy's research is a danger to them.

Jason and Lily are now running away from an unforeseen enemy and toward a discovery that will change mankind. Altering the world may come too late for Jason to save what matters most in his own world.

The great irony of unlocking our genetic potential was finding that our greatness was found in our love for one another.
-Trispero almanac
Enjoy an excerpt:
"Ms. Sydney, you have five minutes left."
I don't have time. Debbie made a split decision. She moved the files directly into her drive before her program finished. "Thirty seconds, twenty seconds, five seconds. Download complete."
"Ms. Sydney, what are you doing?"
The alarm had notified him. Debbie carefully watched as the security guard moved toward her. He was the only other person here. The young guard at the window was not in her direct line of sight. Debbie quickly removed her drive. The guard moved in closer.
"Ms. Sydney, I will need you to give me that drive and come with me!"
Debbie bowed her head as she turned with her hand held out gesturing toward the guard as if she was going to give him the drive. The guard reached to take it when Debbie seized his hand pulling him forward and allowing his momentum to increase the force as her opposite elbow collided with his temple. The guard was dazed but not out, so before he could alert anyone, she put him in a sleeper hold until he was out completely. Debbie quickly slid him under the table and moved toward the door. The guard in the window must not have heard anything as indicated by his curt nod. She returned his gesture and took great care not to run as she went toward the stairs. Patience. Don't attract attention.
Debbie left the stairwell carefully walking past the administration building security. The lines from the morning were gone so the guards acknowledged her. She turned and smiled while pushing on the door just as the alarm went off. Debbie ran with all her might away from the security gate at the road entrance. Running behind the building as the alarm got louder and louder, Debbie pulled out her phone.
"Agent Davis, come get me."
About the Author: Sean Adelman is a practicing orthopedic surgeon in Seattle. When he isn't working hard to put people back together he enjoys writing, running, and attempting to play his electric guitar without frightening his two dogs, Chestnut and Orion. Sean has three children Brenna, Devon, and Ian with his wife of 25 years Susan.
Advocating for people with developmental disabilities is his life's passion and his inspiration for the middle grade book series, Sam's Top Secret Journal, and now his first adult novel, Trispero.
Join Sean on Facebook for book giveaways, events, and news on Sam's Secret Journal and Trispero or visit his website at.