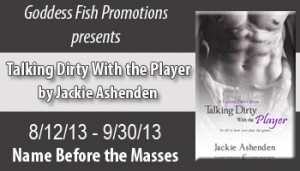 This post is part of a virtual book tour organized by
Goddess Fish Promotions
. Jackie will be awarding a digital copy of Talking Dirty to the CEO and a $50 Amazon GC to a randomly drawn commenter during the tour. Click on the tour banner to see the other stops on the tour—remember, the more you comment the better your chances!
Insider's Guide to New Zealand – Top Five Things To Do In Auckland
When I was starting out as a newbie writer, I was told that setting your book in New Zealand was a mistake since American audiences didn't – apparently – like reading about such a strange and weird place. I have no idea where this idea came from. So because I am a contrary and ornery creature, I thought, 'screw that' and set my books right here in Auckland.
And guess what? Turns out that American audiences DO like reading about different places because I've had people commenting on how much they liked the New Zealand setting and how they wanted more of it.
Never let it be said I don't give my readers what they want… 🙂
In the spirit of more, here's my top five list of things to do if you should ever visit Auckland.
1. Visit Princes Wharf on the waterfront. Auckland's harbor is spectacular. There's a beautiful view of Rangitoto (one of the volcanoes but don't worry it's dormant), the surrounding islands, and the harbor bridge. Have a glass of wine in one of the restaurants and watch the super-yachts and passenger ships come in. On a nice day it's a lovely way to spend some time.
2. Go up the Sky Tower, the tallest freestanding building in the Southern Hemisphere. The view is amazing and if you're really insane, you can even bungy jump off the side of it. Me, I'll be eating in the new Sugar Club restaurant that's just opened up. I'll wave to you as you plummet past the window, hoping for your sake that the cord doesn't break.
3. If you're into nature then visiting Auckland's west coast beaches is a must. There's native bush on the hills (plenty of hiking) and big waves if you want to surf. Karekare beach, where the movie The Piano was filmed, even has black sand. Just don't go walking on it in bare feet on a hot day, especially if your skin is important to you. Think walking on hot coals…
4. Want to shop? Sip lattes and pretend you don't have a job to go to? Then Ponsonby Road is for you. Lots of shops full of clothes from NZ designers, shoes, jewelry, and home-wares. Restaurants for Africa. Dress code – anything. As long as it's black. A lapdog in a bag is also an advantage. 😉
5. And since this is all about Talking Dirty with the Player, no top five list would be complete without a reference to our national game – rugby. So number five is a visit to Eden Park, where the last Rugby World Cup was held. If you're really lucky you might catch our national team, the All Blacks training. And if you're really, really lucky, you might even spot Sonny Bill Williams, my hero inspiration for Caleb (extra points for catching him without his shirt!). 🙂
So whaddya reckon? Auckland sounds like a place you'd want to visit?
About the Author:
Jackie has been writing fiction since she was eleven years old. Mild mannered fantasy/SF/pseudo-literary writer by day, obsessive romance writer by night, she used to balance her writing with the more serious job of librarianship until a chance meeting with another romance writer prompted her to throw off the shackles of her day job and devote herself to the true love of her heart – writing romance. She particularly likes to write emotional stories with alpha heroes who've just got the world to their liking only to have it blown wide apart by their kick-ass heroines.
She lives in Auckland, New Zealand with her husband, the inimitable Dr Jax, two kids, two cats and some guppies (possibly dead guppies by the time you read this). When she's not torturing alpha males and their stroppy heroines, she can be found drinking chocolate martinis, reading anything she can lay her hands on, posting random crap on her blog, or being forced to go mountain biking with her husband.
Twitter: @JackieAshenden
FB: http://www.facebook.com/jackie.ashenden
Goodreads: http://www.goodreads.com/author/show/6577006.Jackie_Ashenden
Website: www.JackieAshenden.com
Up-and-coming photographer Judith Ashton is pretty sure she has everything in her life under control. That is, until a blast from the past comes back to taunt her, in the shape of Caleb Steele, her older brother's best friend…and the man who broke her heart eight years ago. Their chemistry is combustible, but she's been fooled once by this player, and she's not going there again. To pro rugby player Caleb, Judith has always been his Kryptonite. But his former playboy lifestyle is the last thing she wants to be involved in. In the midst of her brother's threats to back off, and the deal of his career sending him far away from her, he knows he's playing with fire. And this is one game he's going to lose.