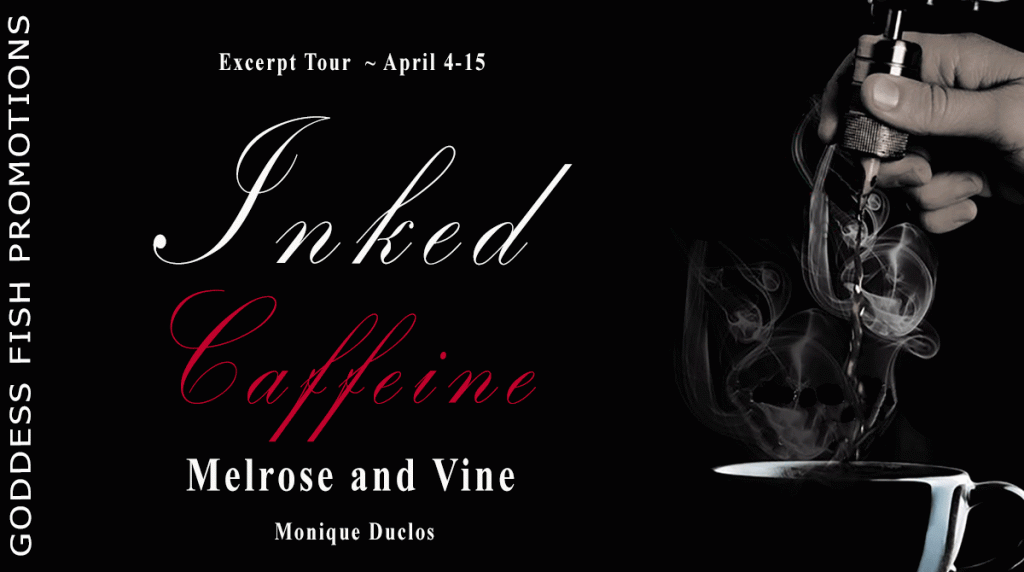 This post is part of a virtual book tour organized by Goddess Fish Promotions. Monique Duclos will be awarding a $15 Amazon or B/N GC to a randomly drawn winner via rafflecopter during the tour. Click on the tour banners to see the other stops on the tour.
I was just your typical Starbucks barista without an interesting bone in my body. I liked to keep my head down and do my best to cruise through life uninterrupted, although my bright red hair made it almost impossible. Things took an interesting turn when I met Jimmy, an artist from the tattoo parlour down the street. Living and working in Hollywood, California, I met a lot of intriguing characters, but no one as intriguing as him. He brought a new light to my life that I didn't know I had, let alone one that I needed.

My past wasn't a great one, but I got out and made a new life for myself. And now, it felt like my future was looking better with Jimmy in it. I felt like life was finally worth living, until… everywhere you looked, something was on fire. The screaming was enough to make you go deaf and the scent of blood made you gag. My body was screaming in pain and I couldn't stop choking on all the smoke in the air. My lungs felt tight, and when I looked up, I couldn't decide if it was snowing or raining ashes. People were firing guns chaotically and I had never run so fast in my entire life. Jimmy jumped up to the roof of a parked car and I was quick to follow, bending over to catch my breath.

"Now where?" I panted.
Enjoy an Exclusive Excerpt
Smiling up at the clear sky, I glanced to my right as I walked and continued to smile at the Hollywood sign off in the distance. Suddenly, somebody was calling my name and I almost tripped on my own foot.
"Dallas!" they yelled again, only louder.
I frowned, looking all around. I started laughing when I saw Jimmy running across the street, waving at me. I took out an earbud and smiled.
"Hey!" I yelled back, just as he dodged a taxi and made it across to me.
"Funny seeing you here!" he said.
I laughed. "You too!"
"Nah, not really. I work here . . ." he mumbled, shoving a thumb over his shoulder and motioning to the tattoo parlour behind him.
My face dropped as I stared at the giant No Regrets sign. The store front was mainly windows, and inside, customers could be seen sitting and waiting for their appointment. He had told me he worked here too. Was I subconsciously walking to his work? I swallowed the lump in my throat and smiled.
"Oh yeah!" I played dumb and he laughed.
"So much for that tornado yesterday . . ."
"Heh, yeah. My power did go out though. How about you? Were you tattooing?" I asked with a smirk.
He frowned. "Yeah. And then I couldn't finish. My schedule is crammed too, so I gotta wait to finish it," he mumbled and I bit my lip, trying my best not to laugh out loud. "Oh well. But hey! It's my lunch break! What'cha up to?" he asked.
I shrugged. "Going for a walk, I guess . . ." I said, frowning at the ground.
It suddenly sounded so stupid when it came out of my mouth.
He snorted. "Sounds like a thrill. Wanna go grab a bite or something?" he asked, smiling. I stopped my music and rolled my iPod up, shoving it in my pocket.
"Sure!" We ended up going to a cheap pizza joint up on Santa Monica Boulevard. We ordered a large pepperoni pizza and some pop, and then ate in silence out on the patio.
"So. When'd you get that tattoo on your finger?" he asked, pointing to the little black heart on my middle finger.
I stared at it and shrugged. "I dunno. I was like, seventeen or something. The act of a rebellious teen or some shit," I mumbled, forcing an awkward laugh.
"Haha! Been there!" "What about you? You're basically covered . . . from what I can see anyways," I said and he started laughing and my stomach got tight and did a back flip.
About the Author:
Monique lives in Southern Ontario with her high school sweetheart and her two lop eared rabbits. When she's not writing, she's getting tattoos, dyeing her hair, or travelling. She is an avid concert-goer and has way too many houseplants.
Website | Instagram | Twitter | Goodreads
Buy the book at Amazon, Amazon CA, Bookshop, Indigo Chapters, Barnes and Noble, or Book Depository.