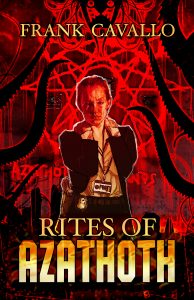 Long and Short Reviews welcomes Frank Cavallo whose occult-thriller Rites of Azathoth was released earlier this year. Leave a comment for a chance to win a print copy of the book (US only please).
Influences
One of the things you get asked frequently as a writer, even a small indie writer like me, is the question about influences. Who do you read, and why?
It's a question I've often asked about my favorite writers. Knowing something about an author's influences really can be a window into what shaped their work, from their style of prose to the themes they return to frequently. In some cases, I "discovered" authors I'd never read, or never even heard of, by checking out the influences of my favorite writers.
With that in mind, I'd like to briefly touch on three influences of my own that don't get read much today, and that might be worth a look, especially if you're looking for something a little weird, or a little different. These guys shaped my work, sometimes in odd ways, and in my humble opinion, deserve more attention than they get these days.
Karl Edward Wagner
If I had to sum up Wagner's writing, it would go something like this:
Grim tales, soaked in blood. Monstrous forces from the eldritch dark slithering their tentacles from the shadows, met by the gleaming steel of a broadsword. A deeply troubled anti-hero wandering the Earth, forever haunted by his sins.
If that appeals to you (and it always has to me) then go out and get one of his books. You won't be disappointed. I've been able to grab a few beaten up paperback copies of Kane novels at second hand bookstores over the years, and you'd be hard pressed to get me to part with them.
His work struck the perfect balance between sword & sorcery and cosmic horror. To me, Wagner is dark fantasy.
Clark Ashton Smith
Of the "big three" from the Weird Tales era, he is the least remembered of the trio, and I think that's a real shame. It might be because he had no single signature character, like Robert E. Howard, who lives forever in the guise of Conan the Barbarian, or Lovecraft, who gave us the Cthulhu Mythos. It might also be because his prose was the least accessible of the pulp era heavyweights. CAS had one of the most peculiar styles of any fantasy writer I've ever come across, and I love him for it. I've read that he was essentially self-taught, and as a result his work is highly idiosyncratic. He had a fondness for bringing back words that had fallen out of use, or for digging up the most obscure terms he could find. In his Atlantis the city towers aren't merely white or black, they're blazing orichalcum and ancient spires crawling with the verdigris of centuries.
In my estimation no one has ever equaled his ability to set a mood of uncomfortable, off-kilter weirdness. I go back to his work over and over, especially when I'm trying to evoke a creepy, unsettling mood in my own fiction, always looking to find a way to come close to what he seemed to do so easily.
Eric R. Eddison
His most revered work is The Worm Ouroboros, which is an all-time favorite of mine, and a wonderfully odd book. The prose is deliberately archaic, but in a wholly different way than Smith's work. Eddison was a devoted student of the old Viking sagas and the Homeric tradition. He made a conscious effort to hearken back to all of them. Because of that, in places the text is bloated and florid. It's not easy reading. But what it does do is revel in the delight of language itself. He lingers on ornate descriptions, lovingly detailing every aspect of weapons and armor and the trappings of royalty. Totally unnecessary for advancing the plot, and I suspect he didn't care. He wanted to immerse you as deeply as possible in his invented world, years before Tolkien set the standard for that, by the way. You would never write a book like this now, and at times it can get to be a little too much. I look at this as something like the far edge of what fantasy writing can be. It is absolutely glorious at times, and at others, it fails in the most epic fashion possible. At every point though, it is unlike any other fantasy book I know of, and it is spectacular to behold.
F.B.I. criminal profiler Diana Mancuso doesn't do field work anymore. Not since a tragic mistake that cost innocent lives. But when notorious serial killer Luther Vayne escapes from prison and resumes his campaign of brutal murders, the Bureau convinces her to take one last case.

To catch him, she must understand him. She must delve into the arcana that fuels his madness, risking her life and her sanity to follow his twisted path.

The trail plunges her into a shadowy world of occult rituals and unspeakable horrors, leading to a secret cabal operating at the highest levels—and a plot to summon the darkest of all powers, to bring forth an evil that does not belong in our world—to enact the Rites of Azathoth.
About the Author: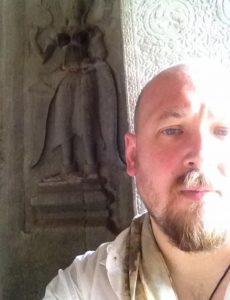 Frank Cavallo is a horror and dark fantasy writer. His previous works include Eye of the Storm, The Lucifer Messiah, The Hand of Osiris, and the Gotrek & Felix novella Into the Valley of Death.
He was born and raised in New Jersey. He graduated from Boston University with a degree in Communications in 1994 and he earned a JD from the Cleveland Marshall College of Law in 2001. His life-long fascination with the darker side of human nature has led him to devote most of the past 15 years to a career as a criminal defense attorney, at the Cuyahoga County Public Defender Office, in Cleveland, Ohio. There he has come face-to-face with some of the truest horror in this world. Murder, rape, burglary, drugs. That's his bread and butter.
Facebook | Twitter | Goodreads | Website
Buy the book at Amazon.