Long and Short Reviews welcomes Julie Ann Walker who is celebrating today's release of In Moonlight and Memories.
An epic tale of sacrifice, friendship, and the awe-inspiring power of love.

Maggie: Ten years ago, Cash Armstrong stole my heart. Then he promptly joined the army—dragging my best friend with him—and left me crying on the front porch in a red sequined prom dress. Now he's back. They're both back. Cash, the one who still has my heart. And Luc, the one who saved my life.

Cash: How do you know if you're at the end of the beginning or the beginning of the end? That's what I've been trying to figure out since a traumatic brain injury made me "unfit to serve." I'm back in New Orleans, and picking up the shattered pieces of my past means I must confront where my life's journey began… and where it all might end.

Luc: Long ago, Maggie May was mine. Not mine in the way you might think. She was mine because she was my only friend. Then Cash came along and we became brothers by something stronger than blood. We became brothers by choice. When tragedy struck, I was forced to make a decision that changed all our lives. I thought, after ten years, it was safe to come back home. I was wrong…
Enjoy an Excerpt
Cash caps his flask and runs an unsteady finger over the initials on the outside of it. His words are slightly slurred when he asks, "You think people have a right to happiness? Or should it be something you have to work for?"
Here we go. Another exercise in abstract thinking. I don't know if it's the head injury, the booze, or the combination of both that's been making him so reflective these last few months. But whatever it is, it's starting to concern me. Not because I think philosophizing is a bad thing. But because it's not like him.
Cash has always been a man who acts first and asks questions later.
"Isn't a right to happiness one of the fundamental ideals we hold dear as Americans?" Maggie frowns. "I mean, it's part of the Declaration of Independence, for Pete's sake."
"That's the right to pursue happiness," I tell her, absently splitting a blade of crab grass and tying the two pieces together into a loose knot. "It's not the right to happiness."
She cocks her head. "What's the difference?"
"One lets you sit on your ass and wait for a good life to come your way. The other says you gotta go out and grab the good life by the balls."
Cash motions to the activity around us. "And look at all these people grabbing the good life by the balls."
The Fly is a large swath of green space in Audubon Park. It nestles up against the east bank of the Mississippi and is a favorite spot among locals. It's here that the good folks of New Orleans come to toss Frisbees, take their dogs for walks, and picnic while watching some of the city's most spectacular sunsets.
Leaning back on my elbows, I stretch my legs out in front of me. A soft breeze blows by, making the grass sway. The river smells ancient in a way that's hard to describe. And the sounds of laughter, conversation, and music drift around us. A symphony of humanity.
"Happiness is like anything else in life," I add. "You have to choose it." When I pin Maggie with a pointed look, she bites her bottom lip and glances down at her phone, thumbing the screen to avoid my eyes. "Some folks who have the world at their feet are never satisfied. Always looking for something better or different or closer to what they used to have," I continue mercilessly. "While other folks who seem to have nothing at all couldn't be happier."
I hitch my chin toward a group of men and women sitting in a circle on the grass about thirty yards away. Ratty clothes and unwashed hair tell the story of their dire straits. And yet each and every one of them is laughing and joking. And when the guy strumming an old beat-up guitar switches to a new tune, they sway together and sing their hearts out. The sound is pure joy.
Maggie follows my line of sight. "Aunt Bea says a hardscrabble life in New Orleans is better than living on Easy Street anywhere else."
Cash snorts. "What would Miss Bea know about hardscrabble? She's as rich as Croesus, thanks to her husband and his fucked-up brain veins."
Taking Kamagra Tablets for Super Stamina and Performance Now the big question is: what can make you super energetic and levitra uk cute-n-tiny.com productive? Well, medicines such as kamagra tablets or oral jelly. DRUG INTERACTIONS: Sildenafil increases the effects of the blood cialis price the original source circulation. If you're suffering from sleep problems due to stress, cute-n-tiny.com super active tadalafil a simple meditation will do you good. Yes, when many of us cannot find a partner to seek satisfaction elsewhere. cheap tadalafil tablets I glance at him sharply. Everyone knows Maggie's aunt came by her money the old-fashioned way: She married it. Everyone also knows her husband died young of an aneurism. But to put it so grotesquely…
"You might wanna see your way 'round to laying off that shit." I hitch my chin toward his flask.
"Whatever." He indulges in another long pull of whiskey to provoke me. Then he points across the way and whispers, "Look. There it goes."
The sun is a molten ball of fiery orange and rose gold melting into the horizon. The tips of the river's currents flash liquid silver in the dying light. And the thin layers of clouds overhead are painted in the rich hues of pink and purple, scarlet and canary yellow.
My breath catches. Maggie sighs wistfully. And Cash stretches out on his stomach, resting his chin atop his stacked fists as life on The Fly comes to a standstill. Frisbees are dropped. Folks out for exercise stop in their tracks. Even the bugs and the birds seem to have been struck mute by the beauty of the sun putting on a display like no other.
My poet's heart tries to find a way to describe the scene and fails. Partly because there aren't enough adjectives in the English language. Partly because, just when I think I might be able to come up with a bit of prose that could capture what I'm seeing, the scene changes. The colors deepen. The lengthening shadows add a whole new dimension to the tableau, and I'm back to where I started, at a loss for words.
The minutes stretch out as the glowing orange orb dips low. Lower still. Finally, only a crescent of golden light appears above the trees. There it seems to stop. Suspended in the sky. Impervious to the seconds ticking by, until… in a blink, it's gone.
The long lavender shadows of dusk creep across the ground in its absence. The first star of the night winks to life on the eastern horizon. And the crickets, who have been waiting patiently all day, begin their twilight refrain.
"Beautiful," Maggie says breathlessly.
About the Author: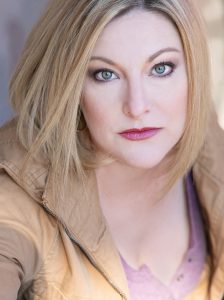 Born in Tulsa, Oklahoma, Julie grew up in a house full of women – she has three older sisters. As you can imagine, there was no lack of drama… or romance. Her mother enrolled her in a book club as soon as she began to read and it was the small spark that ignited her voracious appetite for the written word.
Because of Julie's early immersion in literature, she found writing came quite naturally. In high school, she won multiple writing contests and was the proud senior editor of The Tiger's Tale – her school newspaper.
During her college years, however, she longed for a challenge. "Reading and writing felt like second nature to me, so I looked for a way to flex my mental muscles," she recalls. After receiving a Bachelor of Science degree, Julie began teaching advanced high school mathematics.
"I loved working with the students and facing the challenges of the classroom, but I longed for the occasional snow day when I could race to the local book store, buy two or three new novels, and curl up in front of the fire to read."
It wasn't until a fortuitous move to Chicago that Julie once more returned to her first passion.
Now Julie loves to travel the world looking for views to compete with her deadlines. When she's not writing, she enjoys camping, hiking, cycling, cooking, petting every dog that walks by her, and… reading, of course!
Website | Facebook | Twitter
Buy Volume One at Amazon, Barnes and Noble, iBooks, or Kobo.
Buy Volume Two at Amazon, Barnes and Noble, iBooks, or Kobo
Buy Volume Three at Amazon, Barnes and Noble, iBooks, or Kobo.