Long and Short Reviews welcomes Bailey Bradford who is celebrating today's release of In Deep, the first book in her Hooked on You series. Enter for the chance to win a $50.00 First for Romance Gift Card!
Titus wanted a summer fling—then he wanted more…

Titus Eisenhower loves his job as an elementary school teacher in a small Texas town. Sure, he has to be careful, but not being out is fine with him since he's not interested in dating another man after his last relationship went so badly. But now he's got the career he's always wanted, a safe place to be and friends. Isn't that everything he's dreamed of?

But when he meets a man he can't resist, Titus realizes he's stifled a part of himself…and a part of his dream. He can't trust another man ever again, but he can manage a little summer fling, right? Wrong—everything about the mysterious Draven calls to him, and the two share a connection Titus has never dreamed of.

That's already mind-blowing, but learning the truth about Draven is world-shattering. With evil threatening, and old enemies closing in, Titus will have to believe in things he didn't know were possible if he and Draven are to stand a chance…

Reader advisory: This book contains scenes of fighting, reference to murder and abusive relationships and arson.

Publisher's Note: This book was previously published as Across the Tides. It has been revised and reedited for publication with Pride Publishing.
Enjoy an Excerpt
"Come on, kids, let's see if we can find any shells!" Titus Eisenhower nodded to the parent volunteers forming a human wall between the Pre-K children and the ocean, keeping the kids from getting in past their ankles. The annual field trip to the beach was one of the highlights of the school year for the kids and teachers alike.
Seeing the children's faces lit up with joy, hearing their shrieks of—mostly—laughter, watching them run and splash in the bit of water they could reach…it made his heart swell every single time he got to take part in this trip, and this was his fifth with one of his classes.
The other teachers were at his sides, vigilant, but when it came to children and water, all parents, all adults, needed to be watching the whole group.
This year's parents were great. He'd only had one pissed-off dad who had refused to let his child go since he couldn't just hang out with his kid. Other than that, there'd been plenty of parent volunteers, and, wonder of wonders, they got on well, too. Last year, two of the dads had gotten into a fist fight over some perceived insult. That had been a disaster.
"God, I bet we don't ever get such a great group of parents again," said Stacy Evans, his best friend and colleague. She'd been hired the same year he had, and they'd become fast friends. Stacy's bright-orange hair was all over the place as the beach breeze whipped it about. She shoved uselessly at several flapping strands. "Why, oh why don't hair ties work for me?"
"Honey, that hair can't be tamed any more than you can," quipped Michelle Ochoa. She was older than Titus and Stacy, but not by too many years. "You're as wild and powerful as the wind."
Michelle was also Stacy's girlfriend, though no one but Titus knew that.
Stacy laughed. "Whatever. When I'm blinded by my own hair, then what'll I do?"
"Mr. Eisenhowew, I finded a shell!" Little Bobby Garza hopped in place as he waved a sandy glob in the air. "Wook!"
Titus grinned and jogged over to Bobby before squatting so he could be eye to eye with the boy. "Hey, you did! That's awesome! Want to dip it in the next wave and see if we can get the sand off?"
"Yes!" Bobby's delighted shriek made Titus' ears ache, but the rest of him filled with sheer wonder and delight. He loved his job, and he loved the kids, loved seeing them grow and learn. It made him less cynical every time he saw the world shine in a child's eyes.
"Then let's do it."
Titus got the other kids to show their treasures. A couple were upset that they didn't find good shells, but, overall, everything was going surprisingly well.
After they'd got the kids lined up—and allowed the parent volunteers to take their kids home in their own vehicles, rather than making them ride the buses—Titus took a moment to look back at the ocean. The waves were slight, which was normal for this area of the coast. It was only one-thirty in the afternoon, so the sun was high and bright, the reflection on the water exquisite in its beauty.
"Just think…next weekend, we're going to be here in our own beachfront condo, partying—or relaxing, more likely—for a whole seven days," Stacy said, her soft voice breaking into Titus' quiet appreciation of the view.
Not that he minded. He grinned at Stacy. "You and me and some margaritas," he promised.
Stacy nodded. "Darn right. I'm so looking forward to it."
"Me, too." Titus and Stacy had started their beach tradition their first year at the school. Michelle and Stacy hadn't been dating then. They'd fallen for each other a little over two years ago, but Michelle didn't come to the beach vacations. She had prior commitments with her family in Michigan that took her away.
Titus privately thought Michelle didn't want to intrude, and he had mixed feelings about that. He didn't want to be a third wheel, but he hated to think Stacy might regret Michelle not being there.
"Stop brooding," Stacy said, poking his arm. "You're going to get wrinkles all over your forehead and around your eyes before you hit thirty if you keep doing that."
"I wasn't brooding," Titus protested, immediately trying to smooth out his features.
"Yeah? Then what were you frowning at?" Stacy asked.
"Y'all need to hurry up—we have to get on the road," Michelle called out to them.
"Oops, we're holding everyone up." Titus grinned, relieved at being saved from having to answer Stacy's question.
"I'll keep bugging you until you answer me," Stacy promised as they rushed to the buses.
Titus could have protested, but he knew better. Besides, all he had to do was tell Stacy the truth—he didn't want her to feel like Michelle wasn't welcome.
But he'd keep the other truth to himself—that he was lonely, and when he'd looked out over the water, that sense of loneliness had permeated his happiness, and now, melancholy lingered in the place where joy had been. Yes, I'll definitely keep that secret.
About the Author: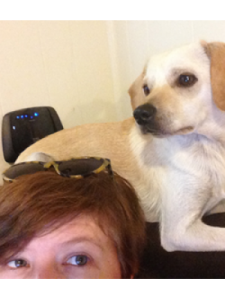 A native Texan, Bailey spends her days spinning stories around in her head, which has contributed to more than one incident of tripping over her own feet. Evenings are reserved for pounding away at the keyboard, as are early morning hours. Sleep? Doesn't happen much. Writing is too much fun, and there are too many characters bouncing about, tapping on Bailey's brain demanding to be let out.
Caffeine and chocolate are permanent fixtures in Bailey's office and are never far from hand at any given time. Removing either of those necessities from Bailey's presence can result in what is known as A Very, Very Scary Bailey and is not advised under any circumstances.
Goodreads | Website | Blog
Buy the book at your favorite online venue or First for Romance.