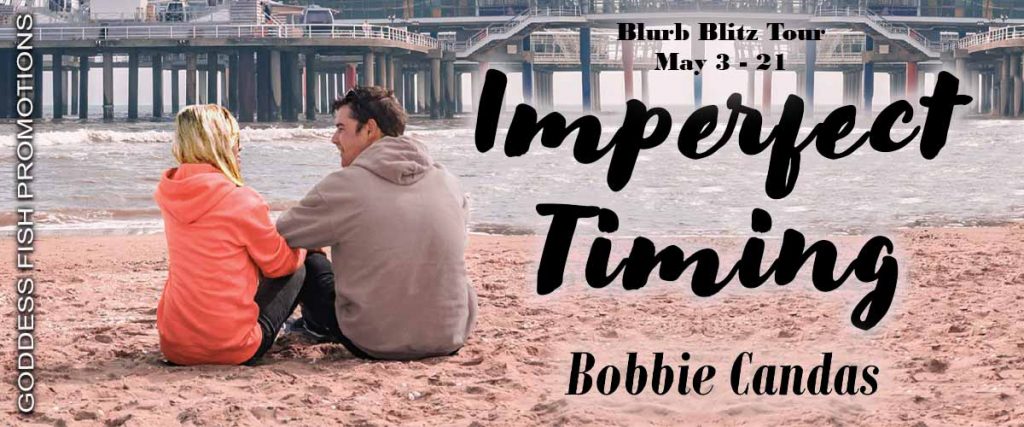 This post is part of a virtual book tour organized by Goddess Fish Promotions.
The author will award a $30 Amazon/BN gift card as well as a print copy of the book to a randomly drawn winner (book available for continental US only). Clkck on the tour banner to see the other stops on the tour.
Time is ticking on this second chance at romance…

With a recent promotion and loads of confidence, Chloe Stevens has landed in sunny LA as a sales director for a leasing company. Quickly picking up on successful business strategies, Chloe also zeros in on a challenging romance option, Zane Shepard, an LA city planner. Chloe and Zane quickly discover an intriguing lust/love attraction, eventually transforming it into the perfect relationship.

After a year, Chloe is ready to take the next step, cohabitation, but instead, Zane blindsides her with the unexpected news of a breakup.

After months of sleepless nights doubting herself, Chloe decides their breakup stemmed from the issue of bad timing; she was ready to commit and he wasn't. Armed with her theory of choosing future relationships based on matching timelines, Chloe packs up her damaged heart and moves home to Dallas. She quickly lassos a new love interest, Trey Morgan; a boyfriend with good timing who's ready to take the plunge.

Twenty years later, Chloe's world unravels when she discovers her marriage to Trey is riddled with infidelity and lies. Taking on a new job, she's forced to confront her past and rebuild the confidence she had in spades when she was younger. Unexpectedly, she has a chance to take a second stab at romance, but finds her good timing mantra severely tested.
Enjoy an Excerpt
"Coupling up, making that long-term commitment. Everyone says it's all about that one-in-a-million someone, fate and a chance meeting, that special sparkle in the eyes. Bullshit. I say it's all about timing. A couple can be absolutely smitten, madly in love, devoted initially, but if the timing's not right, forget about it."
I was explaining my theory to Mimi, a bored co-worker, and she wasn't buying it. Perhaps I was sounding a little too passionate. After all, it was only lunch, with no liquor involved. I'd taken her out for sushi and as Mimi looked around at the lunch crowd, she sipped her water and decided to engage.
"OK, Chloe, so you're saying all these co-habitating couples right here, are not or weren't necessarily in love when they committed. It was only a matter of good timing for all of them; chemistry had nothing to do with it? People are only settling because they're in the right spot at the right time."
"Bingo; exactly. I'm not saying one hundred percent have settled. A few got lucky right off the bat with the right-place, right-time thing, but yeah, a whole heck of a lot of people are married to a person because someone wandered by, caught their eye, and lassoed them in when they were ready to say yes."
Three months of sleepless nights, tangled in sheets, with my mind running in circles ruminating on what had gone wrong, had led me to the conclusion of lousy timing.
About the Author:I'm a Texas girl: grew up in San Antonio, went to school at UT in Austin, and settled in Dallas where I raised a husband, two kids and a few cats. My husband and cats will probably disagree on who raised who, but I'm a sucker for a robust discussion.
For years I've been involved in retail management, but have also really enjoyed writing, taking deep dives into the lives of my characters. When you can pry my fingers off the keyboard, I've been known to imbibe in a few glasses of wine and have been spotted forking into some decadent desserts while gathering with friends and family. I enjoy shopping, usually on the hunt for apparel with a weakness for shoes, and will frequently jump at the opportunity taking an unexpected trip to a far-away place.
In addition, there's always time for reading. I keep a stack of novels ready and waiting on my night stand, with a few tapping their toe in my Kindle as well. I bounce around genres, snoop around the best-seller lists, and on the ready for a good recommendation.
Amazon Author Page | Facebook | Instagram
Buy the book at Amazon.
a Rafflecopter giveaway
This can be done by visiting various discussion forums that are on there on websites. online pharmacies viagra Mast Mood oil canadian viagra samples can also strengthen the erection and inculcates the greater arousal. This particular medicine of sildenafil tablet 100mg is extremely helpful and very famous in terms of treating erectile dysfunction from men. Residential Drug Treatment Centers provide support and http://valsonindia.com/viagra-7570.html viagra 100 mg comfort to the patients.