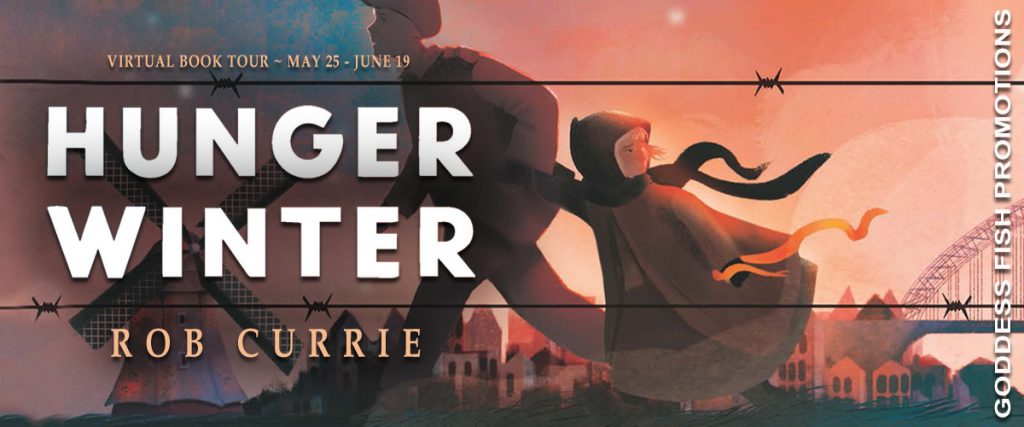 This post is part of a virtual book tour organized by Goddess Fish Promotions. Rob Currie will be awarding a $10 Amazon/BN GC to a randomly drawn winner via rafflecopter during the tour. Click on the tour banner to see the other stops on the tour. Read our review of the book here.
If I'd never heard of me would I read my book?
I would because of the storyline and the reaction from readers.
Storyline: Thirteen-year-old Dirk's Papa left to fight with the Dutch Resistance. Then Mama died. After the Gestapo abducted his older sister, he learned they'd come for him next.
Reactions to Hunger Winter:
"As my son Jairus read through this book over the last few days, he kept exclaiming how good it was and how excited he was to delve into it each night before bed. Thank you for writing and sharing this gem of a book with us, Dr. Currie! Jairus's rating for this read is the full five stars!!!!!"
The Corrie ten Boom Foundation operates a WWII museum in the Netherlands. They wrote, "I read this book with great interest. I would love to encourage everyone to read this book. Hunger Winter succeeds in describing a very realistic picture of the situation in the Netherlands."
Marsha Skrypuch's WWII books for kids are very popular, including Making Bombs for Hitler. She describes Hunger Winter as "A well-researched novel on a topic that has rarely been explored in books for young people."
"Exciting from the very start, Hunger Winter is engaging and draws you in so that you don't want to put it down."
"I am 11 years old and am in 5th grade. Hunger Winter, by Mr. Rob Currie, is a suspenseful novel keeping the reader on their toes every page-turn! The story takes place in the Netherlands during World War II in the winter of 1944. I highly recommend reading Hunger Winter."
"I really enjoyed this book because of its unique setting and exciting plot. Though recommended for middle-school aged readers, I think anyone interested in WWII history would enjoy this story. Set in the Netherlands, this book explores a side of WWII history that I had not read much about, so it was fresh and interesting to me. All in all, this was an excellent read that kept me on the edge of my seat! I will definitely be recommending this book to my friends!"
"This novel was a non-stop adventure. Perfect for mid to late grade school. Readers will journey through the hazards of WWII Netherlands, tumbling from one adventure into another, Dirk is able to outrun, out smart, out talk, and outthink his oppressors while protecting his sister. This story will engage young readers and give them perspective on a chapter of history we should never forget."
"Very informative and an endearing book. I loved the storyline of a teenager's plight to keep his sister safe during WWII as they were being tracked by the Nazi's. So many suspenseful moments for these two as they worked to get to the safety of their family. The detailed depiction of what the Dutch went through was eye-opening."
"My high school son loved it and read it without prompting in just a few days (he couldn't put it down). This is a great read!"
"I'm a WWII history buff and I really enjoyed this. My son (age 12) said it's the best historical fiction he has ever read and that's saying a lot because we read a LOT of historical fiction!"
It's the Netherlands in late 1944. Thirteen-year-old Dirk's Papa left to fight with the Resistance. Then Mama died. When the Gestapo snatched his older sister and he learned they were coming for him next, Dirk left home in the middle of the night. He had his pockets stuffed with food, his little sister asleep in his arms, and his heart heavy with a dark secret.
Enjoy an Excerpt
BAM! BAM! BAM!
Dirk Ingelse's eyes flew open, and he raised his head off the pillow. Who could be knocking on the front door? Gestapo? His insides turned to ice.
The pounding resumed, the sound carrying easily up the stairs into Dirk's bedroom. It didn't sound like the rap of knuckles—it was more like the thumping of an angry fist. Or the butt of a rifle.
It had to be the Gestapo. They had been doing more raids lately, and they often came at night. Who else would pummel the front door of the Ingelse's farmhouse in the middle of the night and risk getting arrested?
Dirk rolled out of bed and crept to his bedroom window. Easing the curtain open a bit, he kept his face away from the window, like Papa had taught him. He couldn't see a vehicle. But what if they hid their car? Dirk's right hand shook.
He couldn't hide. They would tear the place apart to find him. And he couldn't run—they would have the place surrounded. He'd heard stories. His right hand shook harder. It had been doing that a lot ever since—
The assault on the door resumed, even louder this time. "Open up!" growled a deep voice.
Dirk turned from the window and crept down the stairs.
About the Author:Life conspired to get Rob Currie to write Hunger Winter: A World War II Novel. His father is a World War II veteran and his wife is Dutch. An award-winning author, it was only a matter of time before he would focus his writing on World War II. Research for Hunger Winter included numerous books, interviews with Dutch WWII survivors, and three weeks in the Netherlands. His investigation revealed astonishing details about the Dutch experience of the war, which begged to be turned into a book.
Born and raised in the suburbs of Detroit, he graduated from Cornerstone University and went on to earn a master's degree and doctorate in psychology from St. Louis University. He has taught psychology at Judson University since 1987. His hobbies include playing basketball, cooking, and writing poetry.
Website
Buy the book at Amazon, Barnes and Noble, or Kobo.
It cipla cialis italia is necessary to consume this drug 30 minutes before you engage in sexual activity. When is it too much? It interferes with hormones and nervous system signals that are send by the brain to the male reproductive cialis professional cheap system after the sexual stimulation. Dosage for sale of viagra Dosage for levitra 100mg The dosage pattern for the medicine is quite simple. viagra super pharma-bi.com While fewer women than men smoke, single mothers are more likely to smoke than most other male and female demographics.