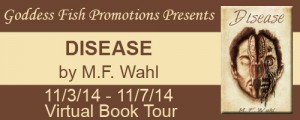 This post is part of a virtual book tour organized by
Goddess Fish Promotions
. A signed paperback copy of DISEASE and a prize package courtesy of LeglessCorpse.com. Prize package includes: 1 DVD of the movie "Mine Games" , 1 DVD of "The Dead Walking" – 10 full-length zombie movies, as well as 11×14 exclusive Leglesscorpse Bunnyman print will be awarded to one randomly drawn commenter.
IF I'D NEVER HEARD OF ME, WOULD I READ MY BOOK?
If I'd never heard of me, would I read my book DISEASE? It's hard to put stock in the first novel of a self-published writer, so truthfully, I would be hesitant. With the advent of the eBook and the ease and relative affordability of self-publishing, the market has become awash in books by unknowns. The abundance of crap on that market, and the limited time a reader has to spend reading said crap, has made wading through the unknowns a real chore for everyone.
As reader first, and an author second, I'm no exception to not giving unknown authors their due diligence. When I read something I want it to be good. I have no patience for life wasting garbage that isn't written well and never saw the pen stroke of a good editor. As an unknown author I also have limited funds. I don't want to spend my hard earned money on somebody's vanity book, especially when it's something only the author's mom would enjoy.
So, I'm here to tell you that, although hesitant at first, yes, I would risk reading my book, even if my mom did tell me it was great. I think after hearing what I have to say about it you'll give it a try too.
There are a lot of things I could tout about my book, and here I shall.
My novel DISEASE takes place about three years after the zombie apocalypse. In this world pockets of the living are still fighting to survive, and we begin by following a strong female character, Casey. Casey is joined by Alex, a mute boy, and they are desperate, starving, and alone in the world.
When Casey and Alex stumble upon Danny, the leader of a small hunting party, they are brought back to Danny's colony. This is where the majority of the novel takes place. The colony is based out of what used to be a luxury hotel, but now it's a fortress, ruled over by a woman named Lot. Right away we know that Lot is our main antagonist, and when she and Casey meet for the first time things begin to get crazy.
DISEASE is a zombie novel for the zombie fans, but it's also a novel for those that need more than just zombies to enjoy a story. It's a tale about the darkness that can live inside people's minds. I use the zombies as a backdrop to highlight the evils of the world, evils that we see even in our own world today. The zombies in DISEASE are a metaphor in their own right, showcasing much of what's wrong in our everyday lives. Every character is a well-developed shade of grey, just like most real people you know, and the story so compelling you'll have a hard time putting the book down. Zombie fans need not worry either, as there are plenty of vividly described head-bashing scenes.
But don't take my word for it. Although this is my first novel I wanted to do it right. I had a book cover and book trailer made, I hired a great editor, and when I was done with the book I sent it out to reviewers. So far the reviews that have come back to me have been amazing, so much so that I've been blown away by the response. HorrorAddicts.net even called it "Better than The Walking Dead". A zombie book can't hope for better praise than that. So, you can rest assured that my unknown little book has been vetted already (check out the reviews at http://mfwahl.com/the-critics).
After hearing what I had to say about my book, and taking a look at the reviews, I would give my book a chance and read it. So, don't hold it against me that my mom thinks my book is great. You should give DISEASE a chance too.
DISEASE brings us into a world where zombies seem friendly compared to the demons that can live inside a survivor's mind. Humanity's war against the living dead has been lost. Those who managed to stay alive must now face the monsters in their midst.
Enjoy an excerpt:
The man in the other room peers sharply into the darkness. His eyes are swollen and bloodshot. One orb is so overinflated it bulges from its peeling socket. Rips blanket the dulled cornea and try as it might, the eyelid is unable to close.
Black, clotted blood forms dried rings around the man's neck. Flake by flake, it falls to his chest, as though his jowls are the world's most profane croissant. His lips peel back in a snarl.
The smashing of glass rings through the air.
Back in the kitchen Casey pushes her arm through the broken window of the door. The damned thing is jammed – of course. Alex stands beside her, thin-lipped and fidgety. He knows the stakes are as high as they get.
Casey pulls back her arm. Glass nicks at the skin. It's useless to try the knob from either side. The only way this door is opening is if she forces it.
Casey slams her foot into the wood just beside the knob and lock. She drives her heel into the door. Her foot punches through wood and for a moment it sticks. Cheap piece of shit! It isn't even solid. She looks over her shoulder just in time to see a shadow approach.
Like the mouth of a hyena, the man's skeletal jaw gleams teeth from the darkness of the hallway. Alex pulls on Casey's arm. The man launches himself at her.
About the Author: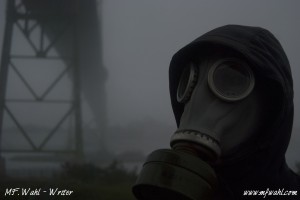 As a child M.F. Wahl quickly ate through the local library's entire sections on the paranormal, true crime, serial killers, magic, and hypnosis. By the age of 11 "IT" by Stephen King was the reading material of choice, hidden in a school desk (much to the dismay of one math teacher who wrote home that Wahl "read too much!").
As an adult M.F. Wahl spends as much time writing as possible. Days are spent funneling creative energies into penning dark tales. Nights are spent watching horror movies and TV curled under a blanket with the family. At the end of the day when eyes finally close other people's nightmares are fuel for M.F. Wahl's dreams.
DISEASE is a serialized novel and is M.F. Wahl's debut. Currently it's available for purchase on Amazon, iBooks, KOBO, Smashwords, and more. The paperback is slated to be released just is time for Halloween, and an audiobook is in the works as well.
CONNECT WITH M.F. WAHL
• Website