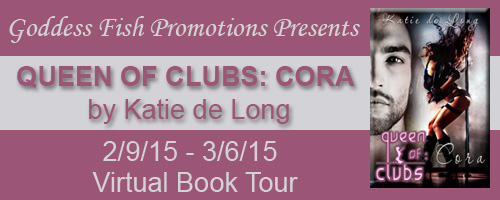 This post is part of a virtual book tour organized by
Goddess Fish Promotions
. Katie de Long will offer a signed paperback of
Queen of Clubs: Cora
and a swag pendant to one randomly selected commenter. Click on the tour banner to see the other stops on the tour.
If I'd never heard of me would I read my book?
Probably. But then, long before I took up writing, I worked in strip clubs and with nude models, and those fields can be very close-knit. We cheered Diablo Cody when she took her award for Juno, a whole community of women inspired about the possibility of no longer having to keep their silence about their former or current side job. Or no longer having to brace for the inevitable "But you seem so normal," that that admission would earn. I've largely lost patience with the attitude that people should act ashamed about their job history or choices, but the stigma can still be pretty strong, especially in areas less liberal than the ones I worked in, or for those in harder areas of the field with even heavier stigmas. It's almost impossible to look at the sex industry with open eyes and not become an activist, of some stripe or another.
Long before my man-beast dared me to start work on Queen of Clubs, I was reading the work of other sex industry writers and activists: Tara Burns, Diablo Cody, Lily Burana, Sheila McClear, etc. One of the things about working in a field this stigmatizing is that your shared experiences really do pull you into a community, if not always a family. And simply being aware of others outside that group who have stuff in common with you is an incredible boon. For a long time The Book Of The Courtesans was my most inspirational reading. There was one woman in particular profiled who caught me, a dancer with health problems, who died entirely too young, but parlayed her illness into a peculiar charisma that made her absolutely undeniable as a courtesan and performer. I have very crappy joints and some chronic health issues, and that biography, for all its twists and tragedies was an epiphany. It tied this sense of community I felt with the amazing people around me in that industry in with a centuries old idea of comfort and worth that felt more real than the Powder Blue, or I Know Who Killed Me, or Striptease kind of narratives that have largely dominated. It was more powerful, even, than Natalie Portman's portrayal of her name as an intimacy to be offered or denied, in Closer.
To an extent, writing these stories from a romance/erotica perspective is a little similar, in the way it's perceived from the outside. I've certainly seen exactly where the treatment differs than if I was writing it for the same audience as those sex workers who inspired me. Even in the literary world, romance and erotica tend to be largely ridiculed. My man-beast's writerly friends have largely embraced me, but I've still gotten my fair share of "You write romance? Why? You're so smart." And I hardly know any other romance readers or writers who haven't experienced similar. I think that's part of why the genre's readership is so loyal, and so earnest. I would love to have that kind of community with my readers, too.
The exotic dancers and employees of the Queen of Clubs walk a fine line, with only wits, beauty, and market savvy to keep them from toppling into the shark pit. Ride shotgun through lapdances, romance, and sexual awakenings. Don't worry, these girls won't ask what your hands are doing under the tip rail.

Cora, an adventurous student, finds herself auditioning for a stripping gig…and it comes with more than the asking price, including a very attractive DJ.

Queen of Clubs contains adult content, and is intended for mature readers. Each Queen of Clubs title is a standalone novella length work.
Enjoy an excerpt:
I still felt Kirk's eyes following me, as they had for every set on stage, every lap dance along the wall of the club. It was somewhat unsettling, somewhat flattering, and entirely captivating. A part of me wanted to give in to it, to revel in someone who so plainly appreciated my sensuality, rather than punishing me for it.
About the Author:Katie de Long lives in the Pacific northwest, realizing her dream of being a crazy cat-lady. As a kid, Katie flagged the fade-to-blacks in every adult book she encountered, and when she began writing, she vowed to use cutaways sparingly. After all, that's when the good stuff happens. And on a kindle, no one asks why there's so many bookmarks in her library.
Website | Twitter | Facebook | Goodreads | Sign up for mailing list
Buy the book at Amazon, Kobo, Smashwords, or Barnes and Noble.
Queen of Clubs is currently published monthly. Visit www.delongkatie.com for preorder and purchase links, or sign up for the mailing list, to be notified when new titles are available.