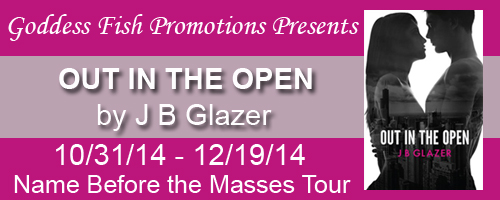 This post is part of a virtual book tour organized by
Goddess Fish Promotions
. The author will be awarding a $25 Amazon GC to a randomly drawn winner via rafflecopter during the tour. Click on the tour banner to see the other stops on the tour.
If I'd never heard of me would I read my book?
I chose to write about this topic because let's face it, people have never heard of me. Out in the Open is my debut novel and has only been in market for about five months. Writing a book has always been my dream, and while I'm so proud of my accomplishment, I never realized how many others had the same dream. Okay, I knew many people aspired to write a novel, but I didn't think there were that many that would actually do it. It seems that there are hundreds of new books available each day. So what makes mine stand out? And why should someone read my book? I attended a number of writing seminars and recall one of the speakers saying, "You need to find your parking lot. What is it about your book that makes it unique?" This piece of advice really stuck with me. I work in marketing and we are always trying to find the "white space." What is the one area that no brand has tackled yet? Or how would you do it in a way that is unique? I felt this advice was a parallel to a topic I'm faced with constantly at work. But now I had to figure out a solution in my personal life—and without a brilliant team supporting me.
This is a tall order because it seems that just about every topic has been covered. But the fun part of writing is that while most romances have a set formula, it's up to each author to figure out the journey to getting to happily ever after. I decided that I wanted my novel to feel aspirational yet attainable. If I had to sum it up in one word I was going for real. So often I read books and walk away thinking, "Yeah, that's great but it could never happen." So I chose to write about the struggles of a young twenty-something who is trying to find love while navigating her career. It's a realistic situation people can relate to, whether they are in that life stage now or can look back and remember what it was like to be young, single, and trying to establish yourself while still figuring out who you are. I used advertising as a backdrop because I work in the industry, plus I think it's fun and glamourous, though I'm a bit biased. While it's a workplace romance, it's really more about the character development and the struggles they face in balancing love while trying to advance their careers.
I will admit, I don't have a formal writing background. It's a craft I've always loved and I'd like to think I have a knack for it. When I first told my friends I wanted to write a novel they weren't surprised. Although when a close friend served as my beta reader she had an amusing reaction, "It's just like a book you'd read at Barnes & Noble!" That's what I was going for. 
So back to the question of would I read it? The answer is yes. If I liked the synopsis and preview of the first few chapters I'd take a chance on someone new. Everyone has to start from somewhere. But don't take my word for it. As Lauren said in her review, "I loved every aspect of the book – the writing was top-notch, the character development was stellar and the storyline was extremely well-crafted. I devoured the book, eager to find out what was going to happen between Lexi and Jake, and the ending definitely did not disappoint (boy did I not see that one coming)."
Advertising executive Lexi Winters had a plan, but leaving her cheating fiancé, her beloved New York, and a successful career weren't on her agenda. At twenty-seven she faces the harsh reality of starting over again. She returns to her hometown of Chicago and lands a new job, where she meets Jake Hartman, the agency founder's captivating nephew. Their chemistry is undeniable, but Lexi is protective of her fragile heart and isn't ready to date again. Jake is on the fast track to leading the company and has vowed to his uncle never to let anything—or anyone—get in his way. What begins as harmless flirtation soon crosses a line that threatens to destroy Lexi and Jake's promising careers. In a relationship plagued by secrets, will they risk everything to be out in the open?
Enjoy an excerpt:
"I like your dress," Jake says, lightly touching the fabric on my shoulder. He slides his hand down the length of my dress, grazing my breast, and rests it on my knee. I raise my eyebrows at him.
"You don't mind, do you?" he asks in a low voice.
"No," I say, meeting his gaze.
He stands up, and I stand up too, thinking we're leaving. "Wait here," he says, then closes the curtains to our seating area, giving us complete privacy. He makes his way back toward me wearing a determined expression that makes my heart beat wildly in my chest. Is he going to kiss me here, in the middle of the bar? He looms over me and takes the drink out of my hand. I feel the color rise in my face, and my breathing becomes ragged. Jake tilts my chin so I meet his gaze and leans in close when suddenly the curtains part and Brad walks in. "Sorry, dude," he says to Jake, "but Maurice just informed me there's a girl here looking for you. She says you work together, and she's on her way down."
Jake's demeanor immediately changes. He fully opens the curtains and moves to the other side of the couch, putting some distance between us. I look at him questioningly, but his flirty smile is gone, replaced with a cool stare. Then I see a brunette talking to the bouncer, and I'm guessing she's looking for Jake. She makes eye contact, and he motions her over.
About the Author: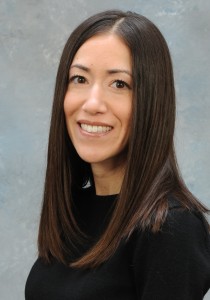 J B Glazer developed a love of writing at a young age. She followed that passion to the University of Illinois, where she graduated with a degree from the College of Communications. She pursued a career in advertising, a field that provided an outlet to express her creativity. She has fifteen years of experience at the renowned Leo Burnett advertising agency in Chicago, which served as inspiration for her novel. She's also a wife, mom, marketer, referee, short-order cook, maid, chocoholic, shopaholic, and multitasker extraordinaire. Visit her website at www.jbglazer.com, follow her on Twitter @JBGlazer, or connect with her on Facebook.
Out in the Open is available at national retailers including Amazon and Barnesandnoble.com.