A special welcome to Jan Scarbrough, who is giving one lucky commenter a print copy of one of her most popular books – Kentucky Cowboy.
I think I'll read my book
I found myself saying that the other day, but I wasn't going to read one of "my" books—the books I've actually written and are available on Amazon and other ebook and paperback outlets.
No, I was going to read one of the books I'd downloaded on my Kindle app on my iPad. I have a ton of these "to-be-read" ebooks. Sometimes I read them on my iPhone at lunch, but mostly I use my iPad. I also have shelves of paperbacks at home, books I've collected over the years.
But this time, as I said it, I heard my mom saying the same thing. When she was alive, she'd tell me "I'm going to bed to read my book." Now, she'd never written a book, but she was never without a paperback. When she died, I found several spiral-bound notebooks filled with lists of books (novels) she'd read.
So, why do we think of the novels we read as "our" books? What is it about a novel that draws us to it? Why do we make it our own?
It's the characters, stupid! If we can relate to the heroine and if the hero is sympathetic, we can cheer for them as they go through the conflicts those mean writers put them through. There's nothing like a great book that draws us to the characters and makes us care about them.
Look at the recent popularity of Outlander, a STARZ Original Series. I believe it caught most of the media folks by surprise. Media types didn't know the Diana Gabaldon series and its made-to-order fan base. So of course, when we saw darling Jamie come to life on the screen, we couldn't get enough of the TV series. Jamie and Claire are "ours," aren't they?
Every time I open a blank Word document to start writing a new novel, I hope I can create memorable characters—ones readers will cheer for.
How about you? How do you think about the novels you read—ones that hook you from the start with memorable, honest characters? Do you think of them as "my" books?
About the Author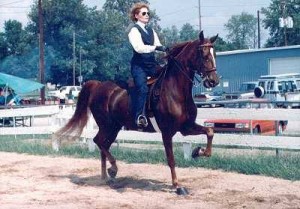 Jan Scarbrough is the author of the popular Bluegrass Reunion series, writing heartwarming contemporary romances about family and second chances, and if the plot allows—horses. Living in the horse country of Kentucky makes it easy for Jan to add small town, Southern charm to her books, and the excitement of a horse race or a competitive horse show. A member of Novelist, Inc., Jan has published with Kensington, Five Star, ImaJinn Books, Resplendence Publishing and Turquoise Morning Press.
Visit Jan at http://www.janscarbrough.com.
Sign up for Jan's newsletter http://www.janscarbrough.com/contact/
You can also follow Jan on Twitter @romancerider
Check out Jan's most recent release:
No one crosses Parker Stuart, caretaker to his family's thoroughbred racing empire. Parker retaliates against anyone who dares slight him or his blue-blooded British family, especially Regina Ward and her poker-playing father. The previous spring, Reggie had had the nerve to walk out on him after a torrid, three-week affair. Now, when Parker arrives in Kentucky to collect his family's winnings, he's determined to settle the score with the lovely Ms. Ward.

Regina Ward doesn't consider herself a damsel in distress. After all, this is America, and she's accustomed to depending upon herself. However, when her father loses four of the yearlings from their central Kentucky horse farm in a poker game, Reggie knows it's up to her to save what's left of her family's homestead and her proud Kentucky heritage. Can she do it when Parker Stuart, the most arrogant and infuriating Brit she's ever met, shows up in the Bluegrass?
AMAZON | BARNES & NOBLE | IBOOKS | RESPLENDENCE | ALL ROMANCE EBOOKS