Long and Short Reviews welcomes Laura Bailo whose debut novel The Sun Still Rises releases today.
How to make a Spanish omelet
If there's one thing I love about writing books set in Spain, it's introducing people to our food and making them curious to try it. In The Sun Still Rises, David and Erik cook a Spanish omelet, so here's the recipe for that one.
But first, the ingredients. You'll need:
• Potatoes – let's say four mid-sized ones.
• Eggs – let's say four.
• Onion – one. Also, there's a whole fight between Spanish people that prefer their omelets with onion, and those who prefer them without.
• Olive oil – enough to cook the potatoes in.
• Salt – a pinch.
As for the cooking, it's quite easy:
• Cut the potatoes into pieces and cook them in olive oil. When they're half done, add the onion.
• Meanwhile, whisk the eggs in a big bowl.
• One the potatoes and onion are done put them in the bowl with the eggs and mix well, adding a pinch of salt.
• Save most of the olive oil in a jar for another time, leaving only enough in the pan to cook the omelet in.
• Heat that oil in the pan (shouldn't be too hot or the omelet will burn) and drop the eggs and potatoes mixture into it.
• When you see that the side that's in contact with the pan is done, you'll have to turn the omelet. I recommend turning it with the help of a plate.
• Finish cooking – the time is up to you. Some people like them a bit runny, while others will only eat it dry.
• Now eat!
You can also get creative with it once it's done: cut it in half and add some ham and cheese in the middle, or some salad, or whatever you can think of. In some places here you can now find omelets covered in tomato sauce, basil, oregano and cheese, kind of an omelet-pizza.
Give the recipe a try and tell me how it goes! Erik certainly likes it, as you can see in the next excerpt.
David nodded and got up, looking back at Erik. "Have you ever tried a Spanish omelet?"

Erik shook his head.

"Come with me, then. We're going to make one." He offered his hand to Erik, who took it and followed him into the kitchen. This should be fun.

He'd been right—it was the most fun Erik had had in the kitchen in ages. He liked cooking, but cooking just for one got tedious after a while and he'd lost the passion for experimenting. But there was David, showing him how to do something completely new. It was an easy dish to prepare, not very challenging, but peeling potatoes and frying them while David whisked the eggs, along with heated looks and stolen touches, had been exhilarating for Erik. He admired David's easiness and skill in the kitchen, and couldn't contain a gasp when he flipped the full omelet with just one hand. That must have taken some practice. He clapped, prompting David to give him a bow in return, that had them both laughing for a few minutes.

While the omelet finished cooking, David prepared a quick salad to go on the side and Erik set the table. He was amazed by how natural all of it felt, how they'd gotten used to each other so fast. Going back home without David was going to be difficult, but he couldn't stay in his house forever, and there were things he needed to do.

They sat down to eat, David serving Erik the first slice, and he couldn't contain a moan after trying it. "Oh my God! This is so good! How is it so good?"

David was grinning smugly. "I know, right? I'm sure you were thinking it was really easy to make and wondering what all the fuss was about. But you can't say the same now, can you?"

Erik forced himself to eat slowly and not put it all inside his mouth as he wanted to do. "Certainly not. I may need you to prepare a few of these for me to take home."

"You know the recipe now. You can make them yourself."

Erik swallowed. "Yes, but it won't taste the same."

David's expression went soft, and he put his fork down to take Erik's hand. "I'll make this for you whenever you want. But we have to finish this one first." He took his hand back and pointed at Erik's plate. "Go on, eat."

After another slice, Erik couldn't eat another bite, and he said so to David, who laughed while looking at the half of omelet still left. "Well, I guess we won't have to cook dinner tonight. Why don't you head over to the living room and I'll make coffee?"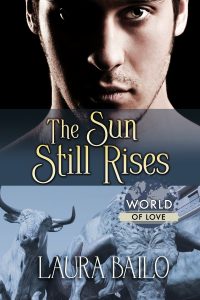 : Erik's father lived for Pamplona's yearly festival and the running of the bulls. Now he's gone, and Erik flies to Pamplona on a whim to see the festival his father loved—without booking a room first. He's looking at sleeping on the ground until friendly David from the tourism office offers to share his home.
When Erik realizes he trusts David, that he might even be willing to face his anxiety to get to know David better, he begins to understand what this trip could mean. Pamplona is even more beautiful when seen through David's eyes, and Erik might have traveled around the world just to find himself. But can he hold on to his newfound confidence—and to David—when it's time to go home?
About the Author: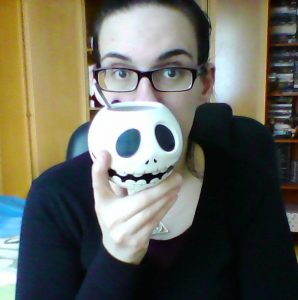 Laura Bailo is a veterinarian and a teacher in training who can do surgical sutures but can't sew on a button to save her life.
She lives in Spain with far too many books and boxes full of notebooks. She loves exploring the narrow streets of Pamplona and she's known to have gotten lost in her own city. She loves reading, singing and trying out new cooking recipes, and if she's feeling adventurous she may try to do all of these at the same time.
She loves hearing from people and you can find her at the following social media links.
Facebook | Twitter | Goodreads | Website
World of Love: Stories of romance that span every corner of the globe.
Buy the book at Dreamspinner Press, Amazon, or Kobo.