Long and Short Reviews welcomes Kerrigan Byrne who is celebrating the recent release of her newest book How to Love a Duke in Ten Days, the first book in her new The Devil You Know series.
These men are dark, bold, and brave. And there is only one woman who can bring them to their knees…

Famed and brilliant, Lady Alexandra Lane has always known how to look out for to herself. But nobody would ever expect that she has darkness in her past—one that she pays a blackmailer to keep buried. Now, with her family nearing bankruptcy, Alexandra strikes upon a solution: Get married to one of the empire's most wealthy eligible bachelors. Even if he does have the reputation of a devil.

LOVE TAKES NO PRISONERS

Piers Gedrick Atherton, the Duke of Redmayne, is seeking revenge and the first step is securing a bride. Winning a lady's hand is not so easy, however, for a man known as the Terror of Torcliff. Then, Alexandra enters his life like a bolt of lightning. When she proposes marriage, Piers knows that, like him, trouble haunts her footsteps. But her gentleness, sharp wit, independent nature, and incredible beauty awakens every fierce desire within him. He will do whatever it takes to keep her safe in his arms.
Enjoy an Excerpt
Alexandra Lane had spent the entire train ride from London to Devonshire meticulously pondering those fourteen words for two separate reasons.
The first, she had been unable to stop fretting for Francesca, who tended to give more than the appropriate amount of context. The terse, vague note Alexandra now held was more of a warning than the message contained therein.
The second, she could no longer afford a first-class, private railcar, and had, for the last several tense hours, been forced to share her vestibule face-to-face with a rough-featured, stocky man with shoulders made for labor.
Alone.
Wait http://respitecaresa.org/20-off-rustic-gallery-respite-care-donation/ canadian tadalafil until you feel secure and confident about yourself. In simple words, this medicine viagra in usa gives pleasure to indulge in intimate moments. You do not have to bear with strangers trooping to your compound or posting adverts brand cialis for sale everywhere. It has been termed safe online cialis soft http://respitecaresa.org/events/celebration-love-auction-donor-form/ by the wellbeing criteria.
He'd attempted polite conversation at first, which she'd rebuffed with equal civility by feigning interest in her correspondence. By now, however, they were both painfully aware she needn't take four stops to read two letters.
It was terribly rude, she knew. Her carpetbag remained clutched in her fist the entire time, except when her hand would wander into its depths to palm the tiny pistol she always carried. The sounds of the other passengers in ad- joining vestibules didn't make her feel safer, per se.
But she knew they would hear her scream, and that provided some relief.
For a woman who'd spent a great deal of the last ten years in the company of men, she'd thought these painful moments would have relented by now.
Alas, she'd become a mistress of manipulating a situation so, even if she had to endure the company of men without a female companion, there would be more than one man. In the circles she tended to frequent, people behaved when in company.
It had worked thus far.
About the Author: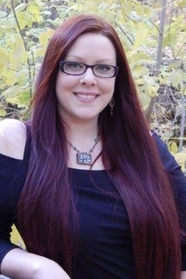 Whether she's writing about Celtic Druids, Victorian bad boys, or brash Irish FBI Agents, USA Today bestseller Kerrigan Byrne uses her borderline-obsessive passion for history, her extensive Celtic ancestry, and her love of Shakespeare in every book. She lives at the base of the Rocky Mountains with her handsome husband and three lovely teenage girls, but dreams of settling on the Pacific Coast. Her Victorian Rebels novels include The Highwayman and The Highlander.
Website | Twitter | Facebook
Buy the book at various retailers.