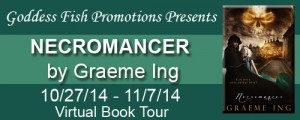 This post is part of a virtual book tour organized by
Goddess Fish Promotions
. Graeme will be awarding a $20 Amazon GC to a randomly drawn winner via rafflecopter during the tour. Click on the tour banner to see the other stops on the tour.
How to handle negative reviews
A guest post by Graeme Ing
As a writer, we pour our hearts and souls into our books. We spend months or even years in front of the keyboard, staring into space, struggling to get a few hundred words written each day. We procrastinate, and have ongoing doubts about our ability to write or tell an interesting story. Then, at the revision stage we agonize over every scene, every page and sentence to make it just so. Writing a book is a huge achievement.
Finally our child is ready for the world. We publish it and refresh our browsers endlessly, counting every review. The first reviews are kind, typically from friends and families but then we get our first 1-star review, perhaps another – a scathing damnation of our priceless work of art. What now? What do we do?
Take your fingers away from that mouse! Breathe. Calm yourself. Take a walk, or a drink, or meditate, anything, but don't you dare respond to that review. I know you want to reply to it, argue your case, point out how the reviewer misunderstood. No. To quote the movie Frozen: Let It Go.
There is nothing you can comment to the reviewer that won't come across as defensive, neurotic, sour grapes, self-serving or all of the above. You might feel better, but other readers will think your response petty. You may also trigger "The Streisand Effect" and actually draw more attention to a bad review that readers might otherwise have ignored.
Here's the truth of it. Not everyone will like your book. Even bestsellers have 1-star reviews. Go and look at a Stephen King title or any famous author. It's ok, really. Do you enjoy every book you read? If you see a book that has predominantly 5 and 4-star reviews, do those few 1 and 2 star reviews put you off? Probably not. They may even make the book appear more legitimate. Give your readers the intelligence to judge for themselves whether those bad reviews have merit or not. The ones that are particularly scathing or that attack the author directly are usually ignored anyway.
What you might want to do is read the bad review objectively. Perhaps they made some valid comments. Perhaps you did overuse the curse words. Maybe your ending could be misunderstood. Maybe your heroine did come out more whiney than you intended. Take what constructive feedback you can from the bad review and use it as a learning experience. If you can't read it without getting angry or upset, then make it a habit never to read bad reviews. Many authors don't.
Analyze your book cover and blurb. Some bad reviews are the response of incorrect expectations – the reader was simply expecting something else. Does your cover clearly indicate genre? Make sure your blurb isn't misleading or promises something you didn't deliver on.
As an example, one reviewer of my debut YA book Ocean of Dust lamented that she wanted more romance. I hadn't billed it as a romance at all, but I'm sure she was used to modern YA stories being about teenagers in love. See how her expectations were not met? That's ok. It's her opinion, and a valid one. I don't have control over her preferences. I like to think of that review as useful actually: Many readers will ignore her review because they don't care about the romance,or it might deter similar-minded folks from reading my book. That's a good thing. Why is deterring readers a good thing? Well first off, I want my readers to enjoy my books, not be disappointed, and secondly it might prevent further bad reviews.
At the end of the day, we all enjoy the freedom to express our views. Some people are more constructive with criticism than others, but don't ever, ever, ever let a bad review control your mood or derail your writing dreams. Reviews are just opinions. Shake off the bad ones, concentrate on the good ones and keep writing the best, most polished books that you can. Happy writing!
A primeval fiend is loose in the ancient metropolis of Malkandrah, intent on burning it to a wasteland. The city's leaders stand idly by and the sorcerers that once protected the people are long gone.

Maldren, a young necromancer, is the only person brave enough to stand against the creature. Instead of help from the Masters of his Guild, he is given a new apprentice. Why now, and why a girl? As they unravel the clues to defeating the fiend, they discover a secret society holding the future of the city in its grip. After betrayals and attempts on his life, Maldren has reason to suspect everyone he thought a friend, even the girl.

His last hope lies in an alliance with a depraved and murderous ghost, but how can he trust it? Its sinister past is intertwined in the lives of everyone he holds dear.

Can only evil defeat evil?
Enjoy an excerpt:
She glanced at me then the ground below, but only clung tighter. A man appeared at the window, his teeth bared. Four scratches on his cheek oozed red. White drool speckled his trimmed beard. He clawed at her. She scrunched her eyes shut and wailed.
With a crack, the casement tore free, and she plummeted into my arms. We tumbled to the ground and the smoke surrounded us like a pack of wild animals.
I rolled to my feet, helped her up, and dragged her down the street, holding my breath as long as I could. She coughed and choked, resisting my pull. Murder flared in her eyes. I slapped her.
"Trust me. Hold your breath and stay with me." I yanked her forward.
I shouldn't have spoken. Smoke surged down my throat and I gagged.
Rage ignited inside me. I wanted to tear out her rabid eyes. My arm squeezed hers until she cried out, and I knew that I could break it with a twist, could snap her entire frail body. My gaze fixed on her pale, sweat-soaked throat. It invited me to choke the life from her, watch her struggle and finally go limp. My pulse quickened. Anger flooded my veins. Then my hands were around her throat, squeezing, crushing. She coughed and drooled thick, white saliva. Her blue eyes locked with mine but she put up no resistance. A smile twitched on her lips as my thumbs dug deeper. Ah, the sweet moment of superiority. How would it feel to kill? Delicious. It washed the tight pain from my head.
Something flickered deep within me. This was wrong.
About the Author: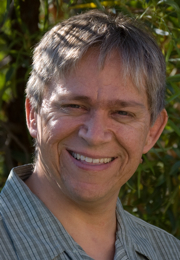 Graeme Ing engineers original fantasy worlds, both YA and adult, but hang around, and you'll likely read tales of romance, sci-fi, paranormal, cyberpunk, steampunk or any blend of the above.
Born in England in 1965, Graeme moved to San Diego, California in 1996 and lives there still. His career as a software engineer and development manager spans 30 years, mostly in the computer games industry. He is also an armchair mountaineer, astronomer, mapmaker, pilot and general geek. He and his wife, Tamara, share their house with more cats than he can count.
Website ~ Blog ~ Facebook ~ Twitter ~ Google+ ~ Goodreads ~ Amazon
Buy the book at Amazon, Barnes and Noble, iTunes, or Kobo.