This post is part of a virtual book tour organized by Goddess Fish Promotions. Karin Rita Gastreich will be awarding a $15 Amazon or Barnes and Noble GC to a randomly drawn winner via rafflecopter during the tour. Click on the tour banner to see the other stops on the tour.
How to Handle Negative Criticism
Every novel we write is a labor of love. So, it's upsetting to receive negative criticism. Yet this is an inevitable part of the writer's journey; no matter how stellar your book is, there will always be someone out there who doesn't like it. Here are five strategies for managing negative feedback when it comes your way:
1. Make sure your work is the best it can be.
Many readers who complain have something legitimate to complain about. The market – especially the self-publishing market – is flooded with mediocre novels. Even I get angry after paying for a bad novel. Unfortunately, many readers vent their anger through scathing reviews.
If you don't want to experience readers' rage, do everything in your power to give them a great reading experience. For first time novelists, this means finding a legitimate press that provides rock-solid editing support. (Small press is a great place to start, but do your research before signing a contract!) If you've worked with a publishing house and are ready to strike out on your own, secure the support of a competent, professional editor. Doing these things will not make you immune to negative criticism, but it will reduce the risk of attacks by rabid readers.
2. Remember your story is not for everyone.
Even the best novels garner occasional 1-star or 2-star reviews. When your turn comes, stop! Before you read the comments, take a deep breath. Remember that not all critical reviews are negative reviews.
There are many reasons a reader might not like a story, most of which have nothing to do with the quality of the writing. Sometimes readers were simply looking for a different kind of novel than the one you wrote. I've run into this in my own work, when some readers were caught off guard by the dark and violent tones of my second novel, Sword of Shadows. As an author, I respect the fact that some of my readers may have a low tolerance for violence. (Ironically, I do too!) But I also must respect my characters and the story they want to tell. If the characters lead me to dark places, it's my responsibility to follow. In being true to my craft, I occasionally upset a reader, and that's okay. The more authentic a story is, the more likely it will touch a raw nerve somewhere along the way.
3. File away reader's suggestions for later use.
I've found that poor reviews generally have little to offer me as a writer, because most of them fall in the category just mentioned: readers who don't like a novel because it wasn't the type of story they were looking for. But once in a great while, critical reviews have given me good ideas. For example, when I prepared the second editions of Eolyn and Sword of Shadows, I made some changes in response to reader reviews of previous editions. I am very grateful to those readers who took the time to detail the issues they saw in the earlier versions, as this helped me improve my craft.
4. Vent with friends.
The worst kind of negative review is the mindless rant. In some cases, it seems as if the reviewer hasn't even read the novel. For example, I had one review complain about the "lascivious sex" in my first novel, Eolyn. The odd thing is, Eolyn has no sex scenes! Reviewers like this one are not interested in insightful analysis; they simply relish attacking someone through an anonymous platform. In other words, they are cyber bullies.
There are three things you should do when you run into a cyber bully review. First, ignore the reviewer (see step five below).
Second, report the review. Amazon, Goodreads, and other on-line reviewing platforms have guidelines that reviewers must adhere to. They are not always good at listening to authors who point out violators, but you should report every cyberbully you run into nonetheless.
Third, vent with friends. Sharing your frustration helps you gain some perspective on the situation and your work. Remember your path as an author does not depend on the opinion of one low-life who had nothing better to do with their time than write a nasty, dishonest review. Turn away from that negativity and reconnect to the people who appreciate your work. They will always lead you to a better place.
5. Never engage with a negative reviewer.
In every single case discussed above, and especially in the last one, you should never engage directly with someone who has written a negative review. In the case of reviewers who wanted a different kind of story and/or put forward some honest criticism, it is your job as an author to respect their opinion and let it be. Remember: When you published your novel, you surrender control over it. That novel belongs to your readers now, as does the discussion of its faults and merits.
In the case of cyber bully reviewers, nothing good can come of interacting with them. Do not give them fuel for their fire. Ignoring them will douse their flame, and allow you to turn your energy to more productive and creative endeavors.
Those are some of my strategies for dealing with negative reviews. How about you? Have you had experience with negative criticism? What are your thoughts on reviews and how to manage them?
Betrayed by her own prodigy, Eolyn stands accused of treason. As power-hungry nobles dismantle her life's work and honor, the desperate queen forges a risky alliance with the ruthless and cunning Mage Corey. Determined to defend her son's claim to the throne of the Mage King, Eolyn prepares for her last and greatest battle, this time against her own sisters in magic.

Across the Furma River, Taesara of Roenfyn is drawn out of seclusion and into an ever-more vicious game of intrigue and war. Subject to the schemes of a shrewd uncle and the mysterious ambitions of the wizards of Galia, Taesara struggles to assert her own destiny, even as she takes up arms to defend her daughter's inheritance.

In the climactic finale to The Silver Web trilogy, threads of love, honor, betrayal, and vengeance culminate in a violent conflict between powerful women, opposed to each other yet destined to shatter a thousand-year cycle of war.

"An enticing and elegant series finale, filled with magic and turmoil." -KIRKUS REVIEWS>
Enjoy an Excerpt
Taesara stiffened as Penamor took her chin in his fingers and subjected her to cold inspection. After a moment, his frown deepened and he shook his head. "Only the Sisters of the Poor could take a woman at the height of her flower and turn her into a dried-up weed."
Taesara bristled. "There is no place for vanity within these walls."
"Apparently not. They've made you skinny and sallow. Though it is nothing, I'll wager, that a bit of sun and some proper food cannot remedy. What are these rags they dress you in?"
She stepped away, clenching her jaw. "This is all I need. All anyone needs, to live at peace in this world."
Penamor snorted. "Indeed."
"Why are you here?"
"I've come to fetch you home."
"This is my home."
"This was your temporary refuge. A foul place, but one of your choosing. We were generous enough to let you stay, first your father and then I, as we put the outside world in order. Now it is time for you to return."
"I am not going back."
"Oh, but I think you will." Penamor spoke with an odd tone, at once menacing and full of promise. "War is at hand, and you will be the one to lead it."
Taesara forced a laugh. "You know I will have no part of it. Eliasara would die at their hands if we so much as—"
"They do not have Eliasara," he said. "We do."
Shadows flashed through Taesara's vision. She stumbled and caught hold of the back of a chair. A chasm opened inside her heart, swallowing the vines and trees with which she had concealed her love and pain during all these years. The bitter anguish of the day she was separated from Eliasara returned full force.
"Where is she? Where is my daughter?"
About the Author: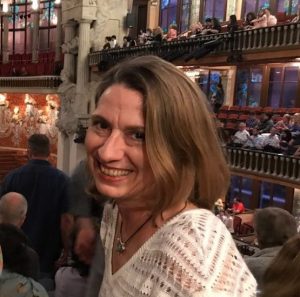 Karin Rita Gastreich writes stories of ordinary women and the extraordinary paths they choose. She lives in Kansas City, Missouri, where she is part of the biology faculty at Avila University. An ecologist by vocation, Karin has wandered forests and wildlands all her life. Her pastimes include camping, hiking, music, and flamenco dance. In addition to THE SILVER WEB trilogy, Karin has published short stories in World Jumping, Zahir, Adventures for the Average Woman, and 69 Flavors of Paranoia. She is a recipient of the Spring 2011 Andrews Forest Writer's Residency.
Website | Twitter | Facebook
Buy EOLYN, Book One of THE SILVER WEB at Amazon.
Buy SWORD OF SHADOWS, Book Two of THE SILVER WEB at Amazon.
Buy DAUGHTER OF AITHNE, Book Three of THE SILVER WEB at Amazon.