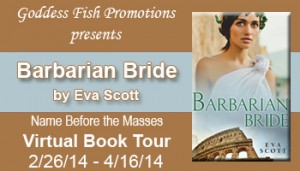 This post is part of a virtual book tour organized by
Goddess Fish Promotions
. Eva will be awarding a copy of Barbarian Bride and The Last Gladiatrix (the first book in the Romancing The Romans series) to a randomly drawn commenter during the tour (US ONLY). Click on the tour banner to see the rest of the stops.
How to handle negative criticism
By
Eva Scott
The first really bad review I got knocked me sideways. It was a mean diatribe directed at me personally and less at my work. I think the personal aspect of things was what cut the deepest. I didn't know this woman and she didn't know me. So why was she being so mean?
In the twenty-first century it's easy to hide behind an avatar and a keyboard. You can say whatever you like with very little consequence. That's not to say critique isn't valuable to writers. It is absolutely. What is the difference between critique and criticism? When does the line get crossed?
For me critique offers me something to work on. For example, you might say my characters lack depth or I have more dangling modifiers than is good for anyone. Fine. I can fix those things. I can work to improve. But if you tell me my story made you barf and you're sorry you ever read it, tell me, how does that aid in improvement? How is that constructive? It's not. It's childish and mean.
Everyone is open to criticism; at work, at school, in the arts or sporting arenas. While there is little you can do to take the sting out of the words or stop them hurting, you do need to have a strategy to deal with criticism when it comes.
Rule One – do nothing. Yep, that's right. Say nothing, write nothing, do nothing. You're first instinct will be to give the person concerned a piece of your mind. Let it go. Things will only escalate and I can guarantee your criticizer will only shout louder to a wider audience.
Rule Two – keep walking. Same as do nothing with one difference. Keep working and striving towards your goals despite the negativity. Don't buy into it. If you stop doing what you're doing you are agreeing with your detractor. And we both know they are wrong.
Rule Three – wait it out. You can write an email response, but don't send it. Fill it with all your vitriol and save it in Draft. Later you can go back and read it before deleting it forever. Never ever send it. Think of it as therapy. Negative criticism makes a fluster in your life but it will subside if you let it. Like a drama on the nightly news – today everyone is talking about it but in a week there will be someone else front and centre and we will have forgotten.
I can guarantee the negative criticism you receive will be like that for you too. If you let it.
About the Author:
Eva lives on the Sunshine Coast, in Queensland Australia in the town which brought the world the Bee Gees. When she's not writing romance you can find her out on the water kayaking, fishing or swimming. When on dry land it's all about the shoes and the coffee (and old Bee Gees records).
Website ~ Facebook Author Page ~ Facebook Series Page ~ Twitter
On the bloody ground of the Colosseum, she fights to save her life. In the treacherous boxes above, he fights to save their love.

Though Klara didn't love the man who was to be her husband, she didn't want him murdered, and she vows to track down the man who committed the crime. Sickened that she'd been attracted to the mysterious Roman, Klara tracks Lucius Aurelius to the fringes of the Roman Empire, only to find that they've both been trapped in a clever plot to overthrow Klara's father, the Chief of the Huns.

Klara is separated from Lucius, captured by slavers and sold to a gladiator school. She is the only one who can save herself, by fighting for her freedom. Lucius can ensure her battle is easier, but only by sacrificing himself. How much is he willing to give up for the fiery woman he's come to love?
Buy the book at Escape Publishing.