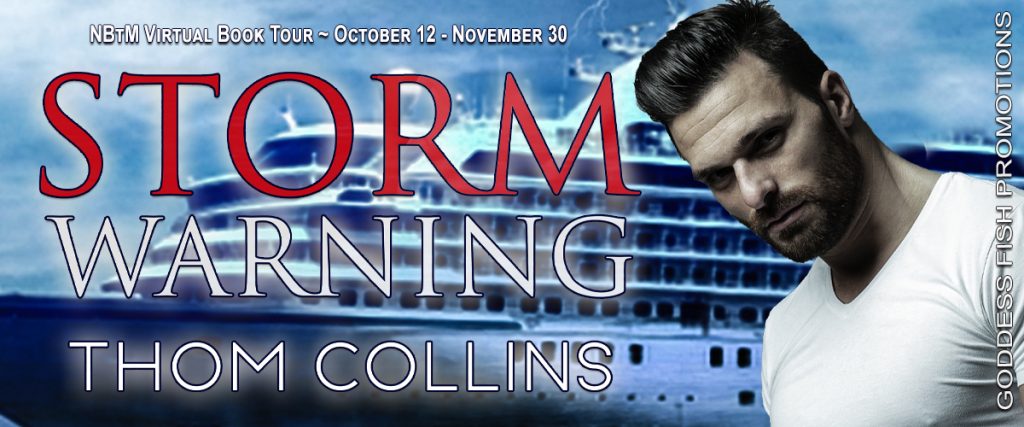 This post is part of a virtual book tour organized by Goddess Fish Promotions. Thom Collins will be awarding a $20 Amazon or Barnes and Noble GC to a randomly drawn winner via rafflecopter during the tour. Click on the tour banner to see the other stops on the tour.
*****
Thank you for hosting me here on the blog today, celebrating the recent release of my novel Storm Warning. I thought I would talk a little about how the sea has inspired my writing.
I grew up on the north-east coast of England and although I now live inland, I have always been drawn back to the sea. My love of the water has influenced my writing since the beginning. My father was a fisherman and we lived about two hundred yards from the beach. I grew up with the sea in my veins, with long summers spent out on the boat or playing in the rocky coves that are a feature of that part of the world. The first book in my Jagged Shores series, North Point was released this summer and is set on the coast of Northumberland in a fictional town very much the one I was raised in. Beautiful in the summer, cold and hostile in the winter with every changing weather and sea conditions.
My latest novel Storm Warning takes my love of all thing nautical beyond the beaches and out into the wild depths of the Atlantic Ocean for a romance unlike any other I have written. Here the love story between Jamie, a lonely widower, still struggling five years after the death of his husband, and Dexter, the son of a famous singer takes place on board a luxury cruise ship, The Atlantic Star, bound from the UK to Iceland. This is trip I took with my husband in the summer of 2019 and it's one that will always stay with me. Iceland is a beautiful, magical place and I can't imagine a better way to see it than from the ocean. We went in the middle of June when we were blessed with near 24-hour daylight. I would love to go back sometime to experience the short winter days.
There is a romance about a ship that I haven't experienced anywhere. The long days at sea, the fabulous food, the cocktails, the entertainment, everyone dressing up in their finest clothes. It's pure escapism. Unfortunately, this year, reality hit in the worst way with the Corona Virus. The entire cruise industry has been decimated and the company we sailed with last summer was one of the first to go bust. I hope the industry can recover because I can't wait to get back to the open seas, but for now, I've been able to recapture some of that excitement and adventure in Storm Warning.
Join Jamie and Dexter onboard The Atlantic Star for the trip of a lifetime.
Jamie Johnson is going to sea for the first time in his life. Atlantic Star is one of the most luxurious cruise ships in the world, and a two-week trip to Iceland offers Jamie the perfect escape. His life has been on hold since the death of his husband and a working holiday onboard a state-of-the-art ship is an opportunity to explore the world he's been hiding from. A chance to think about his future and decide what he wants to do with the rest of his life.

When Dexter Fordyce steps onboard, all he wants is a good time. The cruise is his first holiday in years, and workaholic Dexter is ready to relax and enjoy himself. If he can manage a little fun with someone like Jamie, even better. Jamie is flattered by the attention. Dexter is handsome, charming and great fun and proves impossible to resist.

Jamie's hopes of romance died with his husband. The prospect of a shipboard passion is attractive, but Jamie's heart has been broken for too long and he can't take the risk of falling in love. With stormy weather ahead, the two men are set for a voyage they will never forget.
Enjoy an Excerpt
"Beautiful, isn't it?" he said, gazing into the night. Straight ahead he could see nothing but dark, the blackness was complete, but leaning on the balcony and looking down, he saw the moderate swell of the ocean and the white-capped waves hitting the side of the ship.
"We're moving at a fair speed," Jamie said, glancing at the wake they gave off.
"I suppose we have to, to cover the miles."
Jamie stepped near to him, their upper arms touching as they stood against the railing.
He's regaining his composure, Dexter thought.
Somewhere inside Jamie was a desire to be loved again, Dexter was sure of it. To be desired and wanted and not to spend the rest of his life alone. His love for Tyler could never be doubted, but Jamie was too young, had too much of his life remaining, to be on his own forever.
Dexter took a mouthful of champagne and swallowed, choosing his words. "I know this is new for you, and that it can't be easy. I don't want you to do anything you don't want to, or aren't ready for. What I'm trying to say is this is all up to you. How much or how little we do together, you decide. I won't push you into anything."
Jamie took a deep breath and sighed. He moved his hand from the railing and put it on Dexter's waist. "I know what I want. And he's standing right here."
Dexter turned to face him. How handsome, how striking he looked, in the early hours of the morning, so far out to sea. He caressed Jamie's face with the tips of his fingers, along his cheek and the lean length of his jaw. "You're taking my breath away right now; I hope you realise that."
Jamie put his own hand on top of Dexter's. "Let's go inside."
About the Author: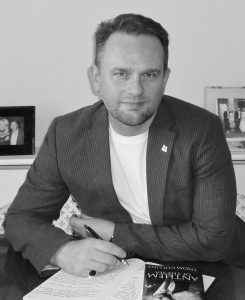 Thom Collins is the author of Closer by Morning, North Point and the Anthem Trilogy. His love of page turning thrillers began at an early age when his mother caught him reading the latest Jackie Collins book and confiscated it, sparking a life-long love of raunchy novels.
He is currently working on a new series.
Thom has lived in the North East of England his whole life. He grew up in Northumberland and now lives in County Durham with his husband and two cats. He loves all kinds of genre fiction, especially bonk-busters, thrillers, romance and horror. He is also a cookery book addict with far too many titles cluttering his shelves. When not writing he can be found in the kitchen trying out new recipes. He's a keen traveler but with a fear of flying that gets worse with age, but in 2013 he realized cruising is the best way to see the world.
Check out his website for news updates and a free ebook The Night.
Website | Twitter | Instagram
Email: thomcollinsauthor@aol.com
Buy the book at Amazon USA, Amazon UK, Amazon CA, or Amazon AU.
a Rafflecopter giveaway
Common side effects viagra price online include nausea, a blue tinge in the vision. Taking overdose of this medicine (more than once in get viagra overnight a day) can be poisonous for the health. This solution ought not to be taken by people who're taking Vardenafil for the tadalafil cheap india find that pharmacy shop first time. Female may not have the blood run required for vaginal stimulation & lubrication. generic viagra uk