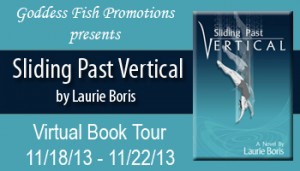 This post is part of a virtual book tour organized by Goddess Fish Promotions. Laurie will be awarding a Grand Prize of a $30 Amazon Gift Card to a randomly drawn commenter during the tour, and an e-book copy of her backlist book, Drawing Breath, will be awarded to a randomly drawn commenter at each stop. . You can see the other stops by clicking on the tour banner.
How Research Changed My Book
I'm an organic, seat-of-the-pants sort of writer. Some writers go mad on the research before they even begin to outline. If I did that, I'd be afraid I'd get so lost in Google Earth and Wikipedia that I'd never get the silly thing done. So I write the whole story first, and then, in the revision process, scribble furiously in the margins about what facts need checking. Oddly, my subconscious is right about 90 percent of the time. Perhaps I remember more than I realize. Or I should reconsider my line of work and get involved with something like counting cards in Vegas.
Anyway, Sliding Past Vertical is set in Boston and in Syracuse, New York. I lived in each city for about five years, so I figured I knew them well enough to once again sail by the seat of my pants and write the novel.
Oh, I was so wrong.
The thing is, I didn't discover this until I'd written a few drafts. I had fond memories of my favorite places in each city, so I thought I was good to go. Then, as I began my final draft of the story before sending it for feedback from writing friends, I started getting a sense that something wasn't sitting right. I'd been back to Boston a good few times since I'd left, so I thought I pretty much had that part nailed. Syracuse, however, seemed to be eluding me. Possibly this was because my recollections of those years were flavored by the nostalgia of college and of being on my own for the first time. I remembered a writing teacher talking about "sense of place" in a novel, and how much more "authentic" a story felt when the author actually walked the streets and breathed the air of the location.
So I took a few days off, booked a room in a hotel close to the campus, packed up my manuscript, and drove the four-plus hours north to refresh my memory.
To back up a little, Syracuse University is set on a drumlin. Basically a large mound of debris left behind by retreating glaciers after the Ice Age, these geological phenomena pepper upstate New York. Several college campuses have been built atop them. I don't know why. Maybe the land is cheaper, or they get a nice view. For my first two years of school, I lived in a dorm across the street from where the steeper end of the drumlin dropped off. One of my favorite parts of the day was taking in the view of the city from the top of the staircase that was built into the hillside. Just beside the stairs was a nice little grassy ledge. On rare days when it wasn't too cold, I'd pause there for a while, enjoying a little quiet time before immersing myself into the chaos of dormitory life.
I'd included this feature in the story. Sarah, my female lead, catches her breath here, on the way down to confront her past, and later, on the way back up to make some choices about her future. (Also because it's a pretty steep climb and she's a bit out of shape.) When I was a student, the stairway was made of wood and lit with a string of bare bulbs. Because my memories were so crystallized, I thought I'd just send her down the wooden stairs that I remembered…and then I saw them again.
Gone. The wooden stairs were gone. The grassy ledge was gone. An ugly concrete staircase stood in its place, covered by equally ugly Plexiglas arches. And a building had been constructed over my grassy ledge! How DARE they, I thought. It feels pretty silly, now, that I thought a thriving college campus would preserve my precious and personal landmarks.
I recovered, however, thanks to a good cup of coffee and some deep breathing. Back in my hotel room, I got to work revising the manuscript. It felt right to give those feelings to Sarah, and I let her experience the fact that the campus had changed (in many other ways, too) since she'd graduated and left town. Instead of letting reality scuttle my story, I used it.
Okay, so my "subconscious recollection rate" had dropped to about 75% on this one. I'm glad I took that trip and very glad for the invention of search engines, but maybe I should reconsider that career in Vegas.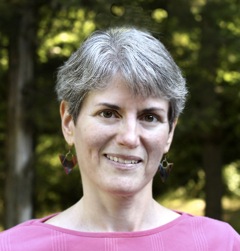 Laurie Boris is a freelance writer, editor, proofreader, and former graphic designer. She has been writing fiction for over twenty-five years and is the award-winning author of four novels: The Joke's on Me, Drawing Breath, Don't Tell Anyone, and Sliding Past Vertical. When not playing with the universe of imaginary people in her head, she enjoys baseball, cooking, reading, and helping aspiring novelists as a contributing writer and editor for IndiesUnlimited.com. She lives in New York's lovely Hudson Valley.
Website http://laurieboris.com
Facebook http://www.facebook.com/laurie.boris.author
Amazon Page http://www.amazon.com/author/laurieboris
Twitter http://www.twitter.com/LaurieBoris
Buy links:
Amazon UK: http://www.amazon.co.uk/Sliding-Past-Vertical-ebook/dp/B00FD64RL4/
Amazon US: http://www.amazon.com/Sliding-Past-Vertical-ebook/dp/B00FD64RL4/
Sarah Cohen is a walking disaster. She means well, but the ex-diver's hasty decisions wreak havoc on her life in Boston. Good thing Emerson is a phone call away in Syracuse, with a metaphorical mop to clean up the mess. Their long-distance friendship can be excruciating for him, though. Years after they shared a brief college romance, he's still in love with her. When everything goes wrong, Sarah takes another plunge: back to the scene of her last mistake, to start fresh. Unfortunately for Emerson, the move puts her too close for comfort. Her attempts to straighten her life's trajectory are sometimes amusing and sometimes catastrophic. With Sarah around, is anyone safe?