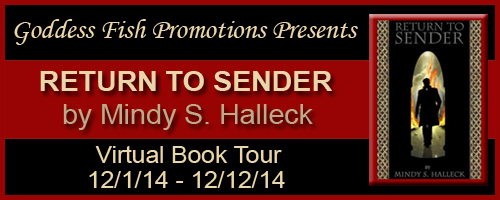 This post is part of a virtual book tour organized by Goddess Fish Promotions. Mindy Halleck will be awarding a $100 Amazon GC to a randomly drawn winner via rafflecopter during the tour. Click on the tour banner to see the other stops on the tour!
How My Prison Experiences Enhanced My Novel, Return To Sender
My prison experiences served me well in writing my novel, Return To Sender (RTS). I have intimate knowledge of the Oregon State Prison (OSP) and its 'guests', which is why I used it in RTS: Theo is the 'visiting priest' for the (OSP) where he meets the villain, Genghis Hansel, who then escapes and seeks Theo out in Manzanita Oregon.
My intimate knowledge came from when I used to go 'inside' as a Toastmaster and attend one of the largest Toastmaster meetings in the state (at that time) with the inmates. Prior to going 'in' I was to adopt an alias name, and follow all the Governor's office instructions; no fragrance shampoos or perfume for two weeks prior to the visit, no pink or red clothing, little to no makeup and no light blue clothing as I would blend in with the prisoners in case of a riot. I never followed instructions so precisely in my life! I wore a grey flannel below the knee skirt, a blazer with a beige blouse buttoned to my neck and went in as plain Jane as possible. But it never occurred to me to sweep my long hair into hiding.
The one OPS Toastmaster meeting that nearly ended them all was equally frightening and thrilling. As the only woman from our group of Toastmasters from Portland that agreed to participate, I was out numbered. The only other woman in the cafeteria where we had our meetings was on the ledge above us with a rifle strapped across her chest and a look on her face that meant business.  My host (prisoner) for that day was Dave (not his real name), whose throat had been cut by a rival gang and who was then left for dead, brought back to life and tossed in the pen when he was sixteen. He was now twenty eight years old with a thick scar from ear to ear. But also with a smile just as arresting. He was friendly and excited to be our host, walking us from corridor to corridor and explaining how things would work. It was an honor for him, and we felt honored by him. He explained that none of the seventy five toastmaster (prisoners) were to touch me and that all had to keep their hands behind their backs.
However, one prisoner did not follow instructions.
As the prisoner TM's and my team (five men and myself) chatted about Toastmaster things, one tall prisoner with dark eyes and a penetrating stare leaned in (too close) to get a whiff of my shoulder length hair. I felt his breath and froze, then felt his face touch the back of my curls. At that point, before I could move, Dave and several other prisoners had him on the ground, the woman guard at the top of the room aimed her rifle as several guards clambered to get him handcuffed and dragged from the room. My skin crawled. I had nightmares about that man whom I later learned was a rapist. Nightmares.
However, the meeting was allowed to go on because I insisted that everyone else had been nothing but gentlemen. We had a great time and to this day I swear I've never heard finer, more impassioned speeches than those from our TM brothers behind bars. But to this day I can still wake to the feel of evil breathing at the back of my neck. I actually had all my long hair cut off a few days later. I use this experience in Return To Sender.
This access to the prison gave me some insight into the inner workings and a landscape for many of the scenes in RTS.  I also have another connection to OSP that I promised my mother I wouldn't mention. 🙂
1955 ~ Father Theo Riley never wanted to be a priest, nor a killer. The former boxing champion and Korean War veteran gave up more than a career when he went into the Army. He lost the only thing he ever wanted: his love, Andréa Bouvre. Friends thought Theo entered the priesthood to mend his broken heart or atone for the massacred orphans he couldn't save in Korea.

However, the truth is much darker and more damning, tied to a blood debt and family secret that has haunted Theo since he was a boy. He drinks to forget he ever had a life of his own—waits for death, prays for mercy, and hopes for a miracle. He gets all three when a child goes missing, another shows up on his doorstep, and the love of his life drives back into his world; the seaside hamlet of Manzanita Oregon.

Theo's dream reunion with Andréa becomes a nightmare when a serial killer who considers himself a holy man targets the town and everyone Theo loves. Drinking days decidedly behind him, Theo and some old warriors set out to send evil back to hell and a few good souls to heaven in RETURN TO SENDER.
Enjoy an excerpt:
All night I listened for cars, footsteps, noises that didn't belong. All night, every sound reminded me of Korea's Karst Caves: sounds, smells, threats hidden in every echo. I tried to recall in which letter I wrote to Andréa about the noisy bats. Was it October '52, or later?
The children had been terrified of the Daubenton bats that built colonies inside the caves. At night, the scratching sounds and flapping wings was as threatening to them as the sound of footsteps and the CCF running up on us at night was to me. The nun told them the bats were good luck, there to protect us, that they stayed awake at night to keep watch.
The oldest boy, Hai-bin, was the first to call me "Teo." He rolled his eyes back in his head when the nun said that. In any other world, he'd have been a budding teenager full of angst and attitude, not an undernourished warrior ready to fight, ready to die, not old enough to understand the meaning of either. Not old enough to understand any of Korea's madness. But then, who was?
As the days, nights, and weeks had gone on, those brave orphans folded the strange noises from the waking Daubenton bats into that place where they carried the heavy, heavy burden of acceptance—they slept through the night with those mysterious guardians taking flight above them. They slept. It became part of their new existence. An existence brittle and rickety as the bamboo bridges that sooner or later would lead us back to a world ablaze outside those caves.
About the Author: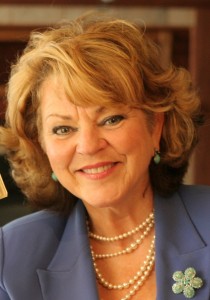 Mindy Halleck is a Pacific Northwest author, blogger and writing instructor. Her short story, The Sound of Rain, which placed in the Writer's Digest Literary Contest blossomed into her first novel Return to Sender. Halleck blogs at Literary Liaisons and is an active member of the Pacific Northwest writing community. In addition to being a writer, Halleck is a happily married, globe-trotting beachcomber, antiquer, gardener, proud grandma, and three-time cancer survivor. www.MindyHalleck.com

Amazon Author Page ~ Facebook ~Twitter:@Mindyhalleck~ Goodreads ~
Blog ~ Website ~ Google+
 Buy the book at Amazon or Barnes and Noble.