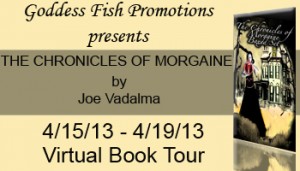 This post is part of a virtual book tour organized by Goddess Fish Promotions. One randomly drawn commenter will win a $25 Gift Certificate to Renaissance EBooks, Inc.
*****
You might be interested in how my Morgaine Novels became a series. It started with a song, Dancing in the Moonlight. When I heard that song, I pictured people in a forest clearing dancing in a ritual manner. I thought, suppose an ordinary person became involved with such a group. I created Melody Trent, a young widow, who falls in love with a psychic, Michael Ellul, who was a thousand year old sorcerer granted extended life by a demon. Of course, Melody must have a rival for Michael's affection, a witch, Morgaine Fabiano,. I added other complications such as an android. Soon I had a novel, Dancing in the Moonlight.
When I submitted to Renaissance E-Books, the publisher thought it was too long for an E-book and asked me to split it into two novels, Morgaine and Michael, and Morgaine and Melody.
I was not satisfied with the ending. What's going to happen when Melody ages and Michael remains youthful? It's likely that he'd disappear from her life at some point. Perhaps he'd seek a means to restore her youth so that she would remain his lover through the centuries. And what would Melody do when he disappears? Hunt for him, of course. Well, she couldn't do this herself, so she hires Raven Lenore, a tough PI. And of course, Morgaine had to fit into the story. She returns from hell as demon to regain Michael's love. Mix in a meglomaniac out to steal Michael's robot — the result, Morgaine and Raven, a suspense thriller.
The next novel was how Morgaine became a witch told from her point of view, how she met Michael and why she did evil things. Alas, this also turned out to be too long and was split into Morgaine and Gretchen, and Morgaine and Asmodeus.
I enjoy writing about is the end of the world. Hence, I used the Book of Revelations of the Bible as an outline plus information from the internet about the apocalypse, included the possibility of earth being struck by a meteorites, threw in the Frankenstein monster, Dracula and other demons, bad guys, and aliens. And of course the schemes of Morgaine played a big part. This weird mix became Morgaine and Armageddon.
At that point, I thought I was done with Morgaine. But then I thought, with all the strange things that happened at Moonwood (Michael's mansion), it would make a great haunted house story. I invented a young engaged couple, Tom and Bridget, hired as contractors to repair the mansion. Morgaine and various demons and ghosts make life at Moonwood hell for the couple. I called this book Morgaine and Moonwood.  A sequel, Morgaine and Nicholas, tells what happens after Bridget has the baby that she conceived after the demon Asmodeus raped her. This was to be the final book of the series,.  Since then, I've added two more novels, Morgaine and the Necromancer and Morgaine and the Sorcerer's Guild.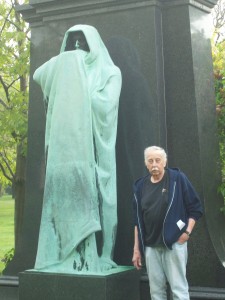 I've loved science fiction and fantasy from the time I learned to read. My hobbies, besides writing, are traveling, adventure game playing and do-it-yourself projects. Before I retired, I was a technical writer working for a major computer manufacturer.
I believe my love of reading stems from my parents and grandparents, who were all avid readers. As a child, one of my favorite things was hanging out at the library or browsing in flea markets for books I could afford. I also liked mathematics and science, especially astronomy.  When I was twelve or so, I discovered the pulp magazines. They had garish covers and were printed on blotting paper, but the stories inside were marvelous. In these magazines, I learned to love such writers as Isaac Asimov, Ray Bradbury, Robert Heinlein, Robert Silverberg and so many others.
I married a girl who went to the same high school as I did, and we've been married over fifty years now. We have four wonderful girls, ten grandchildren (who are now adults ) and one spunky nine-year-old great-granddaughter. In 1993, I retired. That's when my fiction writing career really started.
Three series of paranormal fantasy novels of mine, called The Morgaine Chronicles, Raven Lenore, Psychic Investigator, and my humorous fantasy saga The Books of Retslu have been published as ebooks by Futures-Past Editions. Futures-Past has also published all my novels including, The Isaac Project, For Love of Kumiko, Pawns of Tomorrow, Star Tower, Out of Time, Takeover, The Artifact, Pawns of Tomorrow, The Laws of Magic, Castle Darkest Night and Dinner with Dracula. All are available at Amazon and Barnes and Noble, as well as other online ebook sellers.
Readers who love books about magic and romance, will love this special ebook "boxed set" of the first three books in a spellbinding series – all for just the price of the first book plus one dollar more! Start reading this irresistible saga of a modern witch who couldn't free herself from an ancient love. Meet the bad girl of romance, Morgaine the first anti-heroine! When they had been lovers hundreds of years earlier, Michael had sold his soul to the devil for immortality. Now that they are lovers once again, Morgaine tries to outwit the demon Asmodeus by offering him the pure soul of the woman Melody in exchange for Michael's. But when Michael falls in love with Melody, Morgaine unleashes a fury on them the like of which even hell has never seen. And Morgaine's fury threatens to shatter even the will of Hell's mighty King. "A fine, original new work of dark fantasy," raves Horror Sagas!