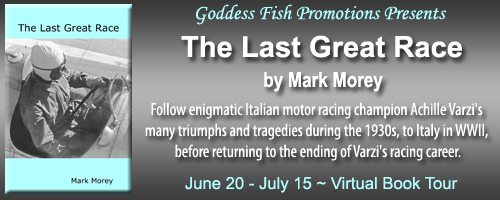 This post is part of a virtual book tour organized by
Goddess Fish Promotions
. Mark Morey will be awarding a $10 Amazon/BN GC to a randomly drawn winner via rafflecopter during the tour. Click on the tour banner to see the other stops on the tour.
How I handled the research for The Last Great Race
The story of Achille Varzi is well known some of us who follow motor sport. At the peak of his career he may have been the highest paid sportsman in the world, and certainly he was one of the top two or three racing drivers of his era. And then he became involved with Ilse Pietsch, the wife of teammate Paul Pietsch, who, apparently, was a morphine addict. Varzi in turn became addicted to morphine, and that ended his racing career just when he could have been European Champion. The source of most of this was from the Mercedes Benz team manager of the time, Alfred Neubauer, who never let the truth get in the way of a good story! Research posted on discussion forums indicated that the commonly held view of Achille Varzi's decline from a national sporting hero to drug addict wasn't accurate in a number of areas.
Fortunately for me I speak and read Italian, partly because it's an easy language to learn. I bought a biography of Achille Varzi written in Italian and I also bought the memoirs of Tonino Brivio, who was a fellow racing driver and a friend of Varzi. In the memoirs Paul Pietsch was adamant that his ex-wife hadn't taken morphine while they were married, while Varzi suffered from pain from a stomach complaint in 1935, and he had an appendix operation in early 1936. This led me to believe that Varzi may have been taking morphine in 1935 to ease the pain of his untreated appendicitis, and one of three things happened. He became addicted because of taking morphine as a painkiller, he took morphine after the infamous banquet at Tripoli in 1936, or he took morphine after he was nearly killed when his car was blown off the circuit by a strong wind two weeks later. Ilse subsequently became addicted to morphine, and its common enough for partners of drug addicts to become addicted themselves.
The memoirs of Tonino Brivo were enlightening as regards the deep and almost overwhelming love that Achille felt for Ilse, and I used a few examples that Brivio quoted in my story. Certainly the love they felt for each other was strong by any standards, and perhaps even self-destructive. Brivio also gave information about Achille Varzi's companion Norma Colombo, who lived with Varzi for a number of years before he left her for Ilse, and later returned to help him with his rehabilitation. Varzi was a deep-thinking introvert while Norma was a free-wheeling extrovert, and I had to reconcile why these two opposites were attracted to each other. They didn't love each other but they did have a strong attraction that lasted many years.
There are a number of websites which outline motor racing in the 1930s, subsequently regarded as a golden era of the sport, and I used those websites to gather information about the cars, the circuits and the races, and incorporated that information into my story where appropriate. I also use online resources to map the path towards World War Two, and used that in the story. My World War Two sequence is set in Naples, Italy, and I bought the memoirs of a British secret service agent who was stationed there when the allies took control of the city. I used online resources to map out the many air raids on Naples, and to describe the way that life in that city slowly ground to a halt. There were many little details such as the communal air raid shelters, or the way they picked flowers and weeds to eat, and even raided the town aquarium for fish to eat. The organised crime gangs of Naples, the Camorra, are the largest organised crime organisation in the world, larger even than the Mafia. They returned to the fore when the Allies moved in and their role had to be explained. And finally I used the Internet to map out the four-day uprising where the locals of Naples drove the German army out of the city, which was one of very few examples of citizens fighting back. During World War Two many millions were taken away in cattle trucks, but the inhabitants of Naples stole rifles and fought the German army to prevent that happening to them. I thought that was special.
There is a lot in The Last Great Race and the story covers a lot of ground. The story is so strange in parts that there is little need to embellish what really happened. My task was to convert those many facts into a flowing story with broad appeal, to tell a tale that seems too unbelievable to be true, only it is.
This story is based around the life of one of the most fascinating and enigmatic sportsmen of his era, Achille Varzi: multiple race winner, twice Racing Champion of Italy and a hero to his many followers. Told partly through the eyes of Varzi and partly by fictional Italian-Australian racing journalist Paul Bassi, we follow the many triumphs and tragedies of Varzi's life: his passionate love affair with Ilse, his tragic morphine addiction, his recovery from his addictions, his marriage to Norma and his re-signing to race for Alfa Romeo.

Only war intervenes, and Paul and his wife Pia leave Achille to spy for the British at the naval base in Naples. Paul and Pia endure hundreds of Allied air-raids, they join the partisans who fought off the German army until the Allies could rescue them, and then they survive in a near-ruined city as best they can.

By 1946 Italy is still shattered but life is returning to normal, and no more normal is Achille Varzi winning the Grand Prix of Italy that year. Over the next two seasons Achille Varzi scores more successes, until he makes his only ever driving mistake and is killed in Switzerland in 1948. Even though he died too young, Paul and Pia know that Achille Varzi would never have lived in his life in any other way.
Enjoy an excerpt:
"Achille crashed," she said and drank some more. "I have never seen anything like it. He was the only driver taking the banked curve at the end of the straight flat-out. Each lap I heard the exhaust note of his car never wavering as he took that curve with his typical, stylish precision. And then on lap fourteen a sudden gust of wind came in from the desert, blowing dust and debris. I held my hat and glanced at the Englishman nearby, just as the wind caught the front of Achille's car and lifted the front wheels from the track. The car rose higher and higher like an aeroplane, flying away from the track until the rear of the car hit the ground and then the front, and it rolled over and over with the most terrible noise. Over and over until it stopped on its wheels in the middle of an orchard. There were Arab men dressed in robes and they ran to the car. I was on the wrong side of the circuit and checked that nobody was coming before I ran to it as well, and so did the Englishman." She drank more water. "I thought he must be dead, nobody could survive a crash like that, but he climbed out of the wrecked car and brushed dirt from his overalls. He looked around and saw me but I don't think it registered."
"Is he alright?" Paul asked, worried.
"He's fine although shaken. He didn't even light a cigarette, and then he fainted. The Englishman Raymond Mays helped him, and he drove us back here."
Paul contemplated what he heard, and that would have been a terrible thing to see.
"I have never seen anything like it," Pia repeated and Paul hoped that Achille really was alright. If he was taking that curve flat-out he must have been doing about 300.
About the Author: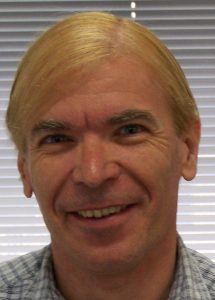 Writing technical documentation and advertising material formed a large part of my career for many decades. Writing a novel didn't cross my mind until relatively recently, where the combination of too many years writing dry, technical documents and a visit to the local library where I couldn't find a book that interested me led me consider a new pastime. Write a book. That book may never be published, but I felt my follow-up cross-cultural crime with romance hybrid set in Russia had more potential. So much so that I wrote a sequel that took those characters on a journey to a very dark place.
Once those books were published by Club Lighthouse and garnered good reviews I wrote in a very different place and time. My two novels set in Victorian Britain were published by Wings ePress in July and August of 2014. These have been followed by a story set against the background of Australia's involvement on the Western Front, published in August 2015. Australia's contribution to the battles on the Western Front and to ultimate victory is a story not well known, but should be better known.
Staying within the realm of historical fiction, one of the most successful sportsmen of the 1930s, Achille Varzi, lived a dramatic and tumultuous life. It is a wonder his story hasn't been told before, beyond non fiction written in Italian. The Last Great Race follows the highs and lows of Varzi's motor racing career, and stays in fascist Italy during the dark days of World War Two.
Website | Twitter