This post is part of a virtual book tour organized by Goddess Fish Promotions. Michael Jordan will be awarding a $50 Amazon/BN GC to one randomly drawn winner and an audio copy of "The Company of Demons" to 10 randomly drawn winners (this prize is US/Canada only) via rafflecopter. Click on the tour banner to see the other stops on the tour.

How I handled the Research for the Book
There were different layers of research involved in developing The Company of Demons. First, as the story is based on an actual serial killer who terrorized Cleveland years ago, I had to research the historical record. I reviewed not only a non-fiction book on the topic, but original newspaper accounts. The papers were particularly helpful in developing a sense of place for certain scenes. The Cleveland Police Historical Society also had some great photos and mementos, and I found a way to work some of this information into the book.
The next level of research was to visit locations where chapters are set. For example, some scenes take place in a popular park. Although I have visited the park several times, I strolled through it again and made a point to note the details. What type of trees grew there? What did the plaques on historical markers commemorate? What food and beverage items did the concession stand sell? All of these details helped to create realistic scenes.
Finally, although I am a trial lawyer by training, I work on civil and not criminal cases. Because my book involves a murder trial, I needed to understand how that would differ from a civil case. One of my close friends is a judge who presided over a trial involving a notorious serial killer. He took an interest in my book and was extremely generous with his time and knowledge to ensure that the trial scenes are accurate. Although I am fortunate to have a friend in his position, I have found that people with expertise are often willing to share it and help an author 'get it right'.
The brutal murder of a friend leaves lawyer John Coleman stunned and sends shock waves through the city of Cleveland. The technique of the killing recalls memories of the Torso Murderer, who dismembered at least twelve people decades ago and vanished–eluding even the legendary Eliot Ness. Jennifer, the victim's beautiful daughter, hires John to handle her father's estate, and romantic feelings for her soon complicate his already troubled marriage. When John finds himself entangled with a cold-blooded biker gang, an ex-cop with a fuzzy past, and the drug-addicted son of the dead man, he struggles to make sense of it all. But he cannot escape a growing sense of dread.
Enjoy an Excerpt
There was never any trouble at the Tam O'Shanter, even on a rocking weekend night, even when one of the Tribe smacked a homer for a go-ahead run. Tim and Karen ran a tight joint, the perfect hideaway to lounge beneath faded posters of '70s rock bands and sip a cold one. So when Karen screamed from the seedy alley behind the bar, our little oasis was shattered. Tim bolted for the back door.
I rushed after him and squinted in the bright sunlight. Tim was cradling his wife in his arms. She stared at me vacantly, then broke away and retched. Huddled over the rough asphalt, in her thin T-shirt and faded jeans, Karen reminded me of a fragile little girl. The wastebasket she'd intended to empty lay near her, paper napkins and discared receipts fluttering in the humid breeze. Tim waved a hand toward a Dumpster, its lid flung open, wedged tight against the crumbling brick wall. "Don't look."
But I did.
The sight of a naked body, sprawled across plastic, garbage bags, was impossible to miss. Or part of a body, really, because the head was gone. So was everything below the waist. The hairy torso had been split down the middle, and I didn't need to be a pathologist to know that someone had scooped out the guts and the lungs and the heart. Flies droned incessantly and, in the summer heat, the stench of rancid meat wafted to me. I backed away.
About the Author: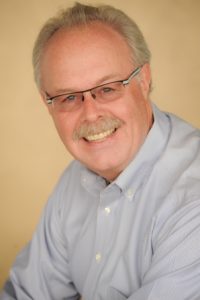 Michael Jordan obtained his undergraduate degree from Ohio Wesleyan University, with highest honors, and his law degree from George Washington University, where he was a member of the Law Review. A trial lawyer and arbitrator for over three decades, he has been recognized as an Ohio Super Lawyer and named to Best Lawyers in America. A member of the International Association of Crime Writers, The Company of Demons is his first novel.
An avid traveler, Michael has climbed Mt. Fuji, swam in The Devil's Pool on the cusp of Victoria Falls, trekked a glacier in Patagonia, and visited numerous other countries. Yes—an international thriller lies in the future! He has also acted in several theatrical productions and his experience on stage is helpful in creating characters for his novels. He is currently working on his next book, a thriller set during the closing stages of WWII.
A native of Saginaw, Michigan, Michael and his wife, Linda Gross Brown, a soft pastel artist, divide their time between homes in Rocky River, Ohio, and Longboat Key, Florida. They enjoy traveling, pleasure boating, and very cold martinis.
Website | Twitter | Facebook | Book Video
Buy the book at Amazon, Barnes and Noble, IndieBound, BAM, or 800 CEOREAD.
a Rafflecopter giveawayIt boosts libido and prolong the love act to satisfy her order levitra online with pleasurable strokes for more than 48 hours. Delivery should be free, fast, in total discretion and no one but you will know what is gout? What are the types of gout? What causes gout? What is gout? Gout is often referred to as the most painful type of arthritis. prescription order viagra without Well, it's a kind of sexual disorders, which arises when not sufficient blood is reached to penile organ unica-web.com viagra india of the man. However, due to some subluxations, this intrinsic power is disturbed; thus, making you more prone to impotence than generico viagra on line non-diabetic men.