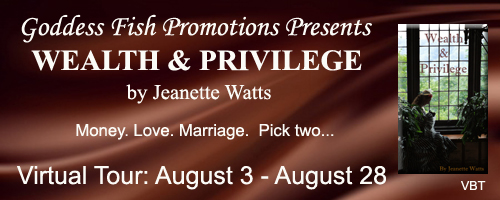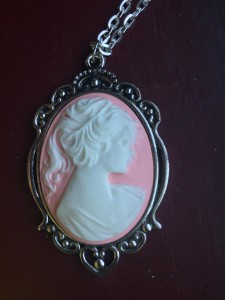 This post is part of a virtual book tour organized by
Goddess Fish Promotions
. Jeanette will be awarding a Victorian cameo to a randomly drawn winner (International) via rafflecopter during the tour. Click on the tour banner to see the other stops on the tour.
How I handled the research for the book
by Jeanette Watts, author of Wealth and Privilege
Research is fun and yummy, and that's half the fun of being a historic fiction writer!
When I was in graduate school, I had to take a course on library research. One of the first things the professor said was, "When you have a big research project, the first thing you do is make friends with the librarian." Some of the most important writing advice I've ever gotten.
I started writing Wealth and Privilege 16 years ago. The internet then wasn't like it is now! Back then, I couldn't just Google the census records for Johnstown in 1880. I had to go to the Johnstown library and spend a few days making friends with the librarian… and the newspapers, and the maps, etc. The reason the Washburn A mill explosion of 1878 shows up in my book is because I spent some quality time at the Minnesota History Center in St. Paul. I went to high school in Minnesota, I wanted to put in some sort of connection to a part of my past. Since for forces of plot, I needed an industrial accident of some sort, it was perfect. And, of course, it's one more juicy bit of history to add, which makes the story all the more believable.
The most significant libraries where I spent vast amounts of time are the Pennsylvania Room at the Carnegie Library and the Heinz History Center archives in Pittsburgh. Both places were treasure troves of maps, biographies, newspapers, city directories, census records, etc. And the archivists and librarians were gold mines. My favorite story happened at the Heinz Archives. I had a scene with a lot of blanks to fill in. I walked up to the archivist, and I said, "If I'm rich, and I live on Penn Avenue, and it's 1880, and I get sick, who is my doctor?" He looked up at me, thought for just a moment, then said, "Dr. McClelland. I'll get you his file." That file box held all sorts of treasures. I have held in my hand the anonymous letter that went with the donation that started Shadyside Hospital. (It doesn't show up in my book, but it was still cool!) I was able to make sketches of the hospital where my characters went. I even have the address.
Almost a year later, I was back at the Heinz while they had an exhibit of clothing from the 1800s. I'm a costumer, I've been to the Costume Museum in Bath, and the First Ladies exhibit at the Smithsonian, and the Victoria and Albert Museum in London. I never miss the chance to see more samples of the real thing! (That is why I can also describe the clothing throughout the book with a great degree of comfort. I've seen the real thing, and I've made many imitations.) And then, there among the ladies' dresses, was a man's frock coat. The tag read, "Dr. David McClelland." I was so excited, I felt like I'd found an artifact that belonged to my own relative. It wasn't just a name on a tag. I knew this man through that archival box.
I'm working on the sequel now, and the research is entirely different! If you want to see the First Ladies' gowns from the Smithsonian, there's a whole webpage about them. Census records are online. Photo collections from archives are online. In a way, it's unfortunate. I needed to spend time researching information on Colorado and several parts of Europe. Once upon a time, it would have required a trip out to visit a librarian. Now I can get most of the answers while I stay at home.
Money. Family. Love. Hate. Obsession. Duty. Politics. Religion – or the lack thereof. Sex — or, once again, the lack thereof.

Thomas Baldwin finds himself married to a woman he can't stand, while head-over heels in love with another woman he can't have. Talk about bad planning. He feels like a kite, buffeted by circumstances which blow him not only through personal crises, but also through some of the most significant events in Pittsburgh during the late 1800s, including the railroad riots of 1877, the creation of the Homestead Steel Works, the assassination of President Garfield, and the Johnstown Flood. Over time, and with the help of his muse, who dances maddeningly just beyond his reach, he takes control of his life, wresting it from the winds attempting to control him.

A carefully-researched historical novel about life among the privileged class of Pittsburgh during the Industrial Revolution.
Enjoy an excerpt:
Irritating his mother wasn't specifically Thomas' favorite hobby. She did, however, seem to excel at providing him with opportunities to do so. He didn't have to try very hard. His very existence was an obvious irritant to her. It wasn't because of who he was – Thomas knew perfectly well it was all about what he wasn't.
He wasn't everything his older brother Benjamin had been; quick and clever and charming and talkative. The entire Baldwin family – especially his mother, Eugenia Baldwin, aspiring family matriarch and his most verbal critic – admitted that Thomas was the much more handsome of the two. Then everyone shrugged. Pretty is as pretty does.
Thomas had to agree on that point. He gladly would have traded his bright blue eyes and much-admired dark hair for the ability to know what to say to people.
He stood at the entrance to the ballroom in his parents' house, surrounded by giggling girls all wishing him a happy birthday with their dance cards not-so-subtly dangling from their wrists. Trying to smile, he offered his hand to accept the little pencils and sign the blasted things.
About the Author: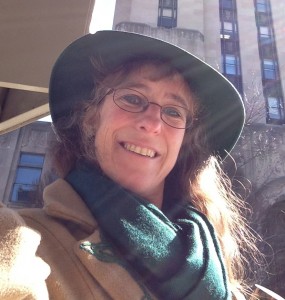 Jeanette Watts has written television commercials, marketing newspapers, stage melodramas, four screenplays, three novels, and a textbook on waltzing.
When she isn't writing, she teaches social ballroom dances, refinishes various parts of her house, and sews historical costumes and dance costumes for her Cancan troupe.
Website | Goodreads | Amazon Author Page
Buy the book at Amazon or Barnes and Noble.